When Cathay Pacific's new A321neo business class seat — the Collins Aerospace Air Rest recliner — recently broke cover, Runway Girl Network's eyes were drawn to one particular detail of the design: over-shoulder three-point harnesses, new since the original 2018 Oman Air Boeing 737-800 implementation of the product.
Why, we wondered, was this now necessary? Essentially, this all comes back to the derivative family certification issue: the original 737 and A320 families were certified prior to rules including the Head Injury Criterion (HIC), and their derivatives all the way down to the 737 MAX and the A320neo families are grandfathered into the pre-HIC standard.
"HIC is not a requirement as part of the Type Certificate for a 737," unlike newer aircraft, explains Collins' vice president of sales and marketing for aircraft seating Alastair Hamilton. "Look at a 777, for example, or an A350: HIC is part of the Type Certificate for the aircraft. The 737, the A320 family, it is not part of the Type Certificate, it comes down to the regulatory authorities."
For Air Rest launch customer Oman Air, the country's Civil Aviation Authority simply did not require it. FAA registered aircraft required HIC from October 2009. "EASA is just catching up now, and the Chinese are following as well. But the authorities in Oman haven't required HIC on their aircraft to this point. So it wasn't required by the Type Certificate, wasn't required by the airworthiness authority, so it went in as a 'non-HIC' seat."
More intriguingly, where seat designers a few years ago might have added an airbag, Collins' experience designing products to clear the newer neck injury criteria, expressed as Nij, led them to use an over-shoulder three-point harness.
Nij — technically with the latter two letters in subscript — measures combinations of elements that could contribute to passenger injury, and includes [pdf, p.20] "the four major classifications of combined neck loading modes; namely tension-extension, tension-flexion, compression-extension, and compression-flexion."
In essence, with an airbag, Hamilton explains "the airbag pushes the chin up and back, to such an extent that  effectively you damage or kill the passenger a different way. So Nij is all about that neck twist to protect the passenger from that."
Interestingly for those of us following this narrative for a while, "a lot of the regulations that we're seeing now stem from the Super Diamond experience," back when Collins was B/E Aerospace, Hamilton says.
"That's where a lot of these observations began: the rebound problems you're familiar with, with Nij. They came from that. All the learning from that has been matured from an [airworthiness regulator's] judgment on the safety of something into some regulations, some numbers to get pass/fail criteria. One of the early challenges was the [regulator]… recognised there was a problem there to solve, but there was no hard regulation to actually go and address it from a certification point of view for the suppliers."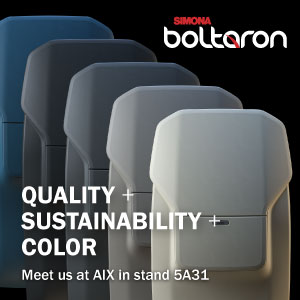 In what will be a familiar refrain to designers dealing with aviation regulation, Nij isn't yet codified in the rules. Instead, it's being implemented indirectly by airworthiness authorities in the majority of the world.
Authorities, Hamilton says, have "made enough sounds about it that the airlines know they're coming, and are putting it in proactively."
As a result, Collins is considering this kind of three-point harness as its new default for Air Rest — and, indeed, all of its other hard-shell business class seats where HIC is a risk because of impact with the seat.
Airlines, which had previously expressed concerns about passenger acceptance of over-shoulder belts, seem in practice to have integrated the extra requirement for the shoulder element to be fastened for taxi, takeoff and landing into their procedures and processes. It is, Hamilton concludes, "far and away the better safety solution".
Related Articles:
Featured image credit, John Walton.