Gilat Satellite Networks entered the COVID-19 crisis in a solid financial position, reporting strong profitability for Q4 and full-year 2019. Even so, the $70 million payment being made to Gilat by Comtech Telecommunications Corp as part of the two parties' merger termination agreement, and cessation of their legal battle, is a timely injection.
The incoming cash injection "is very welcome, making Gilat an even stronger company financially and further solidifying our market position. The payment more than covers the litigation and other deal expenses," Gilat vice president mobility and strategic accounts Ron Levin tells Runway Girl Network.
Adjusting expenses
Given the effect of COVID-19 on expected short-term results, however, and as other stakeholders have done, Gilat has adjusted its expenses and its workforce.
"In these adjustments, we have made sure that core programs and our roadmap remains on track and that we have in place the infrastructure to bounce back quickly once the pandemic subsides," says Levin. "We remain committed to our strategy and focus."
He reveals that Gilat has paced some R&D programs in various verticals to match its expectations of when the market – and especially inflight connectivity – will pick up again.
Gilat has not made any changes to our aero market strategy given COVID-19. We do, however, see delays in the market, both in deployments and in new technology investment.

Our expectation is that widespread take-up of ESA [electronically steered antenna] will now be delayed until the industry returns to regular operation. Accordingly, we have also paced ourselves in the development and are focusing mainly on improving the technology in order to come with the best product when the market is ready.
Gilat's airborne modem currently powers Gogo 2Ku service. The Israeli firm is bullish about the opportunities presented by Intelsat's forthcoming acquisition of Gogo's commercial unit, and the satellite operator's interest in supporting a free inflight Internet model for airlines.
Excited about vertical integration
"Gilat has strong relationships with both Gogo and Intelsat, and these will continue and further strengthen following the acquisition," says Levin to RGN.
"We believe the acquisition will enable the combined company to provide a more attractive service offering to the market, given that the vertical integration internalizes the capacity costs, one of the main cost elements in IFC. Going forward, this could definitely be a positive for Gilat as the network grows and while Gilat remains committed to provide our customers with market-leading IFC technology."
Gilat shares the view that IFC will become a vital component of the flying experience in the post-COVID-19 era, with Levin saying:
We also believe that the introduction of widespread free Wi-Fi will significantly increase take-up rates and will provide a strong tailwind to the industry and to Gilat. We are working closely with our customers and partners to enable them to meet the expected significant increase in bandwidth requirements and passenger connectivity expectations.

In parallel, we are developing Gilat's next-generation platform for VHTS and NGSO constellations, as well as to meet 5G's ubiquitous connectivity vision. We expect this next-generation platform will more than meet the requirements for scalability, high-throughput and management complexity.
Separately, Intelsat recently told RGN it is open to working with Gogo on global Ku IFC for the business aviation community. Appreciating that the Gilat Ku tail-mount antenna [TMA] program was shelved, does Gilat see any fresh opportunity to play either in this type of BizAv IFC program or another, with a tail-mount antenna in the future?
"We believe that we have an innovative and winning tail-mount antenna technology in terms of price/performance and are seeking the right opportunity and partner for productization. We see great opportunity in the BizAv market for TMA and even more so for ESA, once NGSO constellations are operational," says the Gilat executive.
China activities
In China, Gilat is providing the modem for the FTS XStreamSAT-branded Ka-band inflight connectivity system rolling out on Qingdao Airlines' fleet of Airbus A320 family aircraft, in what Levin describes as "the first and only commercial Ka IFC service in China". Connectivity is provided over China Satcom's ChinaSat-16 Ka HTS satellite.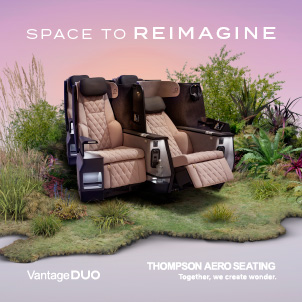 "There is one Qingdao Airlines plane providing commercial service for the past several months with outstanding performance," says Levin, adding: "We expect FTS to install the rest of Qingdao Airlines' aircraft in the coming months as well as to expand with additional airlines."
He notes that Gilat is focused mostly on commercial aviation in China. "We don't see a significant opportunity for BizAv IFC in China at the moment."
Meanwhile, both Comtech and Gilat seem to be parting ways amicably, saying in a statement that while they believed from the outset that their merger "was a perfect marriage", the pandemic made the timing of the combination particularly challenging. Comtech's board has authorized a new $100 million share repurchase program.
Related Articles:
Featured image credited to istock.com/ozgurdonmaz