On a Monday afternoon at Cancun International Airport (CUN), heavy cumulus clouds punctuated the sky as Tropical Storm Gamma churned slowly in the Gulf of Mexico, only 150 miles away to the northwest. With Hurricane Delta expected to arrive the next day, there seemed to be a spike in demand to fly from this tropical leisure destination.
The gate lobbies, food courts, and duty free shopping areas were bustling with passenger activity. Apart from the protective face masks being worn by passengers, one might have mistaken the scene for a regular day at CUN.
For departing passengers, CUN is doing its part to thwart the spread of COVID-19 and help travelers feel comfortable. Beginning at the check-in lobby, passengers are socially distanced by floor markings as they navigate the maze of stanchions.
Common-use kiosks allow passengers to self-tag their luggage and print boarding passes at CUN. The kiosks can be used by customers of any airline that serves the airport. Although the kiosks were nicely separated to allow social distancing, each machine seemed to have two to four people gathered around it, along with more passengers queuing and waiting for their turn.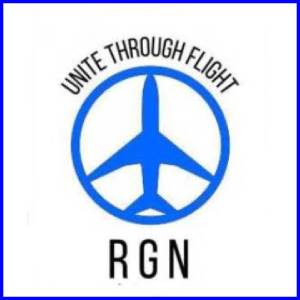 I was not checking luggage so I approached the Southwest Airlines ticket counter, which had a minimal line. I presented my passport and customs form – acquired on entry into Mexico the previous day – to the customer service agent, who printed my boarding pass and stapled my customs form to the back of it.
Prior to passport control, passengers are required to scan a QR code, which opens a survey that must be completed. The survey asks passengers to affirm their recent travel activities: Which countries have you visited in the past 14 days? Have you been in contact with anyone who is sick with COVID-19? Are you experiencing any symptoms of the virus?
Once the survey is completed, a new QR code appears on your phone, which must be shown in order to proceed through to security. Passengers who have not completed the survey are directed away from the line in order to complete it.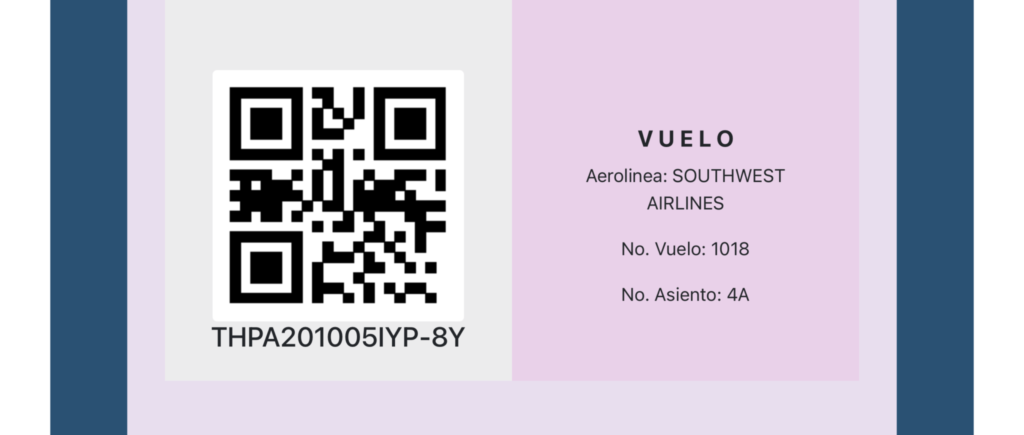 In the gate area for my Southwest flight back to Denver (DEN), an Air Canada flight to Toronto was in the process of boarding, and an employee used a thermometer to scan the forehead temperatures of each traveler.
Chairs at the gate were marked with adhesive decals, advising passengers to "maintain social distance".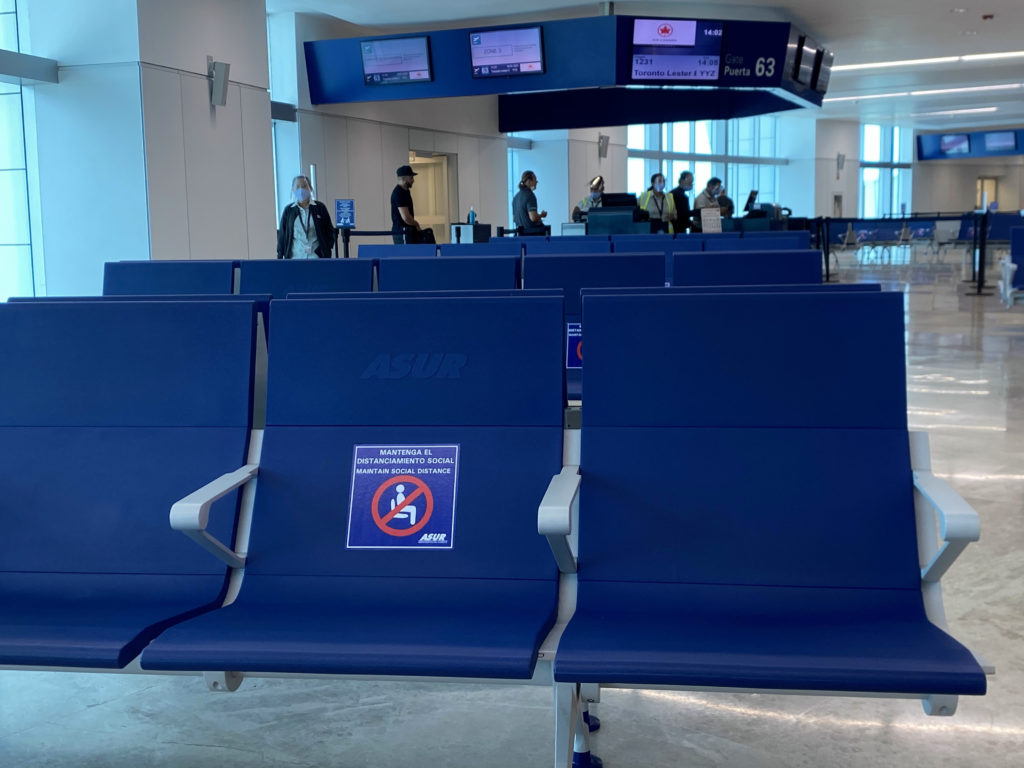 On a public address system, a recorded message reminded passengers that face coverings must be worn in all public areas, and to maintain physical distancing.
Many people abided by the restrictions. However, I witnessed a few who did not wear a mask or wore it improperly – pulled down below their nose or hanging by their chin.
My boarding gate had an interesting split configuration, allowing two boarding queues. Southwest has been boarding flights in groups of only ten people throughout the COVID-19 crisis, so in this case, a group of ten lined up in the left queue by the windows, while the next group lined up to the right, on the opposite side of the customer service desk.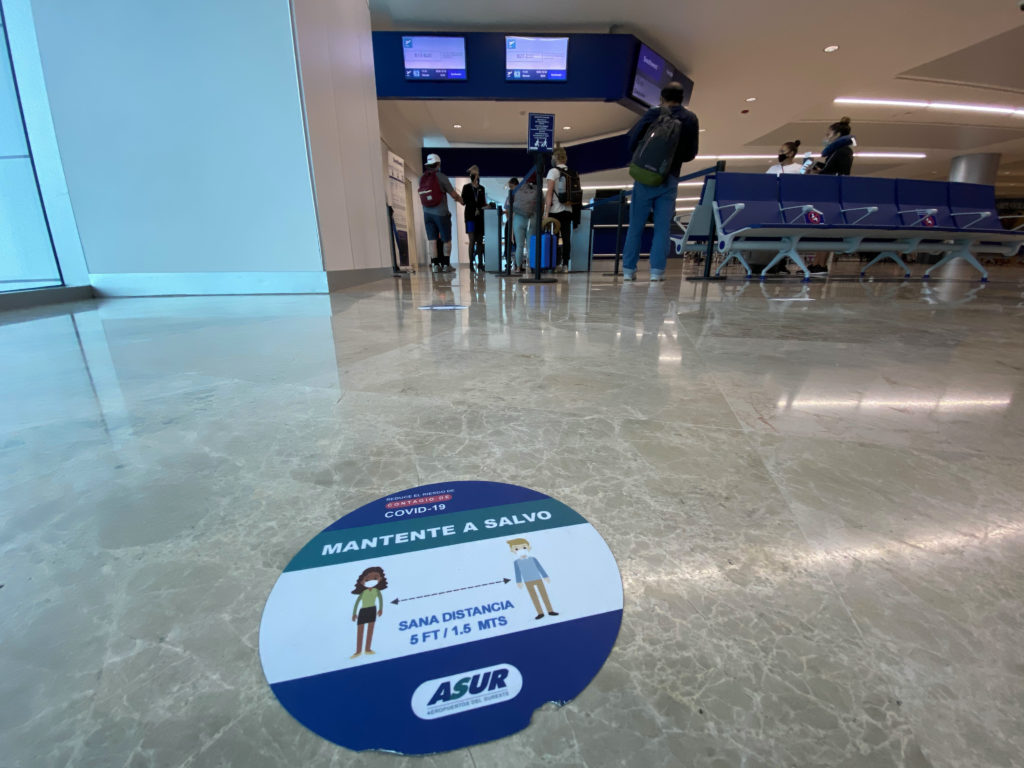 Unlike Air Canada's boarding process at CUN, no further measures such as temperature screenings were taken for my Southwest flight.
Flight attendants made similar announcements regarding COVID safety and mask requirements throughout the flight, and this time, I did not witness any passengers ignoring the mandate as I had on my flight to CUN. Cabin service during the flight was once again limited to ice water and a packet of snack mix.
Upon landing at DEN, the entry process was seamless. DEN has very few daily international arrivals, so there was not a long wait at Customs and Border Patrol.
I scanned my passport at a kiosk, which took my photo and printed a receipt which I took to a CBP agent who was waiting at a station surrounded by plexiglass. He asked me nothing related to COVID, only the typical entry questions, and I was on my way home in under fifteen minutes from the time we landed.
Related Articles:
Main image at top credited to Esmaragdo Camaze. All other embedded images credited to Paul Thompson.