Inflight entertainment and connectivity firm Global Eagle Entertainment expects to exit Chapter 11 within months, after receiving bankruptcy court approval for its sale to an investor group that owns 90% of its senior secured first-lien term loans.
In July, Global Eagle announced a "stalking horse" asset purchase agreement whereby substantially all of its assets will be acquired for $675 million by the investor group led by Apollo Global Management, Inc., Eaton Vance, Arbour Lane, Sound Point, Mudrick Capital and others. To facilitate the sales process, the company and certain of its US subsidiaries filed for Chapter 11 in the US Bankruptcy Court for the District of Delaware.
Given that no other bids emerged, and remaining objections to the sale were addressed prior to the final hearing, the Delaware court approved the sale on 15 October. The sale is subject to certain customary closing conditions and regulatory approval.
"The closure of the transaction will occur prior to the exit from Chapter 11," says company president Per Norén. "The transaction with our investor group is formally binding now. However, we expect the transaction with our investor group to close upon regulatory approval. Regulatory approval is expected to occur late this year or early in the first quarter of next year. There is a final step before exiting our restructuring. We are required to wind down the estate which we expect to occur in the first quarter of next year."
Global Eagle will reduce its total debt by roughly $475 million and obtain significant additional liquidity as a result of the sale. With a much stronger balance sheet and "blue chip investors backing us", Global Eagle is bullish about its prospects. "There is a lot of opportunity in IFEC, and more generally, across the mobility sector," Norén tells Runway Girl Network.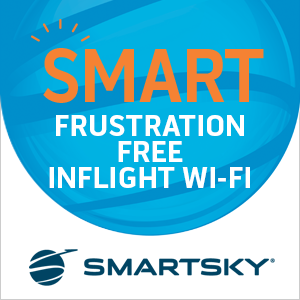 Global Eagle counts Air France, Norwegian, and Southwest among its airline customers. It also serves cruise lines with entertainment and connectivity services. The company saw "no disruption to the business and we're servicing our current customers" during the reorganization process, says Norén.
In a published statement, Global Eagle CEO Josh Marks says, "We are confident this is the best path forward for our company and our stakeholders as we continue providing our airline, cruise line and other customers with high-speed Wi-Fi and engaging content, enabling them to connect millions of people anywhere, anytime.
"I would also like to thank our employees for their continued dedication to supporting our customers as they plan for the COVID-19 recovery and beyond."
Related Articles: