During a recent Passenger Experience Conference webinar, hosted by Reed Exhibitions, consultant Gina Emrich shared a dream scenario that would see aircraft cabins accommodate all passengers, including those with disabilities and limited mobility, the elderly, parents traveling with small children, and everyone else.
To accomplish this goal, Emrich, who started her career at American Airlines and now consults for the nonprofit Open Doors Organization, noted that accessible universal design in the cabin would benefit everyone. Even small changes can make a big difference.
"Everything that we do on an aircraft or in the customer experience or anywhere in the journey, to make it better for somebody [who needs accessible design] improves it for everyone," she said. "Simple things – like, it still seems like such old technology to me that you have to raise your hand above your head to be able to call a flight attendant or fix your light. I mean, those are basic things that a lot of the population can't do. Why do we not have that ability in our seat, in every seat, on every aircraft?"
For Emrich, the idea of starting over and reimagining air travel is interesting, not just for the aircraft cabin, but the overall experience. If we had a dream scenario, what would we want it to be?
Runway Girl Network decided to further explore the question through the lens of universal design principles. At its core, the universal design philosophy is the notion that design should be inclusive and straightforward. It should address all users' needs, regardless of physical or intellectual limitations, by eliminating points of friction.
One could argue that universal design is the ultimate expression of design: it's not just focused on aesthetics but rather on making things appealing and useful to the largest possible number of people. Think of high-visibility and iconography-based signage, which makes it easier for anyone to interpret instructions. Think of applying closed captioning as a default for video, allowing everyone to follow content regardless of their environment or disability.
"We must consider people who have visual or hearing impairments, communication difficulties, or any disability," urged accessibility advocate Mary Doyle of Rocket Girl Coaching in an Op-Ed for RGN.
The concern cited by Emrich regarding overhead passenger service unit (PSU) accessibility — which this writer can attest is sometimes a nuisance for shorter passengers — has been addressed to a certain extent on some aircraft, such as widebodies fitted with inflight entertainment systems from nose to tail. Light and cabin crew call buttons have been added to IFE controller handsets and in-seat controls.
But further digitalization of the cabin could open up more opportunities. If we want to eliminate more touchpoints, then enabling remote control of the seat and PSU via a passenger's own personal electronic device would be a useful application of universal design.
Recent innovations, like the open IT platform of the AERQ IFE solution by Lufthansa Technik (LHT) and Korean multinational technology conglomerate LG, may help support the trend towards cabin digitalization. "A simple Wi-Fi connectivity and Bluetooth paring create an upscale entertainment experience. The passengers' mobile devices become integrated as touchpoints for information, payment and personalization. Crew devices will be connected as well," AERQ co-managing director Sangsoo Lee told RGN.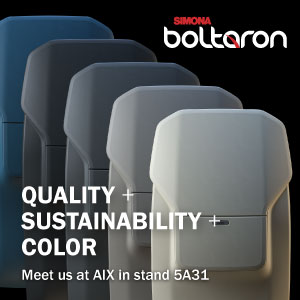 In recent months, we've also seen some remarkable developments in aircraft lavatory design which apply universal design principles to improve accessibility. Jamco's hands-free lavatory, for instance, makes it easier for all passengers to open doors, and includes easily interpreted signage.
The highly-visible multiple handrails on the LAV4ALL accessible lavatory will facilitate lavatory use for passengers with reduced mobility, whether or not they require a wheelchair. And the easy-access design enables virtually all passengers to navigate the space.
These considerations are timely. The COVID-19 pandemic is forcing the industry to adopt new processes, and the aim should be to keep things as simple as possible for all passengers.
In the end, it's about putting all passengers at the heart of design. "There was always anxiety when it came to flying and travel," said JetBlue product development executive Andrew Litavis during a RedCabin webinar in July. "We were always thinking about that, as we were designing the customer experience. How are we mitigating anxiety on board?
"One of the things we found that really helps is putting passengers in control."
Related Articles:
Featured image credited to istock.com/Cunaplus_M.Faba