When an airline or business jet customer specifies their aircraft interior, a huge number of highly engineered — and safety tested — pieces to the puzzle inside the plane must fall into place. For some of them, there are options that airframers and their suppliers have previously certified and qualified: a range of colors for a sidewall or partition, for example, or standard areas in which one can make small modifications.
For the parts of the aircraft that Diehl Aviation supplies to original equipment manufacturers like Airbus or Bombardier, the proverbial — and sometimes literal — desk all this lands on belongs to Annica Dieterich, head of configuration management.
"Here in Laupheim," Dieterich tells Runway Girl Network at Diehl's headquarters during a recent physically distanced site visit, "we have all the cabin parts: floor-to-floor means sidewalls, ceilings, overhead stowage compartments, partitions, doghouses, stowages, crew rest compartments, and the air ducting."
Many of these parts are customizable, sometimes in terms of something relatively simple like color or function: an airline will decide what it wants to stow in the doghouse compartments that fit behind a last row of seats in a section, for example.
An airline with an Airbus A350 offering three to five classes or subclasses of service, meanwhile, will usually want more dividers than one with two classes.
"Normally we get a lot of documents, like cabin layouts, color specifications, electrical information, and location information," Dieterich explains. "With all these documents, it's like a puzzle: one piece there, one piece there, you put it together and at the end you know: I need these parts with these colors, with this electric equipment."
"My team deals with all the technical requests: change request, specifications, processes, methods and baselines from customers. We are the incoming department for all these requests," Dieterich says, and the department liaises closely with the engineering team. "They double check, then: do we have this part already, so it's only a re-use and we only need to produce it again? Or do we need to make a new design for it? If that's the case we start doing the design. Some parts we order from our suppliers, some parts we produce directly on our production line here."
A key challenge, and one that Dieterich appreciates, is playing something of an 'intelligent customer' role with the actual customer, explaining where a request will require extra time, money or complexity. For example, if an airline requests a color that is not already certified and qualified in Diehl's catalogue, the company will need to have it qualified, which has the potential to require additional time.
Sometimes, it might be specifying two attachments that interfere with each other on either side of a partition wall, like a picture frame, literature pocket or inflight entertainment system.
Dieterich explains that she very much enjoys explaining what can be deeply technical issues in a way that seeks to find a solution, while not making it a problem for the customer.
"I love to work with the documents, to be a detective and check out all the puzzles and the parts," she says. "I'm so fascinated by this industry. It feels so familiar, so it was very clear for me I'd like to stay here in aviation."
It's a long way from her father's metalworking business, where she spent a lot of her childhood. "I was always in the factory and worked with him and his team. He also brought me to roadworks!" she laughs. "It was clear for me very, very soon that I would like to go into an engineering profession [so] I studied mechanical engineering."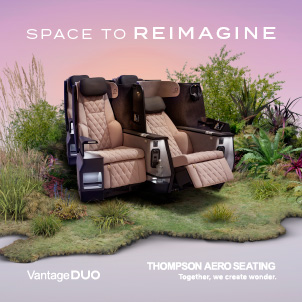 At Diehl, Dieterich explains, "I started as a design engineer, and for one year I was also in electrical engineering."
When the company decided to create a new configuration management team from what was previously a function housed within engineering, she leapt at the chance. "We thought it was a really big chance to create a separate department to make sure that, if a specification comes in, it was really right."
With 12-14 new 'head of version' Airbus A350 cabins a year, and perhaps 40 Bombardier business jet cabins, usually bespoke, it's a big job, but it's one that Dieterich relishes.
Diehl provided overnight accommodation for RGN's journalist in Laupheim during physically distanced site visits to enable this interview, in full compliance with all local hygiene and public health restrictions.
Related Articles: