Air France CEO Anne Rigail knows only too well the result of the airline's years of under-investment in the passenger experience. When Air France asks passengers if they would promote the airline on a scale of one to ten, she said, "It's not so easy for a French customer to give 9s or 10s."
An improved experience is central for Air France's turnaround: France is the world's largest visitor market and Air France has lost relevance. Air France estimates that gaining one point in Paris' premium business and first class marketshare equates to a €10 million increase in operating profit.
New Air France-KLM Group CEO Benjamin Smith is taking swift action, starting with basics like hard product. Retrofits began before him – 80% of the Air France long-haul fleet in 2020 will have the latest seats, connectivity and high-definition IFE – but instead of waiting out this period, Smith has interim plans.
"We are isolating the aircraft that are still in an old configuration," he told investors. The objective, but not the rule, is to have the new lie-flat product on North American and Asian destinations served just once a day.
The older product will be used to cities where Air France has no competition, or has multiple flights a day and can supplement the new product with old. Los Angeles and Shanghai will have A380 flights with the old angled lie-flat business class seats but also 777 services with the newer Safran Cabin (former Zodiac) outward-facing herringbone seats. "We can try to steer the low yielding revenue to the flights where we don't have the latest product offering," Smith said.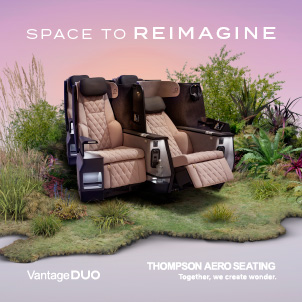 Mixing configurations has to be balanced with another of Smith's priorities: consistency. The key New York market can have five flights with three configurations, irritating passengers. "We risk losing those customers," Smith said.
Rigail said Air France is finishing retrofits on A330s and in 2020 will retrofit 12 leisure-focused 777s while 2021 will see a retrofit of 777s serving the US. "The cabin configuration and getting that standardized in order to ensure the value proposition is well understood, and can be counted on, will drive improved margins," Smith said.
Another of his back-to-basics is optimizing LOPAs after reaching new agreements with unions.
Previously pilots required a production balance between Air France and KLM calculated on number of aircraft, flight hours and available seat kilometers (ASKs). The first two metrics corresponded to pilot jobs, which Smith said is understandable. But the ASK metric did not: if Air France wanted to follow peers and reduce two rows of economy for one row of business seats, Air France would underperform on the ASK metric. That would require Air France to add seats somewhere else, or use a larger aircraft.
The pilots agreed to replace the ASK metric with one based on an aircraft's maximum certified capacity. This will allow Air France to expand premium seats. Its Paris long-haul premium marketshare decreased from 58% in 2014 to 54% in 2019.
Smith expects management's deal with cabin crew will also allow optimization of the number and location of galleys, lavatories and other monuments. He compared Air France's 787-9 to an undisclosed "industry-leading configuration". Both have the same number and type of business and premium economy seats. But whereas Air France has 225 economy seats, the competitor has 247 – 10% more.
The comparison was "for illustrative purposes only" yet the "industry-leading configuration" matches with none other than Air Canada: Smith's former employer. Both have the same number of lavatories but Air France has 31" economy pitch to Air Canada's 30".
Air France has considerably more galley space, yet gastronomy is intrinsic to Air France. Every business class meal is signed by a Michelin-starred chef, and Rigail flagged the introduction of pre-ordered meals, noting that "it's very important in the customer experience". Onboard connectivity is a "basic expectation" from passengers and all aircraft, even short-haul, will have connectivity in 2020 (Air France tapped Gogo 2Ku IFC for long-haul and Global Eagle Ku for short-haul.)
Air France has to balance the reality of optimization with Smith's goal that "the key brands at Air France – La Premiere, business, premium economy and economy – will be positioned to be best in class, in particular on the premium side."
Related Articles: