The moon landing may have happened 50 years ago but at NASA Johnson Space Center in Houston every day is 20 July 1969.
For the milestone anniversary of the Apollo 11 moon landing, the Johnson Space Center unveiled a completely restored Apollo Mission Control Center, rebuilt to look exactly how it did on that fateful day, with large projection screens depicting the Eagle lunar module's flight path, and rows of historically correct consoles that are lined with notebooks, coffee cups, cigarette butts, and American flags.
Touring the Apollo Mission Control Center, which oversaw launches from the Gemini era of space travel through 1992, is an absolute must for anyone making their way to Space Center Houston, the official visitor center of NASA Johnson Space Center where human spaceflight training, research, and flight control are conducted (about 30 minutes from the city center).
In the works for nearly six years and estimated to have cost $5 million to assemble back to its original from, the recreated control room will give you bona fide chills. While visitors aren't allowed into the actual room, they can "watch" the moon landing from the gallery behind the control room, a theater of sorts with a large glass window looking into the action.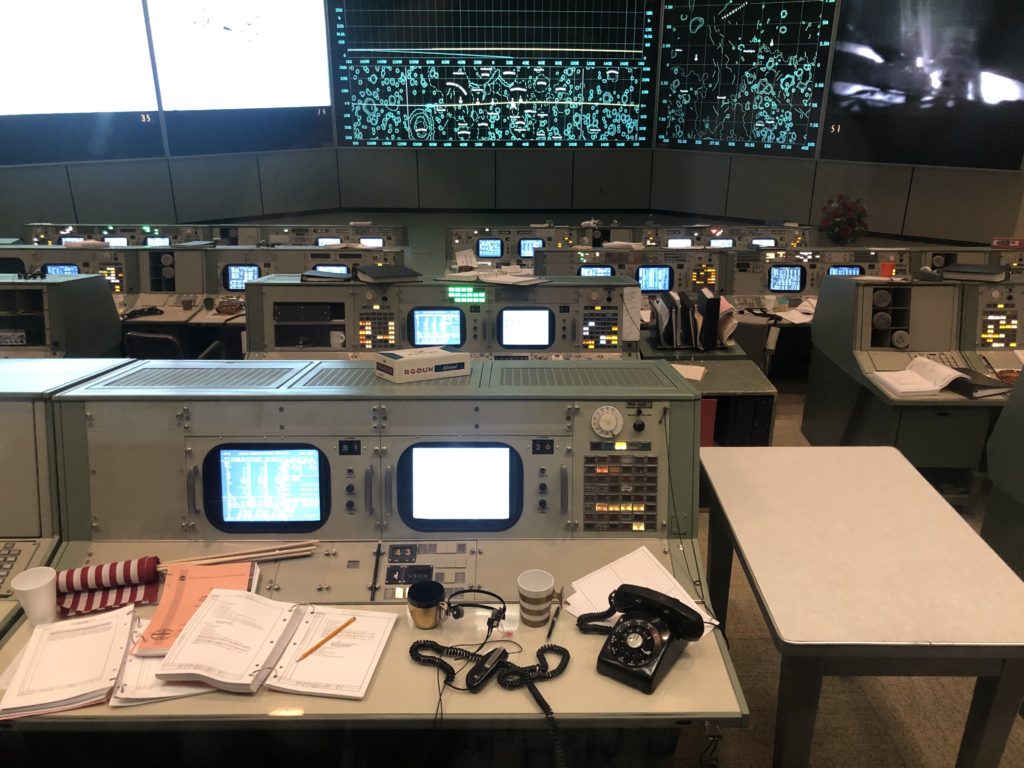 The recording of the landing communications, as it was heard in the control room in 1969, is played while the five projection screens flash the flight paths, maps, video, and even the positions of the astronauts on the moon. Once the show is over, visitors can take pictures through the glass and get up close to admire the details of the room. It's very much a living time capsule, full of authentic details from the 1960s, including the same wallpaper, carpeting, ceiling tiles and even console buttons that were in place 50 years ago.
This exhibit does require a timed ticket (which is free with admission to Space Center Houston) and there are limited quantities for each day. So be sure to book this experience long before you arrive. The tour also requires an open-air tram ride over to Building 30 and a walk up several flights of stairs (but in your author's opinion, that just added to the authenticity of the experience. Elevators are available for those who need them.)
While Apollo Mission Control Center may not have been totally women-friendly during its heyday (see RGN's interview with Poppy Northcutt here), women have made huge strides in space travel since the 1960s, and the Space Center Houston proudly gives these women their due.
Most of these tributes can be found in the Astronaut Gallery, starting with Judy Resnik's T-38 flight training suit. Resnik, who died in the Challenger in 1986, was the second American woman to enter space after Dr. Sally K. Ride, but she was part of the first NASA Astronaut class to feature women.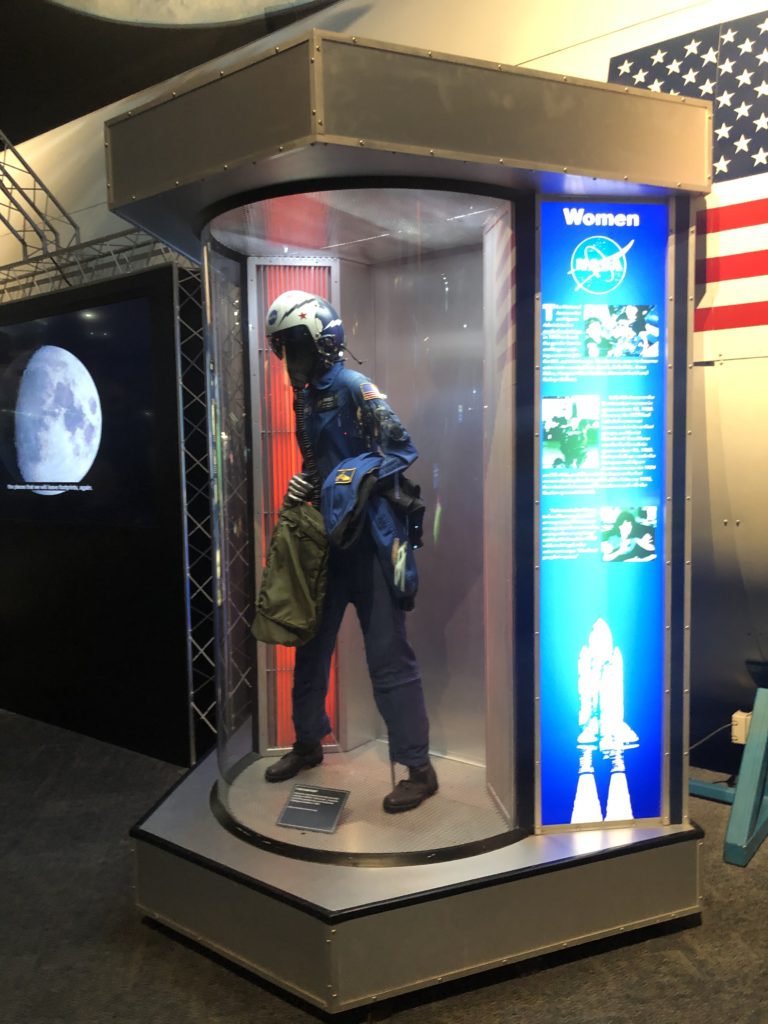 Dr. Ride was also a part of this class and the Astronaut Gallery has a pair of her inflight coveralls on display as a nod to her contributions as a mission specialist aboard two Challenger flights.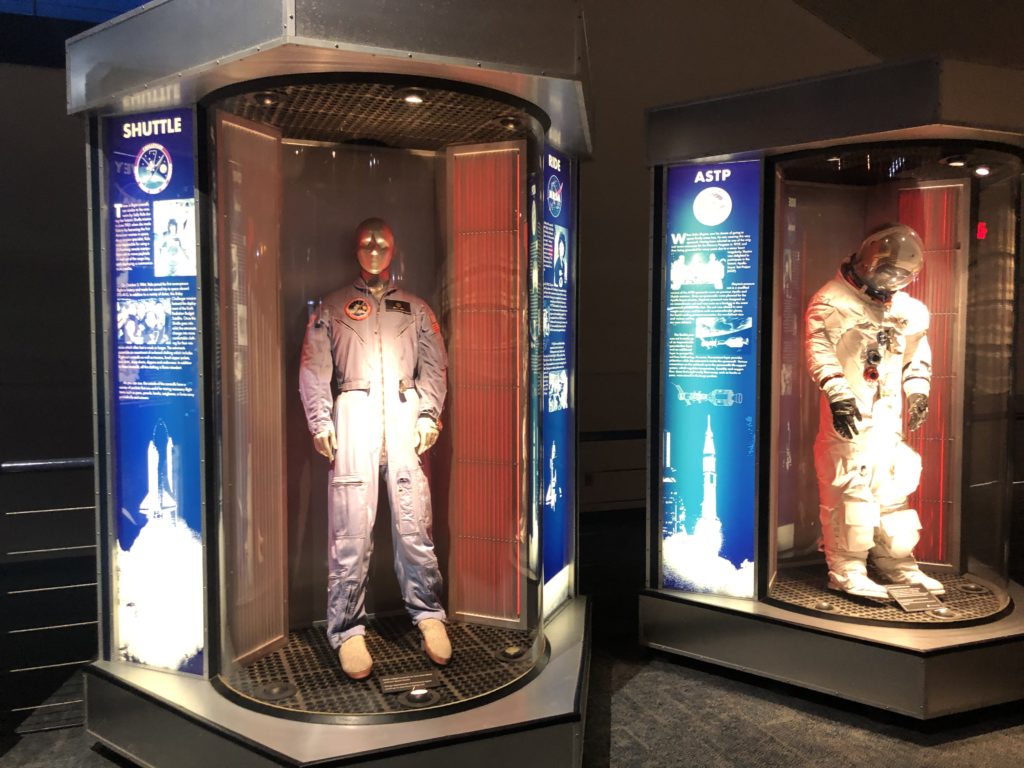 Kathryn Sullivan, the first American woman to complete a spacewalk and third American woman in space, is also honored in the gallery with her Extravehicular-Mobility Unit. For her second space mission in 1990 (her first on board the Challenger was the first NASA flight to include two female astronauts), Sullivan was a crew member on the Discovery shuttle and deployed the Hubble Space Telescope. She flew a final flight on the shuttle Atlantis in 1992.
But Space Center Houston is just as concerned with educating future female astronauts, scientists, and engineers as they are with honoring the pioneers. And the way they often teach the new generation is by spotlighting current women in space from NASA astronauts (like the duo behind the first female spacewalk) to scientists and research directors. Much of this occurs through features on the Space Center blog (Astronaut Friday is a fave) and through the center's Thought Leader series.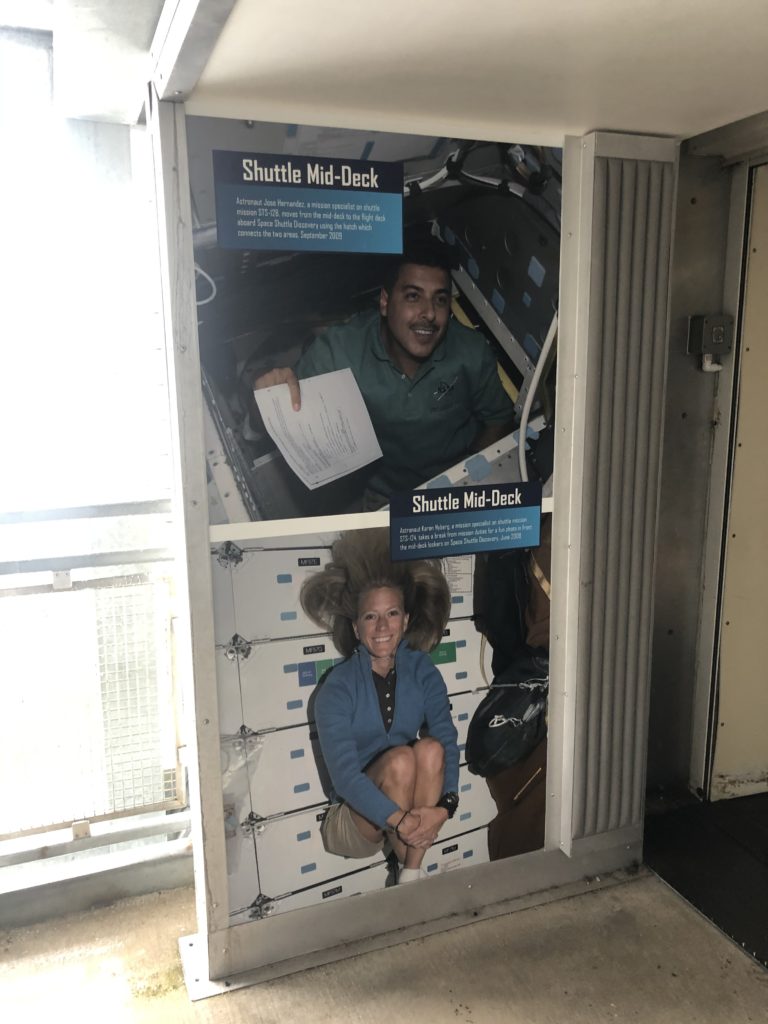 Yet the Space Center's newest contribution to empowering women in space is its Girls STEM Pathway Initiative, an addition to their existing Girls STEM academy. Thanks to a generous donation from Boeing, this program provides Houston-area girls in middle and high school access to learning experiences in science, technology, engineering and mathematics fields.
"They are really growing and building on the skills from year to year," said Meridyth Moore, public relations specialist for the Space Center Houston. "The girls come here for programs and they engage outside the classroom in a unique girls-only environment. They think through this really robust and rigorous curricula that they are working on in science and technology. " The STEM Pathway has also developed into a mentorship program where female leaders in the space industry help out girls on a recurring basis.
"They get to hear from the leaders, the women themselves who are doing these amazing things in the space industry," Moore said. In the future, alumnae of the program will be invited back to serve as mentors for current students. The program also holds Women in STEM lectures every month.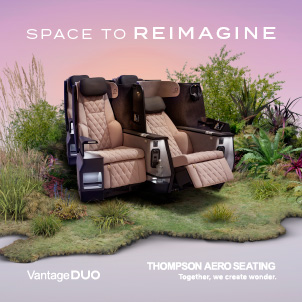 The Space Center has lots of STEM-centric pop-up labs throughout the center for all ages (and genders) to get them engaged during their visit. Some of those labs involve designing a Mars rover or landing a lunar ship.
"It's a great opportunity now to get the youth engaged in the future of STEM because the entire workforce is very STEM-centric," Moore said. "There are jobs that we haven't created yet. If you want a successful boost in your job security, it's really important to have some kind of STEM experience."
And then there's Artemis, NASA's newest lunar exploration program that aims to send the first  woman to the moon (its south pole) by 2024 on the Orion aircraft. This expedition will set the foundation for further deep space missions including sending an astronaut to Mars, hopefully by 2030. Already, NASA is testing special protective gear for women on Mars, and one piece, a StemRad vest designed for women to protect them against radiation, is on display at the center. Also within the Mission Mars exhibit, visitors can learn what NASA is doing to get to Mars and what they will do once they get there.
"Space is so active and alive right now," Moore said. "It's much busier than even the shuttle era." And with all this activity, maybe in another 50 years we'll see a recreated Orion Mission Control Room with women at the helm.
All images are credited to the author, Juliana Shallcross
Related Articles: