During last year's Aircraft Interiors Expo in Hamburg, Collins Aerospace published a rather cryptic post on LinkedIn, announcing an expansion to its "long-term partnership with Cathay Pacific Airways" and promising to share more details in a future press release. "Thanks again to Cathay Pacific for embarking on this new commitment with us and helping us to redefine aerospace," stated the Collins Aerospace account, ending with the hashtag #OneInteriors.
Fast-forward to last month, and Cathay Pacific is teasing a video of a brand new business class platform, dubbed the Aria Suite, which will be retrofitted to its Boeing 777-300ERs, replacing the Safran Seats (formerly Zodiac Aerospace) Cirrus reverse herringbones.
"Savour the quiet luxury of the all-new Aria Suite in our redesigned Boeing 777-300ER cabins, ready to depart in Q2 2024," said Cathay, whilst subtly highlighting various bells and whistles including a privacy door and wireless charging. Is Collins Aerospace manufacturing this seat?
Though the airline has not yet divulged further specifics, Johnny Clark, the eagled-eyed editor of The Design Air, reckons that this doored herringbone "is most certainly the JPA Design and Williams Advanced Engineering 'AirTek' seat".
To say there are strong similarities between the seat shown in Cathay's video and AirTek is perhaps an understatement. And JPA Design admits on its website that it's working with Cathay "to design and develop their next generation of aircraft cabin interiors", though the design house calls the project "confidential".
We've covered AirTek extensively in the past. The lightweight seat features a monocoque design that provides storage for a sizeable carryon below the seat, rather like a recliner. But with an increased use of composites, AirTek also comes with some certification challenges.
Given that its partnership with Cathay was recently expanded, it's quite possible that Collins Aerospace has been tapped to manufacture the seat. Certainly, Collins is well-placed to make product refinements for the airline, perhaps even drawing on the work undertaken for its latest Elements seating platform, which debuted on Starlux's Airbus A350s and, as some are now arguing, also bears some similarities to Aria.
But in the absence of confirmation, a massive guessing game has begun, not only amongst savvy travel bloggers, but also amongst the increasingly savvy traveling public.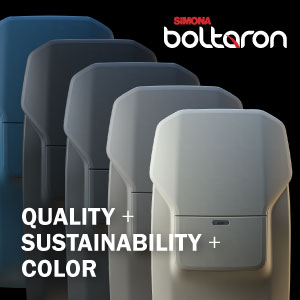 In addition to Collins Elements, frequent flyers wonder if Adient Aerospace's Ascent platform or Safran Seats' Cirrus replacement, Versa are in play. Indeed, there are entire threads dedicated to discovering the manufacturer of Aria.
That not only speaks to the excitement generated by any new Cathay product reveal, but is a testament to the fact that, even in a world of herringbone clones, inquiring minds want to know exactly who will bring Aria to life.
Cathay's decision to release a teaser video of this elegantly-styled seat, rather than a full press release from the get-go, also speaks to the genius of Cathay. The airline is currently enjoying the sort of talkability about its product that is difficult to put a price on.
Related Articles:
Featured image credited to Cathay Pacific