As some airlines start to see green shoots of recovery from the COVID-19 crisis, Adient Aerospace is looking to grow its footprint on aircraft.
The company, a joint venture between leading automotive seatmaker Adient and aircraft manufacturer Boeing, has planted a flag in the longhaul narrowbody segment with its new single-aisle friendly Aspect seat, pictured above.
Separately, Adient in January announced the completion of head injury criterion (HIC) testing and certification for its Ascent outward-facing herringbone seat, which has already attracted Hawaiian Airlines as a launch customer aboard the carrier's forthcoming Boeing 787-9 twinjets.
Both of these premium seat products benefit from Adient's automotive heritage in Kaiserslautern, Germany, as well a collaborative approach with suppliers which sees all parties work to optimize the form, fit, and function of the seats, and ensure maintenance reliability, quality, passenger comfort, and aesthetic appeal.
Inviting suppliers to offer feedback on the sprint-development process, Adient found a balance between the highly-customized, heavily-regulated aviation industry and the highly-streamlined automotive industry.
During a recent RedCabin webinar, Adient Aerospace director of sales and marketing Stephanie Faulk explained:
In the very early days of our teams coming together, between aerospace and automotive, we almost needed a dictionary to speak. It's a different language we use between industries. In many cases, we thought there were overlaps; there were similarities in, say, the program management process and the way you design review, and you go through checks, but we called them different things. We had different acronyms. Sometimes it was just that translation of industry [lingo] to help us communicate, to understand that we have a lot of similar processes, but there are all these great things that we can take from both sides.
From the onset, Adient has had an ingrained appreciation of craftsmanship. "You want to make sure, in final assembly, that there are not going to be gaps," said Faulk. "It's not just for the appearance, and the passenger experience, which is great. But also for our airline customers; what is the maintainability and the longevity of this product? The quality is very important. It's great to deliver a good-looking seat, but if it's not going to look good in service within a few years, that's not something that we want to do."
The company's motto is "improving the experience of a world in motion" and the results, shared during the RedCabin webinar, certainly reflect that mentality. For instance, the stunning Ascent product ticks all the boxes for business class, offering elegant hard privacy doors, movable dividers between doubles which give couples the option of being together, plus room to rest, work and play with attractive storage for personal items.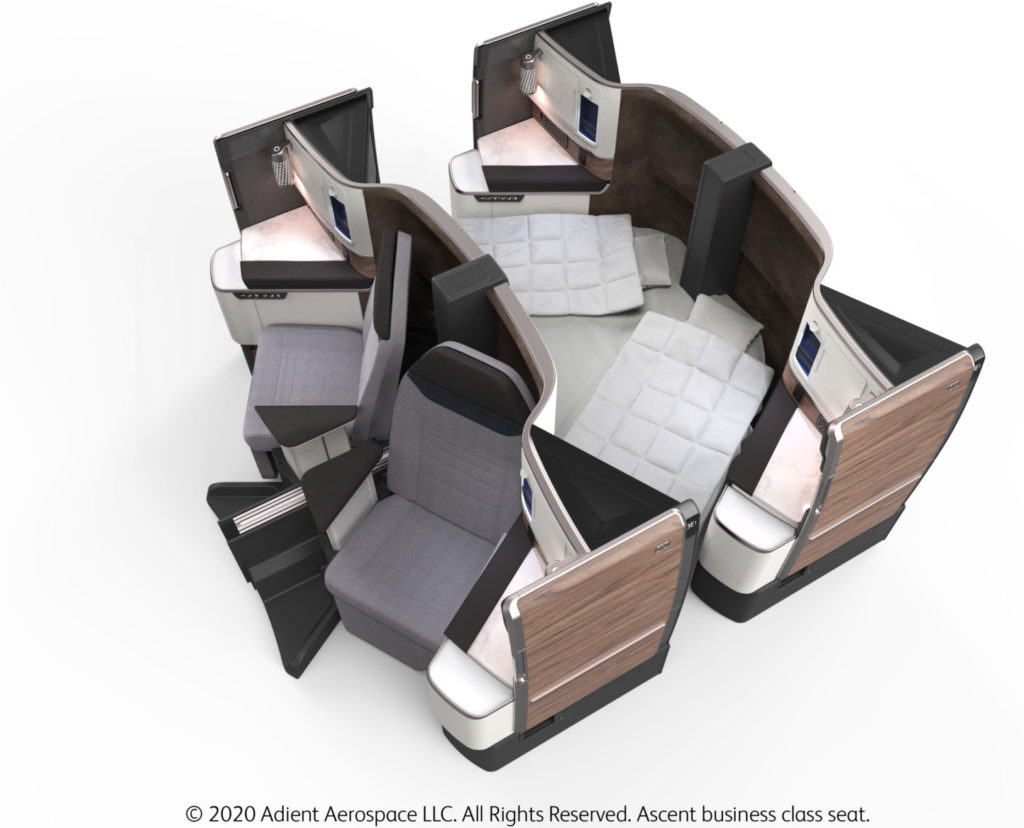 For brand differentiation purposes, Adient offers a set of customizable features, but the focus remains on simple, streamlined elegance. Faulk believes simplicity will be a predominant design trend moving forward, mainly resulting from the COVID-19 pandemic, during which evident cleanliness has become a key brand differentiator.
"We're talking about cleanliness and cleaning the cabin, having fewer gaps having smoother flat surfaces," she said. "Then privacy and separation, having suite doors and privacy dividers. All of those things were something we had in the works already and had been developing before we had this extra [COVID-19-related] concern of cleanliness. I think having a simple design, well-thought-out, easy for a passenger to use, and also easy for an airline to maintain, was very important."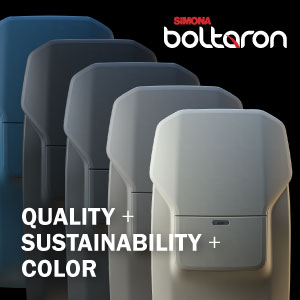 Matt Cleary, co-founder of ACLA Studio, which worked with Adient on developing the color, material and finish for Ascent, agrees that the industry must shift from the mindset of designing to hide stains and damage (hello, amber seating trend of cigarette smoke-filled 1970s' cabins) to one of designing for evident cleanliness.
"Just having a product is designed to be easily cleaned, I think it's going to be on the forefront of people's minds moving forward. In the past, there have been conversations — and I think they affect every industry, whether commercial, or automotive, or aerospace — in which the material might have been chosen because it covers the dirt," he said.
"I think, maybe long term, we might see a different mentality mindset, perhaps not as drastic as white seats. Still, there might be a movement towards people wanting to specify something which allows cleaning teams to recognize that it's dirty, recognize that needs to be replaced, and it's not being hidden." This shift will require all the creative design potential of the industry to come together to make it affordable.
Maintaining a cabin that passengers can easily perceive to be clean is important. But we also know that aircraft interiors suffer extreme abuse. People drop their luggage on vulnerable seat parts and get their personal electronic devices jammed in actuators. They also treat the aircraft cabin as they might never treat their homes, writing on expensive leather, sticking gum on delicate fabrics, using expensive IFE screens as elevated footrests…  Sadly, we could go on and on.
Adient tackled devices lost in seats by including a smartphone slot in an ideal place on the suite cabinet, allowing passengers to charge and safely store their devices while sleeping. Planning for destructive operating environments is one of the aerospace and automotive sectors' strengths. When those advanced design and engineering skills are applied, they can work miracles.
All images credited to Adient Aerospace LLC. All rights reserved by the company.
Related Articles: