When Runway Girl Network first set eyes on Safran Seats' new herringbone business class product, Versa, the obvious first question was to ask the company how it differs from the decade-old Cirrus platform created by predecessor company Sicma, and indeed from the Cirrus NG concept. The answer is a complex one, but it boils down to a clean-sheet replacement for Cirrus using the structure of Optima, best known as United Polaris, and under the aegis of a new global governance model.
RGN sat down twice with Quentin Munier, Safran Seats' executive vice president for strategy and innovation, and asked specific questions via email, to get to the bottom of what, exactly, is new with Versa.
Compared with Cirrus, Munier told RGN, "if you look at Versa and any kind of Cirrus product, you have no common part number. Of course, these are herringbone products, so the concept is a herringbone product … we want to make the best product for the market, so we have no limits starting from blank sheets. Of course we took all the lessons learnt, and it's not something that a newcomer would do. Definitely not."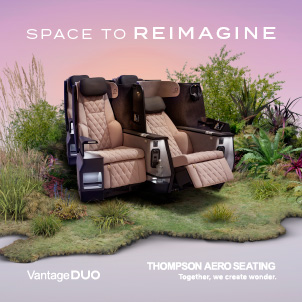 There might to be something of a paradox in both suggesting something is a clean-sheet design but that it has also learned from previous generations, although the results sound fairly impressive. The seat is also being advertised as "double-digits percentage" lighter than Cirrus, with fewer parts.
In a move that may be controversial, Safran is planning to give airlines a choice of only two angles away from the aircraft centerline for certification, rather than offering a range of angles across the four principal future widebody twinjets: the Airbus A330(neo) and A350, and the Boeing 777(X) and 787. It remains unclear whether airlines — which made plain their desire for seats that maximize the use of space on board larger widebodies at the Passenger Experience Conference right before the Expo — will respond positively to this approach.
Munier explained that, in developing Versa, Safran "had an opportunistic approach, saying 'we have made our analysis, geometry and our capabilities to get the best product and to optimize it', and then from that we have opportunities to take something that existed: the seat itself is the one that we take for Optima."
Indeed, there is so much commonality with Optima that Munier quoted a 98% commonality on the seats without the shells. But will the industry take confidence in Optima — a seating product that in its United Polaris form has resulted in widebody aircraft being delayed in customer delivery because of production problems — being 98% of the seating components of Versa?
Fundamentally, Optima is a product produced by the pre-Zodiac business unit Contour in Cwmbran, South Wales, while Cirrus is a product from the contemporaneous Sicma in Issoudun in Central France, where one might imagine the herringbone center of expertise within Safran Seats might lie. As part of Versa's development, RGN asked Munier, how does the seatmaker achieve industrialized commonality across multiple sites?
"We have several principles. First, innovation should come from anywhere. If I've got a good idea, even if I'm not working on this topic but it's a good idea, I should be able to foster it, advocate it and have it developed, even by somebody else, that's one point. So we're not going to say 'you do business class and you don't, or you do that kind of stuff and you don't'," Munier said. "At the same time we want to have a global coherence because there's no way we have competing products. We want to find the right balance."
"The other key principle that we have," Munier said, "is that there are good practices, but there is one best practice for each use case. Of course there are many use cases, so there's no reason why somebody would do one way and somebody else would do another way for the same use case."
Highlighting that the company, made up of numerous seatmakers across multiple countries and even more locations, has seen "Not Invented Here Syndrome", Munier explained that Safran is creating a global structure to manage its innovation, embedded and rooted locally within each business unit, but managed and governed globally. This structure includes research and development budgets, product management, and governance, across both common elements and bespoke elements of each product.
Safran is also planning a relatively slow ramp-up for Versa to avoid some of the industrialization problems it has experienced in the past. The company will continue to sell Cirrus for follow-on customers, and to ensure that the knowledge gained during early production of Versa in its initial implementations can be passed back upstream to improve the product line.
These industrialization questions are crucial. Safran-then-Zodiac was by no means the only seatmaker to suffer a slew of production, quality, reliability and timeliness crises on its flagship products over the last decade, but it was perhaps the worst affected. Safran needs the new approach to both industrialization of Versa and the ongoing harmonization of its widely disparate pre-Zodiac business units to be successful.
Related Articles: