With recliner-plus seats in business, fully-featured HAECO Vector seats in economy, Panasonic NEXT 4K screens throughout, and Bluetooth audio pairing, Cathay Pacific's new Airbus A321neo is redefining the standard for a premium carrier's short- and mid-haul narrowbody operation.
The 202-seater aircraft, ordered for Cathay Pacific's old Cathay Dragon subsidiary, are the first narrowbodies to be operated by the mainline carrier since, RGN believes, the Boeing 707. While the exterior branding was repainted from Cathay Dragon burgundy into Cathay Pacific teal, the largely beige forward cabin and largely burgundy rear cabin reflect the old Dragon colour, materials and finish — will this change for the 16 subsequent deliveries through 2023?
In regional business the seat is, as RGN reported in January, the Collins Air Rest recliner that first broke cover at the 2018 Aircraft Interiors Expo, but to call this category-buster a recliner doesn't really do it justice.
The 12 seats are arranged in a 2-2 position with solid dividers both behind and between the seat pairs, while the seats themselves slide down into an almost Z-bed kind of position within their shells.
This is an impressive upgrade to the standard Air Rest seat via design partner JPA, which says that "enhancements to the platform business class seat included a revised literature stowage area to significantly improve customer foot space, making egress easier, and an enlarged centre divider to increase personal privacy."
That original literature storage area stuck out quite a ways, so it's perhaps unsurprising to see it gone.
Also revised is the rotate-down table, but it's not entirely clear how: Collins showed an internal slide-towards section of table on its AIX model, but Cathay's press image is visibly different, with a recessed embossed material tray area and a sunken cup area, and no visible slide-out or flip-out functionality.
Notably, as this set of images from South China Morning Post journalist Danny Lee demonstrates, the front row of seats has the recline embedded into the bulkhead monument.
This syncs with what Cathay did on its A350s, where the much-discussed Safran Cirrus seat is also embedded into front-row monuments, and it will be interesting to see whether the proximity to the full-height wall above the inflight entertainment monitors affects passenger perception of the amount of space in the seat.
Those monitors are from Panasonic Avionics, and are 15.6" 4K models from Panasonic's NEXT system in business.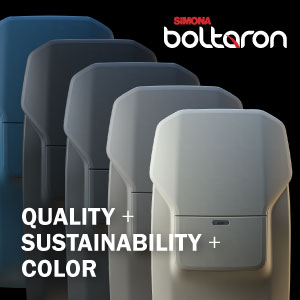 The IFE provider will apparently be working with content provider Anuvu (formerly Global Eagle) to ensure that the content resolution matches the screen quality, with Panasonic saying of the Cathay partnership that "we are thrilled to help them take their passenger experience to the next level with the introduction of 4K content using our NEXT IFE system."
"Inflight entertainment at 4K is made possible by Open, Anuvu's unique cloud-based, digital technology platform," says the content service provider. "Typical 4K file sizes are 10 to 20 times larger than standard definition formats, but with Open, Anuvu can process with ease libraries of large, high-definition content for its airline clients."
And they're 4K throughout the cabin: economy class gets 11.6" personal screens, while every system on board can be paired with personal Bluetooth headphones.
Inflight power is also plentiful: USB-A and -C sockets in economy, while business also gets AC power.
This is also the first A320neo family aircraft to have Intelsat's 2Ku broadband connectivity solution linefit-installed.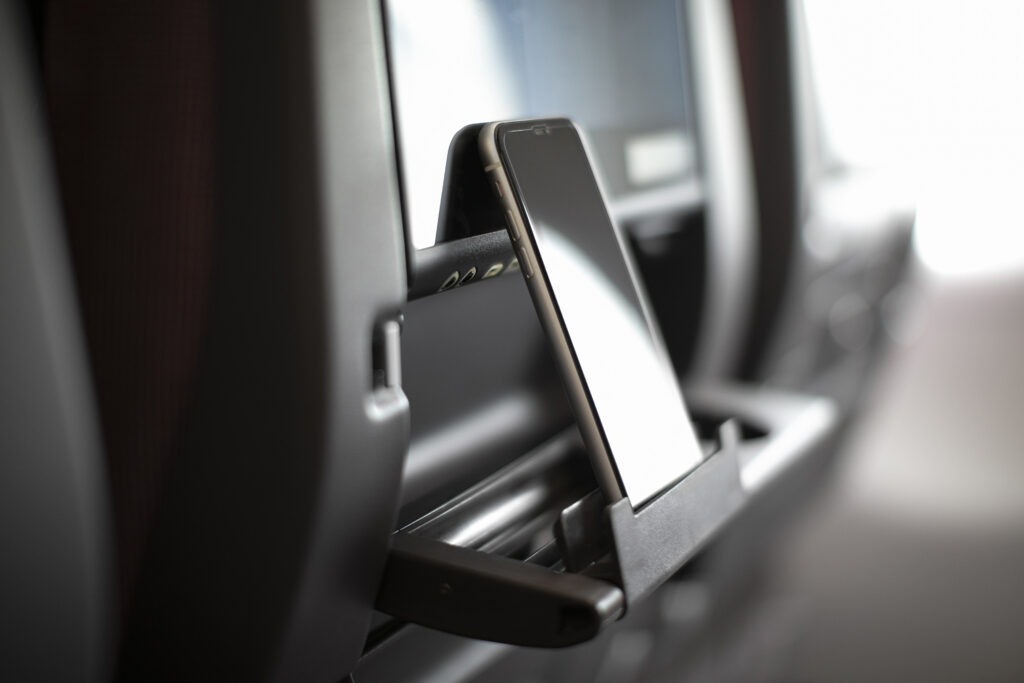 USB-A and C-power – and a PED shelf – complement the Panasonic NEXT 4K IFE and the Anuvu content. Image: Cathay PacificIn context, this new aircraft fits well into the Cathay passenger experience picture: this is an improvement on its older regional business widebodies, and will allow consistency of product to smaller regional destinations under the new Cathay Pacific following its absorption of Cathay Dragon.
Related Articles:
Featured image credited to Cathay Pacific