Sitting down to reflect on how the aviation industry's cycle of trade shows and demonstration opportunities has changed since 2019 — a cycle that will still not be back to its pre-Covid rhythm next year with a late May 2024 Aircraft Interiors Expo — it's been thought-provoking to refer back to a discussion with Ben Smalley, director of business development at Sekisui Kydex, earlier this year.
Our wide-ranging discussion focussed on a number of topics, including the company's collaboration with Astronics on a mock up business class console featuring new technologies from both companies. It's smart, joined-up and allows visitors — whether airlines, design houses, integrators, airframers, other suppliers within the chain, prospective partners, or indeed curious journalists — to see how innovations, which can often feel as if they are discussed in a vacuum, might be applied in the real world. 
"Outside of discussing sustainability, it was the biggest hit on our stand, and I think it's going to encourage what we do moving forward and show at the show," Smalley said of Kydex's presence at this year's Aircraft Interiors Expo. 
As one example, take Kydex's Lumina thermoplastic, designed for backlit applications. After its 2018 and 2019 Crystal Cabin Award finalist placement, Smalley said, "I had people come to me and say, 'I assume you're working with a lighting supplier to figure out how to get this integrated and work?'"
After a notable collaboration in advancing the Butterfly seat concept with Astronics, the two companies "came up with this idea to show our materials with their products in a real life application, so we made a business class console mock up, and we started working with their lighting system and our materials, and used both of our expertise in that space to bring those together, to show the customer something," Smalley explained. "And what I'm probably most excited about is it was just the first draft. It's going to be something we iterate, iterate, iterate, in terms of capabilities."
The 2023 console features a Kleerdex custom translucent, Lumina, surfaceGrip material, and Crystal Cabin Award-winning Infused Imaging materials on the Kydex side, with Astronics' Nuancia Tile system of illuminating panels.
"We also wanted to show the translucency of Kleerdex on the door. We included lighting there to show different ways of how our materials could interact with lighting, and it was very impressive — great support and collaboration from Astronics," Smalley said.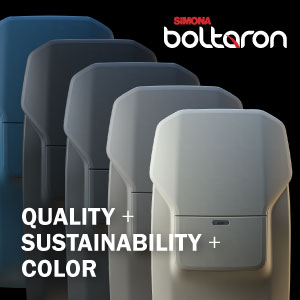 Adding passenger-centric lighting like internally lit panels or hidden elements is both a clever way to adjust and influence mood, wakefulness and overall experience, as well as to offer impressive transitions and surprise-and-delight moments along the journey.
"The ability to have something completely turned off, that looks opaque — and then wow the passenger in flight — or have a really impressive boarding, and then turn it down or change it with the meals," Smalley suggested, "gives you an opportunity to control that passenger experience."
At a time of increasing densification in business class, and where the doored mini-suite trend is creating ever more individual spaces for passengers who are also increasingly used to customising their lighting at home or in their home offices, there's an opportunity to use lighting in multiple ways to achieve impressive effects. 
An airline or seatmaker might choose to combine branded backlit panels with programmable LEDs, overhead light-washing and internally lit elements, allow customers to choose their own favourite colour for their accent light — or indeed to use a blue-white or warm-white colour to reset their body clocks, while bringing the airline's brand aesthetic at boarding and key moments like mealtimes.
The collaboration brings a repeat iteration benefit here too for both companies, of course: the situation where a potential collaborator or customer considers a new use for one or more elements that either of the suppliers had not previously considered.
Related Articles:
All images credited to Kydex