"Airframers, seatmakers, airlines, entertainment suppliers, connectivity providers…and plastic mouldings." All too often, Aircraft Interiors Expo attendees — and indeed airlines — consider the largest expanse of surfaces within the cabin something of an afterthought.
Climbing the stairs in the Sekisui SPI booth at the recent AIX show in Hamburg, it's clear that this company, formerly known as Kydex, is anything but an afterthought. This is serious scientific engineering that can bring serious benefits to the cabins of airlines who are paying attention.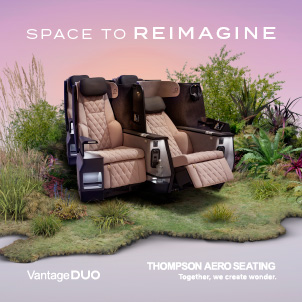 Sekisui president and COO Ronn Cort, whose Twitter account is headlined by a shot of a Concorde cabin interior, is clearly aiming high for thermoplastics as he talks to Runway Girl Network.
The latest from Sekisui: infused imaging, which enables airlines to accurately and attractively reproduce any image onto a new generation of surfaces of any shape, with a remarkable soft touch texture that's something like silicone bakeware.
And it really can be any shape.
Cort points to panels that match the outer panel of an Air New Zealand 777-300ER premium economy SpaceSeat, (with its combination of curves and corners, as pictured above.)
"We love that shape," Cort says, "because it's organic, it's both convex and concave, and it's the right size so you can actually see some distortion. If that was a normally printed silk screen or digitally printed you would see a lot of distortion on the bottom of that part because the inks would spread out. We use that part to show the whole process." 
The texture itself is so new that Cort has to edge around describing it "because we don't have it wrapped up under IP yet", so for now he's calling it "a polymer that's built into our material that when it's thermoformed it becomes soft to the touch". Watch this space for more.
But what makes infused imaging truly revolutionary is that it doesn't require a cap layer on the polymer sheet, which can deform.
Cort explains: "So a designer could say 'I don't want to just pick a thermoplastic because it's plastic.' We recognize that they are always trying to take our plastic and do something to it to put a bit of brand identity or to incorporate it into an aircraft. So we said, how do we take this commodity idea of plastic and turn it into this whole idea of organic, one-off, my design?
"That's what this whole process of infused imaging does. It allows the designer to have a washi paper experience with their own designs." 
Washi is the custom-made Japanese traditional paper that can allow designs to be seen through it, walking the line between translucency and transparency. "It's the best way to describe infused imaging, this Japanese handmade paper," Cort says. "Think paper, what's more commodity than paper? But when you say washi, it evokes a whole different thing, a custom made, one-at-a-time, handmade thing. We wanted to take that washi spirit and bring it into thermoplastics." 
The precision of the images on display are deeply impressive, not least because the soft touch plastics are acoustically dampening — an issue that Sekisui is working hard to address given the increasingly quiet cabins of modern airliners like the A380, 787 and A350. Sekisui's Calmmoon technology, more familiar to the rail industry, is already installed on Qantas' A380s to deaden lavatory and galley noise.
The future as Sekisui sees it is clear on the walls upstairs at its booth, which are covered with a sort of 3D paper tesselation, much like the walls of a recording studio are covered in foam. It's incredible how much of the underlying roar of the massive Hamburg Messe hall is reduced just by covering one sidewall with the pattern.
"In the cabin environment, especially if you're inside a shell, you don't want that noise bouncing out, you want that absorbed," Cort says as we discuss the new generation of options for premium cabins, which will eventually trickle down to the rest of the plane. "There's a couple ways to do it. Shape is one. Ultimately I'd want to have this soft touch material that has sound deadening properties with a design that actually works to trap that sound within that space rather than amplify it. So we need to start to build that portfolio and product." 
Anyone who has experienced the cacophony of snoring from sated and exhausted sleepers in a large business class cabin on a quiet aircraft — Lufthansa's A380 or Qatar's A350, to name just two — will welcome new acoustic engineering.
But developing this kind of integrated engineering will require integrated working. "The form and function have to come together in the design. Right now the typical model is 'let's take the function and cover it with some form,'" Cort says. So what's the future? "Treat things for what they are and then build design into that. We often look at seats — you know we get used to covering things if we don't want to see them." 
Cort points at the flowery infused imaging panel. "As we start to move into types of things like this panel, instead of being a large cover or to hide a component, infused imaging allows it to be part of the overall design of the cabin. It's not a piece of furniture dropped into the cabin. It's part of the cabin design.
"There are lots of people that make thermoplastic sheets. What differentiates us is that we do a lot of early collaboration with the design community to develop materials that are the right tone, tenor, texture, and effect for their total environment. So we're not just doing a color match, we're actually part of a collaborative process where you're saying, 'Okay, this is what you want that cabin to feel like.'"
"There's more collaboration in our business then there's ever been before," Cort observes. "If you'd have looked at us ten years ago our customers were the thermoformers and the seat suppliers. If you talk to us today, our customers are the airlines and the design consultancies, as well as the seating companies and the thermoformers." 
"Now what happens is the conversation is not with some designer who says, 'Well I'm going to pick materials' and then the supply chains have to figure out how to make that work. It's not a conversation with the supply chain going back to the designers saying 'well this is your whole portfolio of product'."
That conversation often happens in the company's design studio in Bloomsburg, Pennsylvania, with Cort providing a space for all the participants in the cabin creation process to sit down and talk about what they want and need.
"What we're finding is this phenomenal opportunity to bring that thermoformer, the seating company, the certification folks, the airline, and the designer, and their material supplier in a room at one time and say, 'what are you trying to really accomplish?' And then there's this phenomenal discussion which takes place: this is the existing portfolio of products. This is the dream. How do we collectively work together to start to bridge those things?" 
Cort gestures to the space in which we're sitting. The sound and the feel of the room — with its acoustic dampening wall, infused imaging features, LED-embedded carpets and thermoplastics on display like a Star Trek set — feel as futuristic as his vision for the cutting edge of cabin interior design.