There are many reasons to make AvioInteriors a stop on your annual circuit of the Aircraft Interiors Expo, and the excellent Italian espresso for a mid-afternoon pick-me-up is only one. Watching the evolution of the thinking at this scrappy challenger seatmaker play out between shows always brings a refreshing and thought-provoking perspective, and so it is this year with the evolution of the company's convertible herringbone concept "Heric" from last year's show.
Heric 2023 (your author's term, not Avio's, with the original name stemming from "herringbone in cruise") is a fascinating piece of perpendicular thinking. Where Heric 2022 was practically a Transformers toy of a converting row of economy seats, with swinging double-seatbacks and much latching to be done, this year's is stunning in its simplicity.
About half of the product, on the aisle side, is a standard recliner, pitched at the kind of standard 38 inches of pitch and 22 inches of width that you might expect from narrowbody business, US domestic first or international premium economy seat. 
But the other half, towards the window, is a simple, yet elegant, bed platform, joined by a raising legrest to create a sizeable sleeping surface. It's arranged in the herringbone configuration that has been so persuasive for many seatmakers in the premium single-aisle market, and strips back what passengers might want for a longhaul narrowbody business class — the kind of short transatlantic night that has so challenged the passenger experience industry when it comes to creating new products.
The passenger sits in the recliner seat for taxi, takeoff and landing, and is free to curl up into bed as soon as the seatbelt sign goes "bing" if they so desire. This makes certification a breeze, since the passenger is seated in a standard forward-facing seat, and dramatically reduces weight since bed mode is already achieved. 
In addition, the bed area would allow pre-departure storage for what your author mentally calls Mount Duvet — the pillows, cushions, blankets, mattress pads, duvets, pyjamas and assorted soft product that must often be dispersed into the overhead bins, which in the storage-constrained narrowbody experience is a complicated endeavour. These could be simply secured with the bed seatbelt on loading. During a day flight, this could be set up as a kind of day bed, and the bed surface allows ample room to stretch out with papers and belongings.
Geometrically and physically, the amount of space at a 38" pitch in both seat mode and bed mode is impressive. 
The seat offers a fold-down armrest-cocktail-table assembly and is otherwise an almost unlimited width, allowing passengers to sit comfortably, curl up sideways, recline with the legrest or even raise the legrest and cross their legs.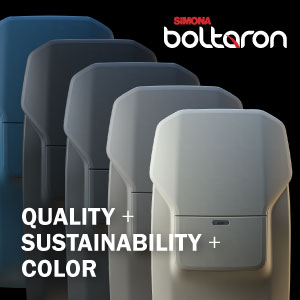 The bed, meanwhile, is pleasingly agnostic as to which way the passenger decides to place their head — against the cabin sidewall, where it is most private indeed — or near the aisle, where there is the greater sense of space.
Given the 38" pitch at which the product is demonstrated, the bed mode stretches to 26 inches (66cm) wide, with a bed at a minimum of 6'3" (191cm), although even here Avio is perhaps doing itself a disservice with a very conservative angle of measurement. Other seatmakers have called much less convincing amounts of space much larger in the past.
A substantial amount of customisation and storage stretches the length of the separating wall between the seats, more so than on many of the more heavily engineered herringbones on the market. Avio chief executive officer Luca Vetica tells Runway Girl Network that, because this is relatively low on the sidewall and well out of any passenger pivot path during crash testing, this space is almost infinitely customisable.
It will be informative to see how the rest of the industry responds to this impressive innovation.
Related Articles:
Featured image credited to John Walton