Ready-to-drink cocktails, a mainstay of picnics and barbecues, are arriving on planes, with many different companies vying for travellers' attention. But how do they stack up?
At the World Travel Catering & Onboard Services Expo in Hamburg, your author tried a sampling of new concoctions at the show to see which ones fizz with promise, and which ones fall flat.
Before we dive in, let me first stress that judging cocktails on taste and packaging is purely subjective. And yes, it's a tough job, but somebody's got to do it!
First up, premixed cocktails from Lockdown Liquor & Co, a cleverly-named British outfit launched during the Covid pandemic by Natasha and Jack Durling. Lockdown Liquor & Co offers a variety of classics in a can, including margaritas and negronis, but differentiates itself by focusing on high-end ingredients.
I tried a sampling of different beverages, with the espresso martini being especially compelling. This was helped by the conscious decision to underfill the can, allowing it to be shaken to create the type of frappe foam you would see with a bar-made cocktail.
The design of the packaging is terrific, matching matte colours with bold logos to provide an alluring product.
Next we have Curatif, an award-winning Australian cocktail purveyor that is especially proud of its 'Tommy's Margarita'. "It doesn't remind you of a margarita; it is a margarita," stressed managing director Matt Sanger.
A taste test of the drink, served chilled, proved his point. The margarita has a unique spicy aftertaste and a deep tequila flavour, giving the sensation that it's heavier on the alcohol than it actually is.
The design of the can gives a tropical party vibe. Would it stand up to being served warm on a low-cost carrier? "It's a premium product," replied Sanger.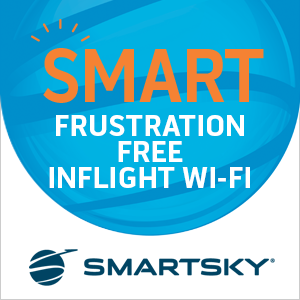 The Perfect Cocktail Co, meanwhile, provides a range of cocktails (and indeed mocktails) with a focus on bar classics like the negroni. I sampled a couple of varieties, and the negroni was truly delicious.
Brand marketing manager Rebecca Merenda explained that the company uses its own sourced ingredients from Italy (excluding geographically specific drinks like bourbon) to make them unique, and this pays off in taste.
What lets this brand down, unfortunately, is the same thing that sets it apart: the packaging. Using a pouch reduces both weight and space in the cabin. But while it's a fun design and uses clear bold text, I wonder if the tear-off corner leads to spillages if you're not careful. Consider how mini milk sticks can create a surprising splash on board.
Nevertheless, I could imagine that these lightweight, low fuss drinks would be popular on short-haul routes.
Finally, a wild card. O'Donnell Moonshine is not necessarily a cocktail at all, but a base for other drinks.
Formed by a group of Berliners who were inspired on a US road trip, O'Donnell Moonshine offers a range of liqueur and craft spirits that can serve as the base for a variety of drinks. For example, its cherry liqueur, which features a bold, wild, and sour flavour, would work well with sparkling wine.
I tried the wild berry flavour with sparkling water, and it was very refreshing, reminding me of a hard seltzer.
The design of the product is very hipster, with the Moonshine smuggled aboard in small glass mason jars. Whilst it's a curious offering, the additional DIY element may limit its appeal on board flights. 
On balance, all of these companies' products hold some attraction, but for different markets. One could easily see Lockdown Liquor Co's premixed cocktails being stocked in, say, British Airways' premium economy cabin, and Curatif is already served on board Qantas business class.
The weight savings and easy distribution of The Perfect Cocktail Co. makes it a shoo-in for a variety of carriers, whilst O'Donnell may be better suited to a refined pre-departure beverage in the lounge, or perhaps business-plus on board.
In any case, the perennial 'gin in a tin' has some stiff competition. 
Related Articles:
Featured image credited to Fintan Horan-Stear