Catering powerhouse LSG Group and onboard products specialists Kaelis are working in a new strategic partnership to break down barriers between catering and onboard product — and to better integrate the entire design process around food, drink, and the plates, glasses and other ways they are served.
The move is intended to achieve what LSG chief executive officer Erdman Rauer calls "a powerful synergy", in the context of the recent announcement that Lufthansa Group would be selling LSG Group, including LSG Sky Chefs and Retail inMotion, to investment firm Aurelius.
The goal for the new partnership, LSG and Kaelis tell Runway Girl Network, is an all-in-one offering that, in many cases, will involve optimisation and rationalisation of what will be placed on the aircraft, reducing cost, weight and complexity.
Manoj Pridhanani, creative director and head of sustainability at Kaelis Group, tells RGN that the partnership is especially attractive because "we bring our expertise to the LSG expertise: they're the culinary experts in their field, and we bring the expertise from the product perspective."
The partnership will benefit from a joining up of two parts of the overall passenger experience picture that are, within many airlines' catering and onboard services, often still disjointed and held within different silos within an airline's management and staff structures.
Part of the purpose, Pridhanani explains, is to ensure that "we understand what the chefs are going to be looking at, and make sure that it goes on the right canvas. We're not giving them something that doesn't go together. It's like two puzzle pieces that come together and they fit very, very well."
The collaboration will include a strong diversification and expansion of the joint product portfolio across classic catering, onboard retail, hybrid onboard services, tableware, textiles and other amenities.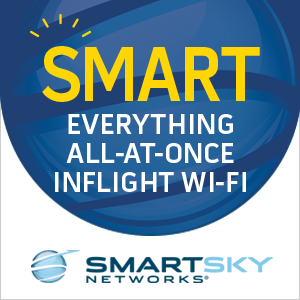 "So for example," Pridhanani tells us, "for a business class tray setup, we would reduce the number of items that an airline will probably need, like the number of [different] plates — SKUs [stock keeping units] — so they would use the same [type of] plate for an entree, for example, for serving their tea or coffee service, and for dessert."
"That way,", he continues, "you reduce the quantity of plates that you have — obviously reducing the weight." In contrast, today there might be two or three different kinds of plate, which on an airline that does plating means they have to carry extra of each.
There's also an inherent benefit to working together when it comes to supply chains, especially in the context of the overall supply chain crunch within the aviation industry — and particularly in the airport services sector — as well as the pressure of onboard space aboard modern aircraft.
Airlines, their chefs, their catering designers and their catering suppliers will be able to design meals and tableware at the same time, making the most of the limited galley and trolley space, an increasingly tight provision in the era of ultra-long-haul flights.
But it's not just about space, Pridhanani explains, demonstrating a bowl that looks (on the surface, anyway) much like any other bowl to RGN; it's about smart materials science too.
"We call it durable porcelain: it's a specific formula that we've developed, where we can maintain the sturdiness of the product," he notes. "It's still shock absorbent because it's 90 degrees Celsius that they wash it in the dishwashers — so it still maintains its its shape, and the brittleness is still just as good against chipping."
This is the kind of practical innovation that is invisible to passengers (or, with a fresher modern look, a net #PaxEx benefit) but can make a big difference to both an airline's fuel and the resulting carbon emissions.
Related Articles:
Featured image credited to LSG + Kaelis