LATAM Airlines Group says it has eliminated three-quarters of single-use plastics from its onboard service products, and is evaluating sustainable alternatives to replace the remaining 25% ahead of its 2023 target.
The Chile-based group is aiming to replace 100% of single-use plastics across its operations by next year. 
So far, LATAM says it has eliminated more than 1,200 tons of single-use plastics from its economy-class cabins, replacing them with materials such as bamboo cutlery, reusable trays, paper-based packaging and paper cups. It has also introduced "eco travel kits" for premium passengers, which contain bamboo toothbrushes with sugar-cane lids, ear plugs wrapped in paper, and socks and eye masks made from recycled plastic.
"The remaining plastic items are mainly the bags that cover the complimentary items for our economy cabins," LATAM's senior manager of in-flight lounges and customer experience, María Estela Espinoza, tells Runway Girl Network. "We are already testing substitute materials existing in the market that will allow us to eliminate this in the short- to medium-term, along with finalizing the rollout of our new amenity kit for the business-class cabin, and replacing other materials."
The main challenge, adds Espinoza, has been getting to know and understand the differences, costs and advantages of the various available substitutes.
"This was a relatively unknown world for us, and quite technical, so we had to rely on field experts," she says, emphasizing that implementing the changes is "much more profound than simply replacing one material with another". It involves "modifying the delivery and collection procedures for onboard service, and creating new operational processes".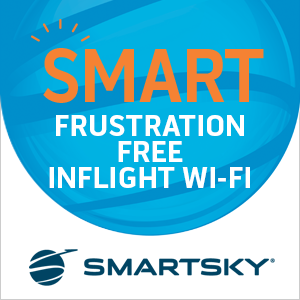 LATAM had a "wide range" of suppliers to choose from for its plastic-replacement products, says Espinoza. In the end, it selected items from providers including Linstol and Netherlands-based Global-C, as well as Kaelis, Wessco and BO Packaging. 
Alongside its target to eliminate single-use plastics by 2023, LATAM is aiming to send zero waste to landfill by 2027. To achieve this, the airline group has launched an initiative known as "Recycle Your Trip", which involves separating onboard items for recycling on domestic flights.
"When our cabin crews collect items used during the service, they separate plastic, glass and aluminum cans in trolleys that have been adapted to implement this program on board," says Espinoza. 
LATAM has introduced the onboard recycling program on its domestic flights in Chile, Peru and Ecuador. For domestic flights in Colombia, the sorting process is carried out on the ground. On international flights, however, Espinoza explains that "it is not currently possible to recycle disposable waste, as there are regulations in some countries that require special treatment or incineration of waste". 
Reaching its zero-waste and plastic-free targets involves examining and adapting all areas of LATAM's business, according to Espinoza.
"To achieve this goal, it has been necessary to analyze our entire operation, including not only materials on board our flights, but also other operational areas," she says. For instance, the group is conducting pilot programs aimed at replacing single-use plastics across LATAM Cargo's operations. This includes "the use of reusable blankets for cargo, and other materials allowing us to minimize plastic use".
The onboard sustainability initiatives have been "well-received" by passengers, says Espinoza, "many of whom have reached out and thanked us for our efforts". She adds: "This is a complex task but, in this process of change, one of our main lessons learned has been that in addition to caring for the planet, the solutions we have implemented also improve the experience of our customers."
LATAM has a broader objective of cutting or offsetting 50% of its domestic emissions by 2030 and achieving carbon neutrality by 2050. As part of this plan, it has committed to 5% sustainable aviation fuel (SAF) use by 2030, favoring production in South America. However, Espinoza admits that this is a "challenging target" because "there is currently no production of SAF in South America, and the conditions required to develop the market do not exist".
Related Articles:
Featured image credited to LATAM