Airlines that have made commitments over the last five years to reduce or eliminate single-use plastics from their operations will soon be judged on how well they have done. 
Deadlines are drawing near for LATAM Airlines Group and Ryanair — both of which have set goals to become plastic-free by 2023 — while Etihad Airways' target date to reduce single-use plastics usage by 80% has now passed.
Chile-based LATAM is aiming to replace 100% of single-use plastics across its operations by the end of this year. As of October 2022, the Latin American airline group was three-quarters of the way there. At that point it was evaluating sustainable alternatives for the plastic bags that cover complimentary items in its economy-class cabins, and finalizing the rollout of new amenity kits for its business-class cabins.
Fast forward to today and Spain-based onboard products and services provider Kaelis says it has helped LATAM progress toward its target by supplying reusable packaging for the bedding used by the carrier's business-class passengers. Instead of wrapping pillows and duvets in plastic, LATAM now packages the items in reusable canvas bags.
"The canvas bags add to the comfort and homely feel in the cabin and share the sustainability story with a simple message on the bag," says Kaelis, adding that "the sand tone and cylindrical design of these natural bags add to the aesthetic appeal". Each bag carries a message explaining to passengers how its reuse can help the planet, and encouraging them to leave it on their seat for collection when they disembark the aircraft.
Irish budget carrier Ryanair also set a goal in 2018 to eliminate all non-recyclable plastics from its operations by 2023. Setting out its commitment five years ago, the airline said: "We will work with our suppliers to replace our current non-recyclable plastics with environmentally-friendly alternatives such as biodegradable cups, wooden cutlery and paper packaging.
"We will roll out our plastics-free policy across our entire operation — ground operations, engineering, in-flight, at our bases and at our head office — over the next five years."
As Ryanair and LATAM work toward meeting plastic-free goals for this year, Abu Dhabi-based Etihad passed its target date for reducing single-use plastics by 80% late last year. The airline operated a flight between Abu Dhabi and Brisbane without any single-use plastics on board in April 2019, as part of an Earth Day public relations exercise. Etihad said at the time that it would reduce its single-use plastic usage by 80% by the end of 2022.
Etihad's UAE-based rival Emirates also made a commitment in 2019 to reduce single-use plastics on board its aircraft. However, the Dubai-based carrier did not publicly state how much plastic it planned to eliminate, or the date by which it aimed to achieve its goal.
Earlier this year, Emirates said it had recycled more than 500,000kg of plastic and glass over the course of 2022, which it noted was "almost the same weight as a fully-loaded Emirates flagship A380 aircraft". Glass and plastic bottles from every Emirates flight that lands in Dubai are separated and sent to a local recycling plant, as part of an initiative which the carrier says was suggested by members of its cabin crew in 2019.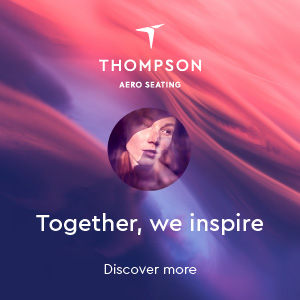 Emirates also provides its long-haul economy-class passengers with blankets made from recycled plastic bottles. Since introducing the blanket initiative six years ago, Emirates says it has prevented more than 95 million plastic bottles from going to landfill.
Other initiatives aimed at reducing single-use plastics at Emirates include the use of wooden drink stirrers as well as paper straws and in-flight retail bags sourced from "responsibly managed forests". The carrier also provides complimentary toy bags for children made from recycled plastic bottles.
"Each Emirates kids' backpack is made from 5.5 recycled plastic bottles and each duffel bag is made from seven," says Emirates. The airline has also made its amenity kits for premium economy- and economy-class passengers from more sustainable materials.
"The pouches are reusable and made from washable kraft paper with bespoke art printed in non-toxic soy-based ink," says Emirates. Contents include a toothbrush made from a combination of wheat straw and plastic, socks and eyeshades made from recycled plastic, and packaging made from 90% rice paper. 
RGN has approached Etihad and Ryanair for comment on how their plastic-free initiatives are progressing.
Related Articles:
Featured image credited to Kaelis Group