Everyone should have the ability to easily access all aspects of air travel. But as countless news stories and first-person accounts on social media attest, persons with disabilities face many barriers, including wheelchair users who live in fear of seeing their expensive mobility devices — which act as their legs — damaged or destroyed.
Regulators are finally studying how to better accommodate wheelchair users in the cabin. However, with the advent of Artificial Intelligence, there is an area where industry can enhance accessibility, and effect change relatively quickly, and that is inflight entertainment. While not a key factor in the physical transportation of passengers, IFE can play a critical role in improving passenger safety and the overall inflight experience.  
When entertainment and connectivity are accessed via a personal electronic device, the passenger can leverage advances in consumer technology including speech-to-text apps and screen readers. This does not absolve the airline or IFE vendor of responsibility. There are standards and best practices in the design of some of these digital experiences that should be applied. But most of the heavy lifting is done by the device manufacturers. 
In-seat entertainment systems are a different ballgame. When bringing an embedded system on board aircraft, many elements in the cabin need to be considered. And long lead times are required to move from ideation to execution.
It took United Airlines three years of development before launching the world's most extensive suite of accessibility features on a seatback IFE system at the end of 2018. During that three-year period, United remained steadfast in its commitment to diversity, equity, and inclusion. Even in the face of leadership changes and reorganizations, management prioritized the project, ensuring that momentum was maintained. 
United's groundbreaking IFE system provides accessible features to the blind, deaf and physically disabled. My own personal journey leading United's IFE team and partnering with Panasonic Avionics did not stop after the system launched on the Boeing 787-10. Software enhancements were released thereafter. 
More recently, however, United's newly retrofitted 767-400 entered service this year without the complete suite and other bespoke features that we developed for the 787. This is a disappointing development, representing a step back for accessibility. I am left to wonder if priorities have changed at United.
Fortunately, other airlines are working with their IFE vendors to bring accessibility to the skies. On a recent Fiji Airways Boeing 737 MAX 8 flight from Nadi to Sydney, I was pleasantly surprised to find a full suite of accessibility features on the carrier's Panasonic seatback IFE. I didn't see any communication about this development before or during the flight, nor were any user guides made available. Fortunately, the solution was almost identical to the United implementation, and I was able to quickly work out how to navigate the GUI and test it out. It's great to see Panasonic continue to offer these features to customers.
Indeed, with the full suite flying on some IFE-equipped United and Fiji aircraft, and a partial suite flying on Air Tahiti Nui, Panasonic reveals that five more airlines will be rolling out accessible embedded IFE systems in 2023/24.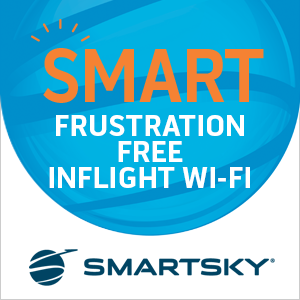 While Panasonic is leading the way, other major players are preparing to make big announcements about accessibility at the upcoming Aircraft Interiors Expo (AIX) in Hamburg. Safran Passenger Innovations (SPI), creator of the award-winning RAVE system, kicked off its Accessibility Project in early summer 2022. Initially focusing on research and engaging with key customers and advocacy groups, SPI commenced rapid prototyping around January 2023 to build out a high-fidelity functioning prototype that will be showcased at AIX.
Thales InFlyt Experience has also shared that a new dedicated GUI will be flying soon and with it, applications to offer blind passengers the full experience of seeing passengers, through gestures and a text-to-speech engine. Thales has also been developing software solutions to assist the hearing impaired and will demonstrate the technology at AIX. Thales and SPI have launch customers for their solutions.
As industry players address accessibility, and in the absence of regulation and/or standards, consistency should be the name of the game given that passengers may be exposed to different IFE systems in an airline's fleet, and different IFE systems on other airlines. 
Consider the importance of consistency to the traveller who requires text-to-speech functionality to navigate around the IFE system. For hearing impaired passengers, it's not just about offering captions for all movies and TV shows either, though that would be a fine start.
I am not advocating that airlines eschew mixed IFE fleets, whether embedded and/or wirelessly streamed to the passengers' own devices. There are benefits to be gleaned from either and both. Offering an accessible seatback IFE experience does add another layer of complexity, however. And it's critical that any baseline accessible seatback IFE be aligned with an airline's overall passenger experience both in-flight and on-ground.
With challenges also come opportunities and new ways of doing things that can benefit stakeholders and passengers. If airlines and vendors partnered to share each other's research and create standards in conjunction with input from advocacy groups, experts, and passengers, then the outcome would deliver some consistency across the passenger journey irrespective of where the passenger is flying to. Competition doesn't make sense in this area.
Five years ago, IFE accessibility was a differentiator. Now it's an imperative. Standards would ensure that the greatest number of passengers can benefit. Industry must come together and make inflight entertainment accessible for all. 
About the Author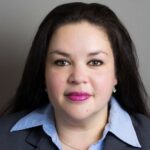 Corinne Streichert is the founder of IFECtiv LLC, a USA West Coast-based Inflight Entertainment and Connectivity (IFEC) consulting company. She also produces and hosts the 'On Your Flight Today' podcast that reaches listeners in over 35 countries. As a multi-award winning IFEC veteran, Corinne is recognized for redefining and innovating customer experiences in the commercial aviation space. A member of the Crystal Cabin Award Association Judging Panel since 2019, Corinne is a global presenter and speaker who has also served on the APEX Education Committee in the past. With two decades of aviation and technology experience, Corinne's career highlights include leading the United Airlines team to win its first ever Crystal Cabin Award in 2019 for a ground-breaking world first accessible seatback IFE system. Corinne also worked for Qantas Airways where her contributions resulted in her being awarded the 2005 Qantas Innovation Award.
Related Articles:
Featured image credited to Mary Kirby