Bluebox Aviation Systems this spring was forthright about its hopes that airlines would voluntarily adopt accessible inflight entertainment for blind passengers before regulators require them to do so. But during the recent APEX EXPO in Los Angeles, management confirmed that airlines generally are not taking the initiative.
Asked by RGN whether airlines flying with inaccessible seatback IFE systems are seeking to place a batch of Bluebox's iPad-based accessible IFE devices on board their widebody aircraft in a bid to entertain visually impaired passengers on long-haul flights, company business development manager David Brown said:
Surprisingly not. No, not yet. Because again, it comes back to the legislation is not there. Until they need to do it, then it looks like, disappointingly, they're not doing it proactively.
In 2016, the US Department of Transportation conducted a negotiated rulemaking to agree future measures to improve accessibility of aircraft lavatories and IFE. The DOT turned to a variety of parties for advice, including the Airline Passenger Experience Association (APEX), as represented by long-time IFE industry veteran Michael Childers, who chairs the APEX  Technology Committee.  
The DOT ACCESS Advisory Committee, among other things, established deadlines for airlines to ensure that any new seatback IFE systems installed on new or existing aircraft are accessible.
In an exchange today, Childers stated:
The recommendations of the DOT ACCESS Advisory Committee relative to the provision of closed captions for the deaf and audio descriptions for the blind in 2016 were not codified in regulations because the incoming Trump administration established a moratorium that provided that no new regulations could be implemented unless an existing one was withdrawn.

An accessible IFE system interface for the blind was not recommended in the ACCESS effort because it represented more complex technological issues for embedded seatback systems that had not architected such features into their original design, but our APEX Working Group and the American Council of the Blind issued recommendations for system design for future iterations. A high percentage of the movies on North American IFE systems are being provided with closed captions, and a large number of movies are provided with audio descriptions.
Fully accessible IFE is not the only area where government has dragged its feet. In October 2018, President Trump signed FAA reauthorization legislation that, in addition to extending the FAA for another five years, instructed the agency to study the feasibility of using wheelchair restraint systems and, if feasible, to explore the ways in which they could be introduced on aircraft to accommodate wheelchair users, including those who use power wheelchairs.
But as RGN contributing editor Marisa Garcia reported for Runway Girl Network last month, it appears increasingly possible the study will not be completed within the timeline and scope of the legislation. That's why non-profit organization All Wheels Up has been working to fund an independent feasibility study that can be presented to Congress.
It's logical to assume that once we finally see movement from regulators to improve accessibility for wheelchair-bound passengers that the dominos will start to fall, and the notion of offering fully accessible entertainment will be in the spotlight again.
Asked Brown rhetorically, "Why wouldn't you do it?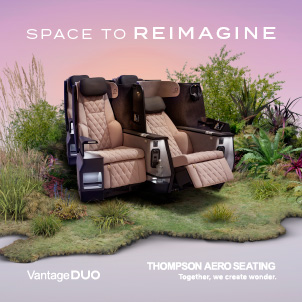 Not all airlines are sitting on their hands, however. Bluebox worked closely with Virgin Atlantic when developing its original aIFE-branded platform, which has been entertaining passengers with visual impairments aboard Virgin flights serving destinations across North America, the Caribbean, Africa, China, India and the Middle East. Additionally, all existing and new customers of Bluebox's iPad-based IFE platforms are able to benefit from the company's development of the aIFE app, as Bluebox has offered to provide an upgrade free of charge for devices currently in service,
Childers noted: "The Bluebox solution is good, but there are logistical issues involved in provisioning portable devices in many locations. Virgin Australia also implemented a solution for blind passengers. Allowing the regulations recommended by the ACCESS Advisory Committee would be in everyone's best interests, and the physical interface is still challenging."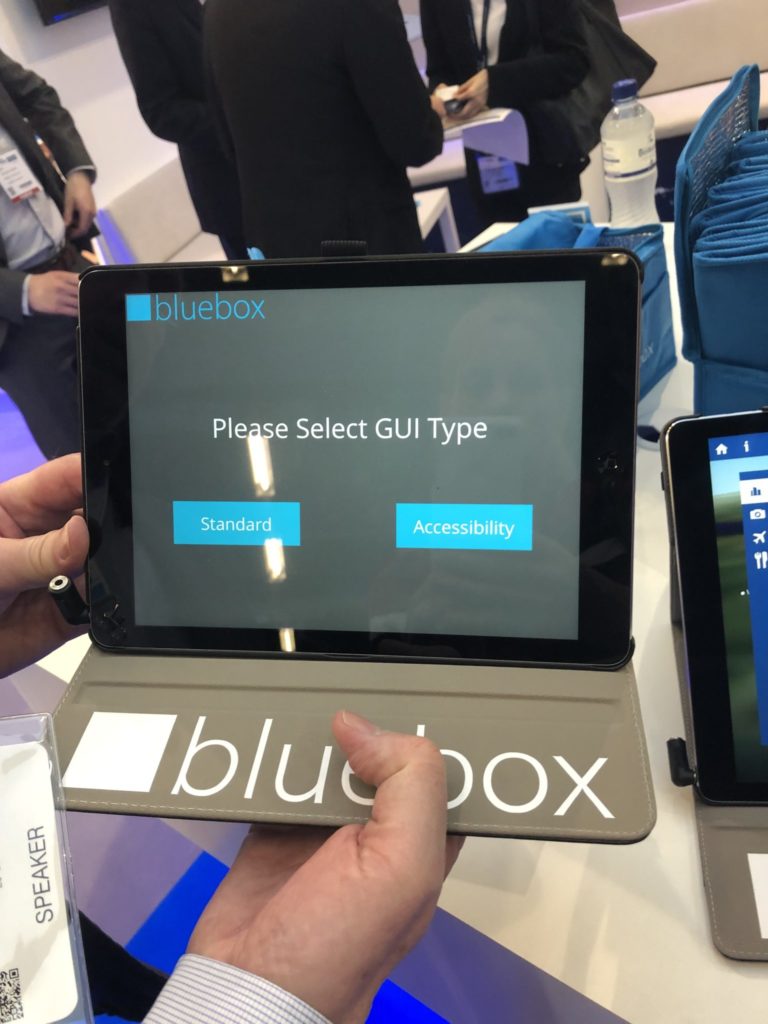 On the seatback IFE front, Air Canada and United Airlines have made notable strides in improving accessibility of their systems on certain fleet types. United, for instance, early this year began flying what is widely considered to be the most accessible IFE solution ever created on board its Boeing 787-10. But this standard-setting solution, developed in partnership with Panasonic Avionics, has not been copied for United's newly reconfigured premium seat-heavy Boeing 767-300ER aircraft, which will operate eastbound flights between Chicago and London starting 14 November.
Asked by RGN if the IFE aboard the 767-300ERs is accessible like the 787-10, and who is the provider, a United spokesman said: "The seatback IFE is Panasonic. It's not the same as the -10 but we do have a main screen category that makes it easy to get to the accessible content."
Related Articles: