Earlier this month, United Airlines began flying the Boeing 787-10 between Newark and Los Angeles. While discussing the carrier's decision to debut the -10 Dreamliner on this route on Twitter, the topic of United's inflight entertainment system came up. Being blind, I said that IFE doesn't matter to me since I can't use it.
RGN contributor Jason Rabinowitz highlighted a line from a previous United press release stating that the 787-10's IFE has "the world's most extensive suite of accessibility features on a seatback entertainment system, which accommodates any level of vision, as well as provides support for customers with hearing and mobility issues". As a digital accessibility specialist for a community college and a semi-frequent flyer, I was intrigued.
This isn't the first time an airline has offered accessible IFE for the blind. Air Canada's Boeing 787s feature IFE with text-to-speech functionality. Bluebox developed an iPad-based system in partnership with Virgin Atlantic which features audio description through Apple's VoiceOver technology.
But United's claim concerning the Panasonic IFE aboard its 787-10 is noteworthy. The carrier has published a video that describes the new accessibility features for blind and visually impaired passengers. These features mirror those found on many smartphones today. Most of the blind and visually impaired community has usable vision, and many can operate a touchscreen system with a few display adjustments. In the seatback system's accessibility settings, users can adjust text size, turn on higher-contrast text, and invert screen colors to reduce glare. Users can also enable a magnification feature that enlarges portions of the screen and a color filter option that compensates for common forms of color-blindness.
For people like myself who don't have enough vision to make use of the aforementioned features, the system can also be navigated using synthesized text-to-speech functionality. This feature is turned on by triple-tapping on the screen with two fingers. Like smartphones with their screen readers enabled, a user can swipe left or right with one finger to move through selections on the screen or drag their finger across the screen to search for a specific item. While they're doing this, the item is read to them. To activate the last item read to them, they just have to double-tap on the screen with one finger. Passengers in premium cabins can also navigate the system using their remote controls.
Since I don't have enough vision to use a touchscreen without text-to-speech, I've never used a seatback IFE system. I usually download something from Netflix or Amazon with audio description to watch on longer flights or listen to my Apple Music library.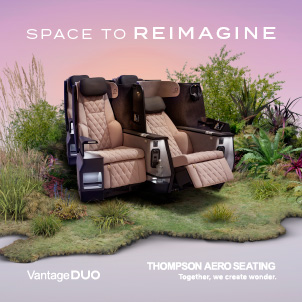 On an American Airlines flight to London in October, my wife noticed that the carrier offered audio-described content on its IFE. She offered to get me set up to use it, but I opted to stick with my original plan of binge-watching a Netflix series.
I've used bring-your-own-device (BYOD) wireless IFE – such as that offered on American and United narrowbodies – though I have encountered some challenges in the past. On a redeye flight from Phoenix to Miami in May of last year, I watched Iron Man on my phone. I had some issues working the web-based menu system because some controls weren't labeled properly for screen reader use. But I managed to figure it out. Someone who is less tech-savvy may not have been able to, though. The system also didn't appear to offer audio-described content at the time.
I hope more airlines follow United's lead and begin offering accessible seatback entertainment on their aircraft. While this kind of accessibility is only a small part of the challenges facing disabled passengers, it's also one of the areas that is most easily addressed in my opinion. Hopefully this is just a small step in the efforts to make air travel more accessible to people with disabilities.
Photo at top credited to RGN contributor Paul Thompson.
Related Articles: