In a major step forward for fleetwide IFE accessibility, Virgin Atlantic is using iPads from software house Bluebox to offer inflight entertainment for passengers with visual impairments as a standard provision.
Bluebox already provides tablets to the airline for service recovery in case an embedded IFE system malfunctions. But it worked in conjunction with Virgin and its existing partnership with The Guide Dogs for the Blind Association, a respected UK charity, to create a user group of individuals with a range of visual impairments who contributed to development and testing.
Using Bluebox's Ai platform's tablet security, the deal notably includes Hollywood early window content, which can be complex to deliver owing to content security concerns.
The Bluebox aIFE ('a' for 'accessible') system offers high-contrast text and a zoom option, with audio description through Apple's VoiceOver technology, already widely used by people with visual impairments and largely seen as the gold standard for accessibility.
David Brown, business development director at Bluebox Aviation, tells Runway Girl Network that the company got involved after seeing a presentation by Air Canada. "We went to our development team, and asked about making a mockup, and that's when we went to Virgin Atlantic and said 'would you be interested in doing this?'. We knew we needed an airline sponsor, and we knew we needed to get involved with people who could represent visual impairment. That's where Virgin got The Guide Dogs for the Blind involved."
Virgin made the most of its existing relationship with the charity to familiarise guide dogs with the aircraft environment. "We know that something as simple as an inflight entertainment system with voice overs and audio descriptions will help passengers with sight loss to enjoy flights just like anyone else on board," explains John Welsman, Policy Business Partner for Travel and Transport for the charity Guide Dogs.
"As someone with sight loss who flies quite often myself, I think it'll be wonderful to access entertainment and information on Virgin Atlantic planes without needing to ask for help. Not having to call for cabin crew, or disturb fellow passengers around me who might be sleeping, will be great."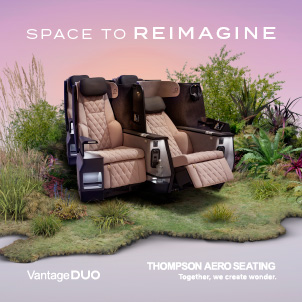 Bluebox, a member of industry association APEX's IFE Accessibility Working Group, "had a workshop with seven or eight folks from Guide Dogs, showed them our prototype, and they gave us fantastic feedback. It was a really humbling experience seeing how these folks with visual impairments got on with their day-to-day lives, and some of the frustrations with simple things that could be fixed. We took that feedback on board, developed the app, and did a second workshop."
Early reviews from the Guide Dogs-facilitated user group are positive, with one of the user group highlighting "first, that you asked us for feedback, and second, that you updated it based on our recommendations — you really listened to us." Bluebox's David Brown notes how surprised he was by the strength of the response, which suggests people with accessibility needs do not feel that their experience and requirements are taken into account by the industry.
Logistically, Bluebox will load the tablets, marked with yellow bands, onto the galley carts already provisioned with standard iPads onto all Virgin Atlantic aircraft for service recovery, enabling the airline to offer accessible IFE to passengers with visual impairment without requiring a notice period or prebooking, although it will be aware of most passengers with accessibility needs. Bluebox's iPad Mini-based platform contains a thirty-hour battery, David Brown tells RGN, enabling out-and-back operation without the need for recharging at outstations or in the galley cart.
Achieving this fleetwide accessible inflight entertainment milestone is just the latest example of Virgin Atlantic's leadership in accessibility, with the carrier's dedicated team run by passenger accessibility manager Geraldine Lundy regularly receiving praise from advocates for passengers with accessibility needs.
Related Articles: