As aviation accelerates out of the Covid crisis, Iridium Communications sees a brand new opportunity in commercial aviation for powering safety services with its next-generation Certus service: longhaul narrowbody aircraft.
The satellite operator is accustomed to supporting safety services — such as Future Air Navigation System (FANS) datalink messaging, ACARS, safety voice, and indeed other cockpit comms functionality — on twin-aisle aircraft flying over oceans. While much of that fleet was grounded amid the pandemic, industry is now rebounding, and with it a wave of new Airbus A320neo and Boeing 737 MAX family aircraft have joined in the recovery, and are increasingly flying six-plus hours including across the Atlantic.
The expanding footprint of these longhaul narrowbodies happens to be well timed: two Certus aviation satcom terminals recently received Iridium certification, and the Iridium value added manufacturers that will bring them to market are nearing news announcements about their launch customers. Additionally, Iridium is preparing to start FANS flight trials for Certus this fall.
"The more airplanes we have in flight trials, the faster it goes," John Peterson, Iridium's executive director aviation line of business, told Runway Girl Network on 15 March at the SATELLITE 2023 Conference and Exhibition in Washington DC. "And then when that is granted, all the systems that have been sold will be able to fly with safety."
While terminals for the Iridium Certus 700 service, with speeds of up to 704 Kbps, will enter civil aviation, including as a backup for Ku- or Ka-band cabin connectivity systems on large business jets — and indeed will be adopted for mid-size jets that can't fit a Ku/Ka system, representing another new market for Iridium — Peterson said: "We'll see our Certus 200 products [with speeds of up to 176 Kbps] in the market as well. And the wonderful part about that is for those that want a system that's lower cost, still have safety, can still do flight deck data — so all the cockpit work — that will be yet another solution that's available and that will be available by the end of the year in time for flight trials. And that will also be the opportunity to say, 'Well, I don't need all that data off the aircraft, but I still want safety, I still want voice, and I still want operational AOC and ATC data off the aircraft.'"
This flexible approach has implications for new narrowbodies plying longhaul routes. "[T]he thing that makes me most excited about the air transport market as we come out with these solutions is the air transport market has changed dramatically with the MAX and the Neo," said Peterson. The Iridium executive confided that in a previous life, he provided analytics to operators "to save them two or three percent on fuel and they thought that was the greatest thing to get."
All of a sudden you can buy a MAX or a Neo and save 20% on fuel for the same mission. That's was [previously] unheard of in aviation. So that's a huge step change and then that fuel savings also wraps up into being able to fly them further as well.

So now these aircraft are going 4000-4500 nautical miles. And they're all ETOPS [extended twin-engined operations] rated. So, the low-cost carriers in Asia-Pacific and South America, they are saying: "hey, I can just lease an airplane, fill it up with people, fly to where I need to go, and I can do it two or three times a day as opposed to one widebody once a day." And so, there's a whole new value proposition out there.
Another relatively new development is that these latest generation aircraft also have onboard "servers; they have more sensors; they have more digital data bus, they have common computing modules. And so, the amount of data that can come off as operational data is now 20 times greater than what it used to be," noted Peterson.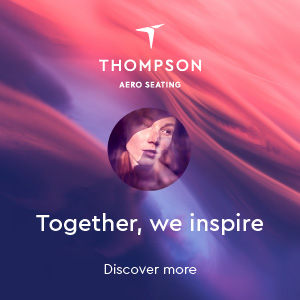 He continued: "It is at the airlines' discretion how much of that they want or need. You know the value of the data coming off has to be greater than the cost to get it off, otherwise why do it? So now all of a sudden these airlines are saying: 'well, I'll probably need something that I can get data less expensively off the aircraft that is AOC data.' You can't cross your domains and you need a secure link and you want to be able to get your safety in there. And so, all of a sudden we have this wonderful product that's one-tenth the price of what traditional safety data connections used to be and on top of that it's very small and you get a number of different data rates depending upon [what you need]."
In cockpit comms and safety services, Iridium competes with Inmarsat. Peterson told RGN at SATELLITE 2023 that Certus satcom in aero is "going to be very competitive" in the market.
He cited two reasons, firstly the breadth of the product offering, including lower bandwidth Certus 100 and 200 devices that deliver exactly what an operator needs for the mission; and on the flip side, "you have other people that say 'we really want to put a lot more stuff on there. We want to do our electronic flight bags (EFBs)l we want a completely connected cockpit. We need to know that if the Ku/Ka system goes down (or encounters a 'black spot' gap in coverage), I've got backup."
Related Articles:
Featured image credited to istock.com/Portra