JSX, the 'semi-private' operator which sees every employee — including its C-suite — as a crew member, has embraced a corporate culture that celebrates life, positivity, diversity, and inclusion. And several signs suggest that the carrier is not simply talking the talk, but walking the walk.
"We can't deliver this product without top notch crew members and corporate soul is what we call HR because we believe our crew members are the soul of the company," Kevin Horan, JSX's aptly-named Chief Corporate Soul Officer declared last month during the carrier's first-ever Media Day in Dallas.
"You're spending eight hours, sometimes more time with your coworkers than your own family, and we want you to enjoy that time," said Horan. As such, when assessing potential new hires, management looks for service-oriented people who have what Horan calls that "hospitality spark" insofar as they are willing and able to deliver on JSX's unambiguous mission to provide a 'Joyful, Simple eXperience' to passengers. Indeed, Horan confided that JSX has an unwritten "no jerk" policy at the firm.
A strong believer in diversity, equality and inclusion (DE&I), JSX says it is a member of the National Gay Pilots Association, the Organization of Black Aerospace Professionals, Women in Aviation International, the Latino Pilots Association, Sisters of the Skies, Professional Pilots of Tomorrow, the Association for Women in Aviation Maintenance, and, said Horan, "the list continues to grow."
JSX doesn't just write a check to these organizations. The Part 135 operator is an active participant, said Horan, noting that the company recently exhibited at the nonprofit Women in Aviation International's annual conference, which is dedicated to encouraging and advancing women across all aviation and aerospace career fields and interests.
"Actually, it was really exciting," said Horan. "[O]ur booth was right next to the American [Airlines] Allied Pilots Association, their union …and I heard one woman with her daughter say, 'my daughter really wants to fly for American. What is the fastest path to get her to American?' [The union representative] said: 'Go talk to JSX because they like our path.'"
That's because JSX has partnered with key pilot pipeline programs that offer flight instructors and would-be pilots a faster and more streamlined process for becoming first officers at commercial airlines.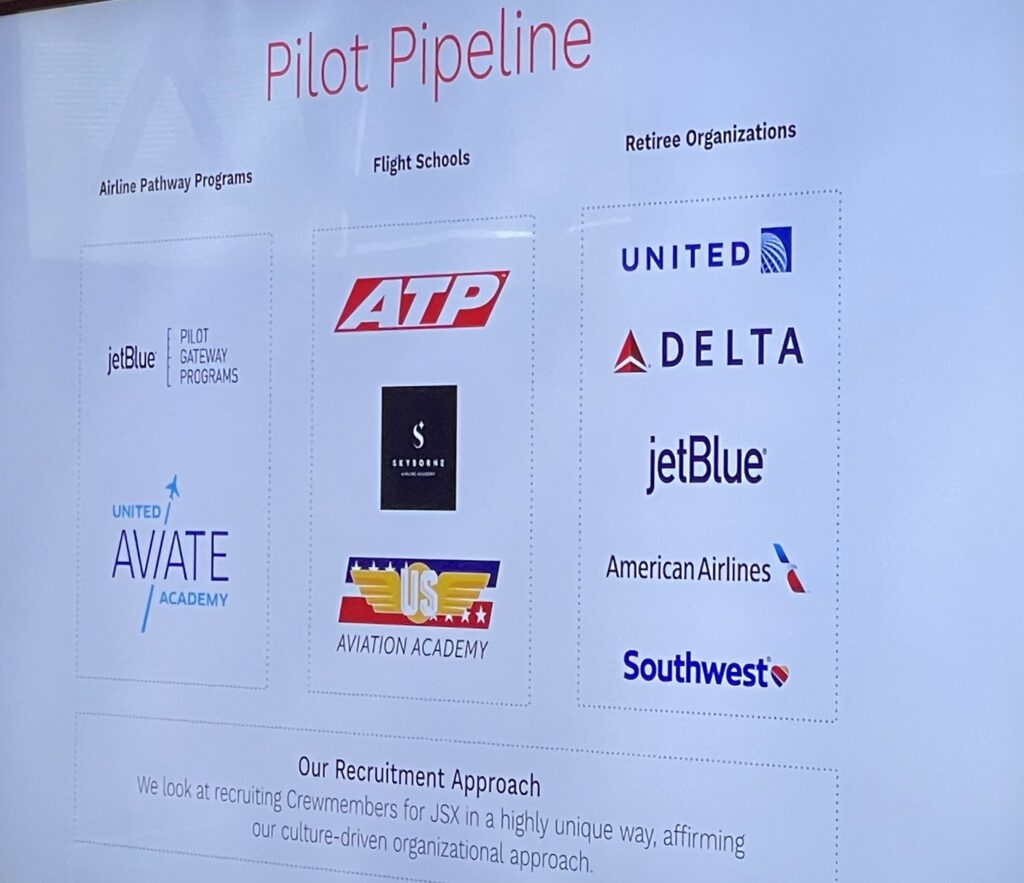 Over at the National Gay Pilots Association, JSX's former head of talent acquisition and learning & development Justin Ellixson-Andrews — a self-proclaimed #AvGeek — now serves as executive director of the organization.
But JSX also works to create "a wide well of opportunity" in aviation for people who might not have exposure to the industry. To that end, it is involved with multiple flight schools at historically black colleges and universities, helping to build talent by creating intern and job opportunities for students. In so doing, JSX is creating a diverse applicant pool, while honoring management's own commitment to hiring the best people.
The results speak for themselves. JSX was recently named one of the top places to work in the US for a second time by 'Top Workplaces powered by Energage'.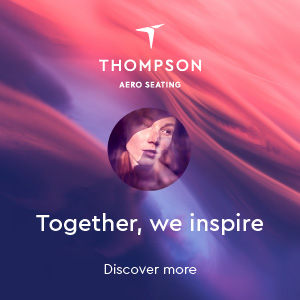 The carrier is also proud to garner a 100% HRC Corporate Equality Index score — for the third year in a row — from the Human Rights Campaign Foundation, which measures policies, practices and benefits pertinent to lesbian, gay, bisexual, transgender and queer (LGBTQ+) employees,
Additionally, JSX is a "minority majority" company: 52% of its crew members are people of color, including nearly one third of its pilots.
JSX's overall workforce is 37% women, and it's "working to get that better", said Horan.
A total 14% of pilots at JSX are women, and in fact, a female first officer was among the crew aboard JSX's Starlink Aviation-equipped Embraer ERJ-145  flight from Dallas Love Field, enabling members of media to test the inflight connectivity service, as part of the carrier's Media Day.
JSX does not claim to have all the answers but it hopes to continue to learn and grow while keeping the conversation going.
Related Articles:
Featured image credited to JSX