The US District Court for the District of Delaware has denied SmartSky Networks' motion for a preliminary injunction to immediately stop Gogo Business Aviation from making, using, and selling Gogo 5G while SmartSky's patent infringement case proceeds.
In his 26 September order (PDF 04315768481), US District Judge Gregory B. Williams stated:
For the reasons set forth in the Memorandum Opinion issued this day, IT IS HEREBY ORDERED that Defendants Gogo Business Aviation, LLC, and Gogo Inc.'s Motion to Strike Improper Reply Arguments from D.I. 85 and D.I. 86 (D.I. 97) is DENIED.

Plaintiff SmartSky Networks, LLC's Motion for Preliminary Injunction (D.I. 6) also is DENIED.

Because the Memorandum Opinion is filed under seal, the parties shall meet and confer and, no later than October 3, 2022, submit a joint proposed redacted version, accompanied by a supporting memorandum, detailing how, under applicable law, the Court may approve any requested redactions.
Gogo is heralding the decision as supporting its stated position that it is not infringing "any valid SmartSky patent", whilst SmartSky notes that the case can now move forward with full discovery.
"In every statement, we've always said a preliminary injunction is an extraordinary action as the bar is set very high by case law, and this is something that we both planned for and anticipated as a possible outcome," a SmartSky spokesperson told RGN.
"It in no way makes a statement about the validity of our infringement claims, nor does it say that the case is over, and we expect it to proceed as anticipated with full discovery, continued action by the court and our legal counsels."
In his published statement, Gogo chairman and CEO Oakleigh Thorne said: "This ruling supports our frequently stated position that Gogo is not infringing any valid SmartSky patent.
"We will continue to vigorously defend Gogo against SmartSky's meritless patent infringement claims. We look forward to successfully launching Gogo 5G and remain unwavering in our focus on executing our strategy to deliver improved broadband performance for business aviation customers."
Investment bank and financial services firm William Blair in a new report noted: "While this ruling was largely expected, it removes an overhang. There is no specific timeline for the resolution of the lawsuit."
It pointed out that Gogo has completed its 144th 5G cell site of a planned 150. "However, there is no change with the 5G chip issue that will delay the network launch."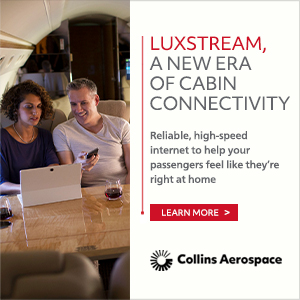 SmartSky's patent infringement suit alleges that after years of trying to acquire more licensed spectrum, air-to-ground (ATG) network stalwart Gogo in 2016 abruptly changed course and copied SmartSky's approach of using unlicensed spectrum to launch its new Gogo 5G inflight Internet service.
The company claims that Gogo's 5G service infringes on four specific SmartSky patents, including its so-called '947 patent, which claims priority back to 2005 and outlines the essential features of a nextgen ATG network like seamless cell tower handoffs and the use of a software defined radio to implement a technique known as beamforming.
Gogo previously challenged the validity of this particular '947 patent, but the United States Patent and Trademark Office in September 2020 denied Gogo's request for an inter partes review. The USPTO effectively found that Gogo did not have a reasonable likelihood of invalidating even a single claim in the SmartSky patent.
SmartSky's spokesman further noted that the firm is pleased that its patent infringement case "is now moving forward and with full discovery and remain confident in our position and the defense of our patents."
In a follow-on published press release, SmartSky suggested that the statement released by Gogo's Thorne "is intentionally misleading or grossly misinformed".
"Thorne is attempting to misappropriate and twist the court's opinion to create a public narrative that Gogo has not used SmartSky's patents to build their '5G' network. What the preliminary ruling does do, however, is allow SmartSky's underlying case to continue," stated SmartSky.
Related Articles:
Featured image credited to Gogo