With a rapidly expanding maintenance, repair and overhaul (MRO) business and some $600 million worth of aircraft on order for Textron's Cessna Citation jets, private aviation company flyExclusive is gearing up for an initial public offering this summer.
"We'll file the proxy certainly before the end of the second quarter," company founder and CEO Jim Segrave tells Runway Girl Network. "[A]nd at that point it's out of our hands; then the SEC tells you where you'll end up [in terms of] date and time, but it's largely in their hands."
Segrave is, however, optimistic about receiving the green light in late June or early July, but says he's prepared for a late July/early August timeframe.
In advance of going public, the Kinston, North Carolina-based Part 135 charter operator in October 2022 entered a combination agreement with EG Acquisition Corp, and has continued with its growth trajectory.
Delivery of its first Cessna CJ3+ aircraft is scheduled for the third quarter and will support a new fractional ownership division. And the firm's total fleet is expected to grow to 120 aircraft by the end of 2023.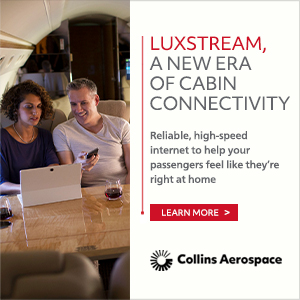 That's among the reasons why flyExclusive has been bolstering its MRO proficiencies. Holding a Part 145 repair station certificate, it has brought 80% of its MRO work in-house.
But the company's broader mission is to become a fully vertically integrated private aviation company, which will also support other bizjet operators.
On 28 February, it formally opened a new 9,500 square foot hangar facility, which expands its aircraft paint refurbishment capacity to more than 33,000 square feet. It now has the ability to paint over eight aircraft per month.
"Our planes are all the same, so they [our technicians] kind of mastered that," says Segrave of flyExclusive's aircraft paint work. "But when they did outside planes, some of the work they've done has blown me away."
Since opening its MRO business two years ago, the company has completed work on 53 aircraft, of which "ten percent have been outside customers", reveals the flyExclusive CEO.
It's not stopping there. Over the next six months, flyExclusive plans to break ground on a new corporate headquarters. It will also start work on a new ground and flight training space which will house multiple Cessna aircraft family simulators. In short, it's creating its own pilot pipeline. Additional maintenance facilities are also in the works, says Segrave.
The company made headlines late last year when it laid off roughly 50 employees. "We are always going to be optimizing and setting the business for efficiency as we get bigger and enjoy economies of scale," he says of the pre-IPO company.
Segrave tells RGN that no pilots or technicians were part of that downsizing, which entailed selling, general and administration (SG&A) positions.
Indeed, flyExclusive is in hiring mode for both pilots and technicians, and reckons it still needs to hire about 60 or 65 additional technicians especially when its next new hangar is completed roughly 18-24 months after breaking ground.
Related Articles:
All images credited to flyExclusive