Inflight connectivity provider SmartSky Networks today filed a patent infringement lawsuit against Gogo Business Aviation, alleging that Gogo's forthcoming 5G onboard Internet service and related hardware treads on four specific SmartSky patents. SmartSky also filed a motion for preliminary injunction, asking the court to immediately stop Gogo from making, using, and selling Gogo 5G while the infringement case proceeds.
The move comes on the heels of Gogo Business Aviation's revelation that construction of a seven-tower 5G testbed was completed before the end of last year, and its announcement last week that FAA supplemental type certification for a Duncan Aviation-owned Citation 560XLS has been secured for Gogo's multiband belly-mounted 5G antenna. STC work is now afoot to ensure the system can be installed on more than 30 business aircraft models.
Both SmartSky and Gogo are rolling out next generation air-to-ground (ATG)-supported inflight connectivity. SmartSky launched commercial operations last year, while Gogo — the dominant provider of IFC to business aircraft in North America — plans to roll out its 5G ATG service in the second half of this year. The two companies use unlicensed spectrum for their nextgen ATG solutions (Gogo is also augmenting with its own licensed ATG spectrum, which powers its 3G and 4G services today).
SmartSky's patent infringement suit, filed in the US Federal District Court in Delaware, alleges that after years of trying to acquire more licensed spectrum, Gogo in 2016 abruptly changed course and copied SmartSky's approach of using unlicensed spectrum to launch its new Gogo 5G inflight Internet service.
"For many years, Gogo publicly dismissed the feasibility of unlicensed spectrum and focused entirely on satellite and air-to-ground in the licensed spectrum," said SmartSky president Ryan Stone in a press release. "It was only when SmartSky proved it had a significantly better, commercially viable product that Gogo shifted its attention to the unlicensed band and is now attempting to introduce its own long-promised network upgrade that's fundamentally based on SmartSky's patented technology."
To be clear, anyone is allowed to use the unlicensed band within the confines of the Federal Communications Commission's rules, but the approach that SmartSky is taking is based on its patented technology — patents it now claims are being infringed by Gogo which in turn is causing it to suffer damages including lost profits.
Runway Girl Network sought comment from Gogo, which said in a statement: "Gogo previously completed a thorough review of SmartSky's patent portfolio, including each of the four patents at issue in the complaint, with support from its engineering team and outside patent counsel. Based on that review, Gogo believes that SmartSky's claims are entirely without merit. Gogo intends to vigorously defend itself against these allegations and remains committed to an on time rollout of its 5G platform later this year."
Let's take a look at SmartSky's patent infringement allegations. The company alleges that Gogo's 5G service infringes on four specific SmartSky patents, including its so-called '947 patent, which claims priority back to 2005 and outlines the essential features of a nextgen ATG network like seamless cell tower handoffs and the use of a software defined radio to implement a technique known as beamforming.
Gogo previously challenged the validity of this particular '947 patent, but the United States Patent and Trademark Office in September 2020 denied Gogo's request for an inter partes review. The USPTO effectively found that Gogo did not have a reasonable likelihood of invalidating even a single claim in the SmartSky patent.
Another SmartSky patent, covering "unlicensed band beamforming handoff" and known as 'the '417 patent', mirrors much of the '947 patent, noted management, but its patented claims are even more specific to the frequency band involved, covering the range from 2-6 GHz, which includes the 2.4 GHz unlicensed band that SmartSky and indeed Gogo are using.
For these two patents, specifically, the USPTCO's 2020 decision to deny Gogo's request for an inter partes review "really has a lot of impact", suggested Stone to RGN.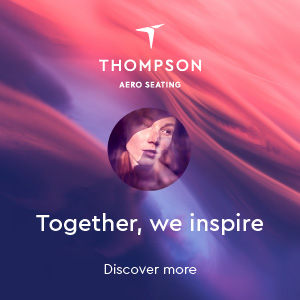 Two more patents are being asserted by SmartSky, one covering "horizon-oriented architecture" (its so-called '717 patent) and another covering "harmonious spectrum reuse" (the '077 patent). Relative to the 717 patent, SmartSky developed a ground antenna system whereby the antennas generate respective radiation patterns that are oriented toward the horizon and overlap to create a "wedge" architecture, greatly reducing interference with and from ground-based Wi-Fi noise.
"In simplest terms," explained Stone, "one patented innovation we created points narrow signals toward the horizon, whereas legacy ATG communicates more broadly into the sky. This enables the first effective ATG use of the 2.4 GHz unlicensed band, allowing us to employ 60 MHz of spectrum, twenty times that used by Gogo's aging ATG system. To do this, our technology uses complex configurations of radio towers, antennas, and radio beams precisely positioned and controlled by computers to ensure seamless handoff. The horizon-looking signals are sent in overlapping layers, like a cake, with one beam talking to one plane at a time for consistent high speeds, even at scale."
Gogo Business Aviation in January confirmed that it had completed construction of a seven-tower 5G testbed; it shared a press release about the program, including a photograph of a tower with multiple antenna array panels.
"I wouldn't say it is any one thing, but a combination of factors that allow us to prove our case," suggested Stone when asked if Gogo's image share triggered the legal action. But he feels strongly that it is "now clear that Gogo is openly using our patented technology to mimic the service we launched last year in an effort to maintain its virtual monopoly for inflight connectivity."
It could take several months before the court rules on SmartSky's motion for a preliminary injunction, and the full infringement case could take years, said Stone. "We don't have to win the preliminary inunction to win the infringement suit. There are many cases where the infringement suit is won even if the preliminary injunction isn't granted," he said, noting that the bar for the latter is very high.
In filing these suits now, SmartSky believes it is not only protecting its intellectual property, but helping customers and partners "avoid making what could otherwise be stranded investments equipping their aircraft" with what it alleges is Gogo's infringing technology.
Related Articles: