It's no secret that the inflight connectivity landscape is fiercely competitive right now in civil aviation, as a number of stakeholders battle it out to win aircraft tails — and a raft of newcomers arrive on the scene. But this hotbed of activity is not only prevalent amongst satellite IFC providers. In the continental United States, SmartSky Networks' nationwide network of cellular towers is now supporting air-to-ground (ATG)-based high-speed Internet on business jets in revenue service, giving incumbent Gogo — the dominant provider of IFC in business aviation in North America — some competition.
As ever, operators generally see more competition as a plus, as it gives them options, keeps suppliers on their toes and pricing in check. Private aviation company flyExclusive, for example, is readying to install SmartSky's nextgen air-to-ground system on more aircraft — after fitting an initial Citation X — and says it expects to expand its partnership with SmartSky in the future.
But the Kinston, North Carolina-based firm also intends to retain Gogo as an IFC provider, flyExclusive founder and CEO Jim Segrave told Runway Girl Network during a recent interview about the firm's broader MRO expansion.
"[We're] not necessarily transitioning out," Seagrave said in reference to retaining Gogo as part of a multi-source IFC approach. "It's good business to have both of them in-house, Gogo and SmartSky."
He added: "Gogo has been a great partner of ours. But a little competition is never a bad thing. Hopefully they start to bring down pricing and such."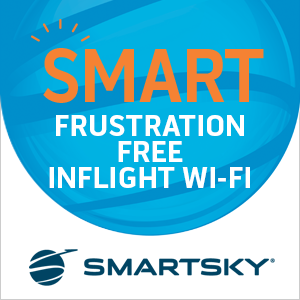 But if these two firms are engaged in friendly competition in the market, the situation appears decidedly less friendly behind the scenes as both SmartSky and Gogo are embroiled in what could turn out to be protracted litigation.
In February of this year, SmartSky filed a patent infringement lawsuit in the US Federal District Court in Delaware against Gogo, alleging that Gogo's forthcoming 5G onboard Internet service and related hardware treads on four specific SmartSky patents. At that time, SmartSky also filed a motion for preliminary injunction, asking the court to immediately stop Gogo from making, using, and selling Gogo 5G while the infringement case proceeds.
Last month, the Delaware District Court denied SmartSky's motion for a preliminary injunction — a move heralded by Gogo. And just last week, SmartSky filed an appeal, asking the US Court of Appeals for the Federal Circuit to reconsider the lower court's decision on the preliminary injunction.
SmartSky in a statement contends that "multiple material legal and factual errors" in last month's opinion from the Delaware District Court merit further review by a three-judge panel of the Federal Circuit.
"We believe our case is strong, and the evidence is overwhelming. We feel confident that a full review of the technical information by the Federal Circuit can lead to no other logical conclusion except that Gogo immediately should be prevented from illegally using SmartSky's patented technology," said SmartSky CEO Dave Helfgott.
Among the issues that SmartSky is asking the Court to consider on appeal relates to the lower court's claim construction which SmartSky contends led to an incorrect conclusion on Gogo's likelihood of infringement on SmartSky patents. Additionally, SmartSky says it submitted "fact and expert testimony" that it alleges demonstrates ongoing irreparable harm to the company, noting that this is a "key basis to support a preliminary injunction".
Says SmartSky:
With regard to claim construction, the Court came to conclusions on highly technical information without holding a hearing. The decision on preliminary injunction was already significantly delayed by months due to a bench vacancy in one of the busiest US District courts in the country. This led to a huge backlog of cases while the US Senate confirmed a judge to the position. Even in the best of circumstances, patent cases like this are inherently complicated with mixed issues of law and technology.

For these reasons, the Federal Circuit regularly reviews and often reverses all or parts of district court rulings, especially on patent claim construction issues.
Whether this legal activity will affect Gogo 5G sales remains to be seen. Will operators see a risk in installing?
Gogo could not be reached for comment.
Some analysts reckon that Gogo's new 5G network is not necessary for Gogo to retain its positioning in the near term. As of 30 June, Gogo reported a total 6,654 aircraft flying with its ATG systems onboard (including new AVANCE platforms and legacy kit).
Longer-term, however, SpaceX's Starlink satellite service is also giving US aircraft operators something to chew on. In April, public charter operator JSX announced it will be the first air carrier to adopt Starlink IFC. The JSX deal could be seen as a disappointment for both SmartSky and Gogo because JSX previously vowed to launch SmartSky's connectivity solution and later tested the Gogo AVANCE ATG offering as SmartSky faced delays to the launch of its network.
Related Articles: