Longtime Gogo customer Delta Air Lines has selected Viasat's Ka-band satellite-supported inflight connectivity for more than 300 mainline narrowbody aircraft.
In an announcement today, ViaSat said its Ka IFC solution will be added to both new delivery and existing aircraft, including on the A321ceo, 737-900ER and select 757-200 aircraft.
"Delta expects to bring the Viasat technology on board these aircraft starting summer 2021, with Delta having the option to add additional fleets," notes a Viasat spokeswoman.
The move is not entirely unexpected. Delta Air Lines last year informed Gogo that it planned to diversify its IFC base in order to generate competition between providers, saying it would split its fleet between the Chicago-based company and a competitor.
In June 2020, Delta and Gogo amended their five-year-old Gogo 2Ku IFC pact to provide for its early expiration on a fleet-by-fleet staggered schedule, including expiration dates for the A321ceo, 737-900ER and 757-200. Industry observers overwhelmingly assumed that Viasat's high-capacity Ka solution was favored to secure an order from Delta.
"Viasat's high-speed satellite-powered technology changes the game for what we can offer. We now have additional capability and next-gen technology to make sure you have a faster and more consistent connection to your favorite sites, including the ability to stream the entertainment of your choice on your flight," says Delta managing director – inflight entertainment & Wi-Fi Glenn Latta in a Q&A about the new deal.
"It also lays the groundwork for future enhancements and personalization with the seatback screen that customers will love."
Latta's teasing comment comes as a growing faction of industry envisages a future whereby passengers will ultimately be able to access their streaming providers over Internet-connected seatback screens.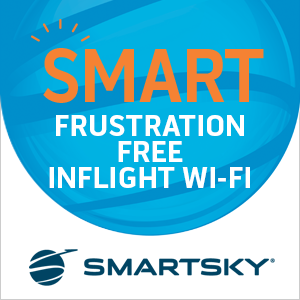 This summer, Delta will roll out a new portal, which will serve as an interface integrating inflight Wi-Fi and other day-of-travel features under one roof. It is built to work with Viasat and will be the first thing to greet customers as they connect to the onboard Wi-Fi, says the carrier.
Notably, Delta assures it is still committed to offering free inflight Wi-Fi in the future, and says the Viasat deal is "a significant step on that journey".
But the carrier's director of brand experience – inflight entertainment & W-Fi Ekrem Dimbiloglu warns: "Our vision for the future of travel will not come to life overnight. While we've had to shift our focus during the pandemic, our journey to offering the best customer experience possible has never stopped. Our teams are relentless in ensuring Delta customers have the very best experience onboard."
Gogo's commercial aviation business, meanwhile, was recently acquired by satellite operator Intelsat for $400 million. Intelsat is eager to hang onto as many Gogo-fitted Delta tails as possible. The satellite operator says it will be able to support the free Wi-Fi model if and when the carrier chooses to move in that direction.
Related Articles:
Featured image credited to Delta Air Lines