Viasat's timeline for launching its first ViaSat-3 satellite has once again moved to the right, with the satellite operator saying it now expects its new geostationary satellite for the Americas to be ferried into orbit on SpaceX's Falcon Heavy rocket during the first quarter of calendar year 2023, instead of by year-end 2022.
In a letter to shareholders, published in tandem with Viasat's second quarter FY2023 earnings results, management explained: "The ViaSat-3 (Americas) satellite has completed all launch environmental testing, spacecraft thermal vacuum testing, and all post-environmental deployment testing.
"We expect the satellite to be ready for shipment in December and anticipate launch in Q1 CY2023, with a target of earlier in the quarter, which is later than we had planned, with the specific date driven by the timing of high priority US national launches using the same launch pad. Both ViaSat-3 (EMEA) and ViaSat-3 (APAC) remain on schedule, with the launch of ViaSat-3 (EMEA) expected during the summer of 2023."
Viasat has faced prior ViaSat-3 program delays, including due to constraints created by the Covid crisis.
Among other applications, the first ViaSat-3 satellite will support Viasat's broadband Ka-band inflight connectivity service onboard jets operated by several airline customers, including the big three US majors — American Airlines, Delta Air Lines and United Airlines. But will ViaSat-3 mean anything for the passenger experience?
"It will just keep guaranteeing what they [the current Viasat Ka-band satellites] are doing today. So, that's one thing you want to do, right," Viasat vice president commercial mobility Don Buchman told Runway Girl Network at the recent APEX/IFSA Exhibition in Long Beach.
But it's also going to allow Viasat to keep up with the sort of demand that's coming down the road, he said. "And balancing with all the other businesses that come in, right. So, we're not going to have to make a tradeoff. So today, we're basically serving airplanes at the detriment of residential, in some ways. If you watch our earnings calls, our residential is fairly flat. And it's not because there's not demand; it's because we've actually signed these long-term contracts with airlines, and we're selling the bandwidth to them, and then residential then pop back up on our next satellite."
So Viasat preserves a certain amount of bandwidth to serve its airline clients and ergo, their passengers.
Indeed, in its Q2 FY23 earnings report released on 8 November, Viasat said: "Satellite Services Q2 FY2023 revenue was $301 million, slightly higher than the prior year quarter. Commercial air IFC services drove significant YoY revenue growth, which was largely offset by a decline in US fixed broadband revenue due to capacity allocations and fewer residential subscribers, partially offset by higher ARPU.
"Until ViaSat-3 (Americas) enters commercial service, we expect continued pressure on US fixed broadband due to capacity management tradeoffs in support of our rapidly growing mobility services, inflation impacts on consumer spending, and increased competition."
Coverage-wise, ViaSat-3 will extend the footprint that Viasat can serve in the Americas for inflight connectivity and other applications. "So, it gets us to the Caribbean, South America, over to Hawaii, which is really exciting," Buchman told RGN at the APEX/IFSA EXPO.
"A lot of our aircraft go to Hawaii today and you know they kind of stop [being connected] when they leave the coast, so they're going to have good coverage to Hawaii now."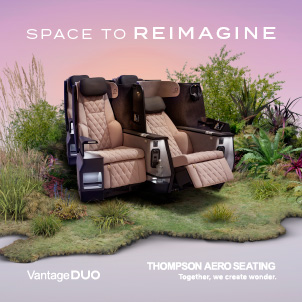 At present, there's a lot of momentum around some of the new LEO satellite players in town, including the Starlinks and the OneWebs of the world. But Buchman said Viasat doesn't feel immediate pressure to enter the LEO space due in part to the sheer volume of demand it is seeing for high-capacity, high-speed IFC, and the requirement to serve that demand in major hubs with dense traffic.
"[D]elivering video is still the highest demand. Video has gone from standard def to DVD to HD to 4K to 8K, right. So, the same 30-minute program is now using five times as much capacity as it was ten years ago. So that's still this demand," said Buchman.
"It doesn't happen equally around the world. It happens over New York; it happens over Washington, London, Dubai. So, it's demand, it's demand density and that's where we see it kind of going. And we kind of look at what everyone else is doing; and would I invest my dollars differently today knowing that? Probably not, no, because we're still investing; we still see high demand, concentrated demand, and still kind of whoever have the best solution to fill that."
Viasat last year announced plans to acquire rival GEO satellite operator, London-headquartered Inmarsat, in a move that would create a communications behemoth including in inflight connectivity. The acquisition is presently under review by UK watchdog, the Competition and Markets Authority (CMA), though both parties have expressed confidence that the deal will ultimately get done.
"It's disappointing but we respect the CMA's decision on this," Inmarsat Aviation president Niels Steenstrup told RGN. "It's gonna go to Phase 2 and we're confident that in the end, the acquisition will be approved. So we're just going to go through the process and it's going to extend the timeline; that's obvious, but that's okay. The plan is the plan until we have a new one, and we expect that absolutely this will go forward and be concluded."
Related Articles: