Embraer's Energia sustainable aircraft development program has narrowed its focus to 19-30-seaters in both the hydrogen fuel cell and hybrid-electric categories, with the Brazilian manufacturer anticipating strong demand when the concepts roll off its production lines in the 2030s.
One year on from unveiling its Energia program, under which Embraer has been studying concepts featuring hydrogen-combustion, all-electric, hybrid-electric and hydrogen-electric propulsion systems to power aircraft ranging from nine to 50 seats, the airframer revealed in a 5 December briefing that it has decided to concentrate in the coming months on progressing the hybrid-electric and hydrogen-electric designs.
The two concepts will be studied in the context of both a 19-seat and a 30-seat variant. Energia Hybrid (E19-HE and E30-HE) is expected to enter service in 2030 with a range of 500nm, while Energia H2 Fuel Cell (E19-H2FC and E30-H2FC) is forecast to be ready five years later with a range of 200nm. The hybrid-electric aircraft would reduce carbon-dioxide emissions by up to 90% when using sustainable aviation fuel, and would cut external noise by 60%, according to Embraer. H2 Fuel Cell would reduce carbon emissions to zero and noise by 70%.
"The 19-30-seaters are a sensible starting point for focused studies since they are likely to present earlier technical and economical readiness," said Embraer vice-president engineering, technology development and corporate strategy Luis Carlos Affonso. "After these assessments are more advanced, we will start exploring larger aircraft seating around 50 passengers."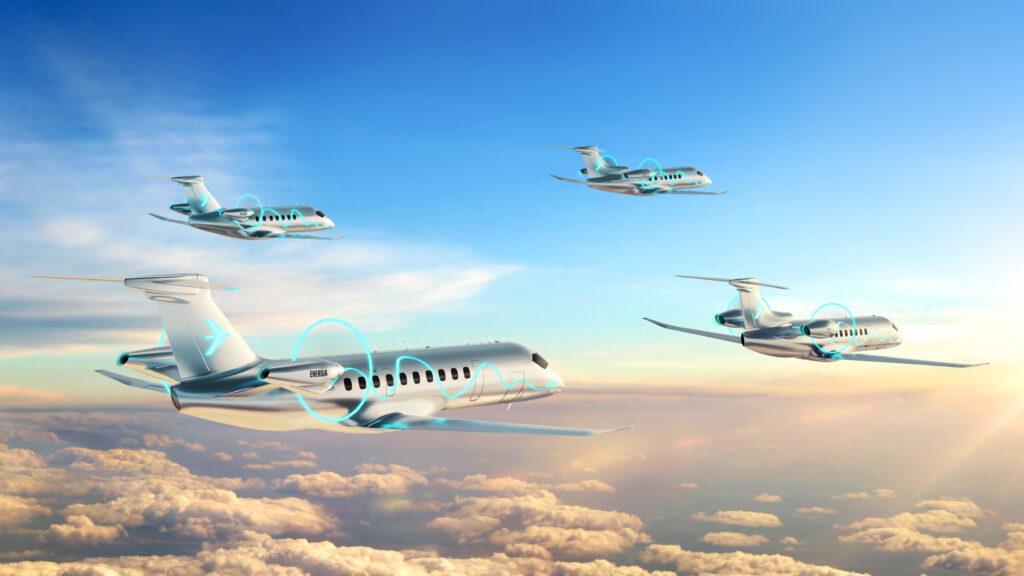 Both Energia Hybrid and Energia H2 Fuel Cell feature rear-mounted engines and clean-wing designs. The latter concept also has fuel-cell stacks located at the rear, where hydrogen reacts with oxygen and produces electric power and water as the main outputs. 
Fuel cells are "much more efficient" than small gas turbine engines, said Embraer, but they are heavier and generate a lot of heat. To get around the thermal-management dilemma, the airframer has designed an air inlet at the base of the vertical tail which feeds ram air to the heat exchangers.
"With a carefully designed flow path, the system can help to minimize drag and even provide some thrust," explained the Brazilian airframer. Inside the cabin of the 19-seat version, seats are configured in a three-abreast formation and "the interior has been sized for a comfortable walk-through, giving passengers space where they need it".
Energia Hybrid is smaller and lighter with a smaller wing. "The small electric engines are used when shorter power boosts are required — when the aircraft is taxiing, taking off or climbing. By doing so, we avoid utilization of large batteries, which would add significant weight and cost," noted Embraer.
In terms of market demand, Embraer outlined three scenarios: substitution; evolution; and revolution. The first scenario is based on "simple replacement and some natural growth", said Embraer vice-president marketing Rodrigo Silva e Souza, and envisions demand for 4,000 Energia aircraft by 2035.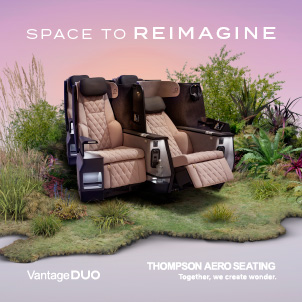 The second scenario assumes that Energia's promised lower operating costs and sustainability credentials will lead some operators to replace aircraft sooner than they otherwise would have done, and forecasts demand for 7,000 aircraft by 2035.
The third and most optimistic scenario envisions a world in which people switch from car journeys to short flights on sustainable regional aircraft. Assuming such a change in behavior occurs, Souza sees the potential for 20,000 Energia aircraft to be delivered by 2035.
However, there are a number of challenges to overcome before the conceptual aircraft can be widely rolled out. Among these, said Souza, are the airport network development that would need to take place in parts of the world beyond the US and Europe, and pilot availability — especially in North America where there is a shortage. Other challenges include operator willingness to adopt the new technology, and the need for new infrastructure for both battery charging and hydrogen refuelling.
Embraer has formed an Energia Advisory Group comprised of representatives from more than 20 airlines, with which it will consult throughout the next phase of its studies. 
Related Articles:
All images credited to Embraer/Eduardo Kui