Honeywell Aerospace is seeing increased demand for SmartSky Networks' nextgen air-to-ground inflight connectivity service especially now that the SmartSky network of roughly 300 towers is live nationwide in the United States.
The aerospace giant is a value added reseller of SmartSky's broadband IFC service in civil aviation, meaning it serves as the primary service provider for passenger connectivity on both business and commercial aircraft. And Honeywell's GoDirect Router will be used in the majority of applications.
"Our conversations around SmartSky have always been strong due to the combined value of Honeywell services over SmartSky's network but over the past few months since SmartSky has flown and proven their network and achieved nationwide coverage, the customer willingness to install has certainly picked up," Honeywell Aerospace vice president and general manager, services & connectivity Steve Hadden told Runway Girl Network. "The demand continues to grow every day."
Hadden reckons that SmartSky's ATG network boasts a number of key differentiators, citing, for instance, the firm's high-throughput forward and return link, and its beam forming technology, "ensuring customers' security, throughput and experience is consistent from tower to tower (not a shared experience per tower)".
He suggested: "The value of a high-speed network has always been apparent in business aviation but in the post-pandemic world, many customers are now demanding a solution for domestic flights just as much as international and the combination of SmartSky and Honeywell addresses those needs perfectly."
Customers opting for SmartSky IFC through Honeywell will have access to the Honeywell Forge app, which monitors their connection and more.
"Honeywell's extensive support network can monitor the network (i.e.: throughput, latency, devices connected, demand on the network, SNR/signal to noise [ratio]) as well as the aircraft and satcom itself (i.e.: connection quality, time on network, altitude, speed, location, flight path, SmartSky network) and provide the customer real-time notifications of any issues that have occurred or may occur based on the connection and flight path," explained Hadden.
"Our network and satcom specialists will also provide advanced troubleshooting for the customer to help rectify the issue. Aside from the white glove support that Honeywell offers, we also provide the traffic shaping and data control features to help customers provide the best experience with the lowest cost to the end user. On top of that we also provide flight tracking, cockpit communications, flight planning, network diagnostics, network intrusion detection and network optimization amongst many other services."
Certification and installation specialists have already received STCs for SmartSky's IFC package on many popular business aviation aircraft, according to SmartSky. But the firm is also eyeing the commercial regional jet space. And its ATG offering could ultimately evolve to support hybrid solutions that would exploit low-latency SmartSky ATG in CONUS and satellite connectivity globally.
In recent months, there has been increased talkability around "hybrid networks", whether LEO/GEO satellite-based — as proposed by would-be merger partners Eutelsat and OneWeb, and as agreed today via a distribution pact between Intelsat and OneWeb — or hybrid ATG/LEO networks, as planned by US ATG network incumbent Gogo Business Aviation in partnership with OneWeb.
Given its role as a value added reseller for SmartSky IFC in both business aviation and the commercial sector, and its own provisioning of Inmarsat's forthcoming new SwiftJet L-band offering as well as Inmarsat's Global Xpress Ka-band satcom (known as Jet ConneX in BizAv), Honeywell is well positioned to support hybrid ATG/satcom involving SmartSky's kit and network.
And so, RGN asked Hadden if Honeywell sees any future opportunities for offering hybrid solutions ? He responded:
One of the great benefits of SmartSky service is their low cost, high throughput, low latency network over the continental US. Honeywell's GoDirect Router, which is standard on SmartSky installations, provides the ability to stand up multiple networks, has 'least cost routing' as well as 'seamless failover', all of which means you can use two IFC systems to assigning certain users to reserve a network for specific customers, utilize the lowest cost IFC system, have one IFC system as a back-up in case of poor performance or outage, or any combination of the three. All these solutions are available today in a hybrid IFC environment.
A satcom antenna, however, would be required should operators want to talk to satellites in addition to SmartSky towers.
For its part, SmartSky management is excited about the prospect of offering hybrid ATG/satcom solutions. "Whether it's GEO high throughput with really powerful spot beams or LEO in Ku or Ka wideband, satellite is great for certain things and less great for other things. We think our service is a great complement in specific types of markets," said SmartSky CEO David Helfgott.
"We're talking to a lot of different people. We've been approached by several different satellite companies…there is an interesting market for a hybrid solution," added Helfgott, who is intimately familiar with the satellite industry, having joined SmartSky from antenna maker Phasor Solutions.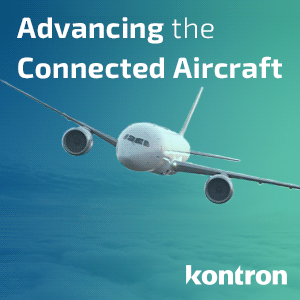 Size, weight and power are the most important restricting variables in aviation comms, noted Helfgott. "Anything that mitigates that changes the addressable market. That's why we think ATG is a perfect complement to satcom. We provide much better size, weight, and power than typical satcom."
Additionally, SmartSky is interested in taking its current ATG infrastructure into adjacent markets, such as general aviation and advanced air mobility. But it could also expand to adjacent geographies close to CONUS, hinted Helfgott to RGN. Company president Ryan Stone noted that SmartSky's Skytelligence data platform is already in adjacent markets insofar as it presently enables the broader aviation ecosystem.
For example, Skytelligence APIs power SmartSky's real-time turbulence avoidance application, SmoothSky, which uses live, crowdsourced, aircraft-generated data to improve the passenger experience, reduce fuel costs, and reduce turbulence-related injuries and aircraft damage. SmoothSky is available for end users via PC or tablet through a subscription to IATA Turbulence Aware or as a set of APIs for developer use.
Broader trends in the business aviation space bode well for IFC sales in the coming months. "The BizAv resell market is at an all time high with many customers even purchasing retired aircraft. This ramp in demand is due to many reasons but one contributing factor is a newer generation becoming interested in and investing in private aviation," said Honeywell's Hadden.
"The new clientele are driving significant demand for high-speed connectivity which is increasing the resell value of an aircraft with a high throughput IFC system by over half a million dollars. This, in turn, is causing current owners who want a boost in their resell value of their aircraft to also invest in IFC systems and utilize some of the benefit prior to the sale of their aircraft."
Related Articles: