Secure cockpit safety services are powered by Inmarsat and Iridium satellites today on flights that are out of VHF range, including over oceans. And these satcom services are also increasingly being positioned as a complement to VHF in areas with congested infrastructure. But SITA sees a future where additional satellite and terrestrial communication providers will enter the safety fray to meet the capacity needs of civil aviation including to support potentially hundreds of thousands of Urban Air Mobility (UAM) aircraft.
"I think that's going to be very dynamic, maybe not in a few years but in the next ten to twenty years," Yann Cabaret, CEO of SITA for Aircraft, told Runway Girl Network in reference to the likelihood that new "ATG comms or new satellite networks" will eventually be on offer for safety services in aviation.
Safety services include transmitting ACARS, FANS, safety voice and other cockpit comms functionality.
"There will be more links deployed, whether global links or local/regional depending on regulation and the type of aircraft," Cabaret predicted, highlighting the anticipated wave of UAM-type aircraft coming to congested urban and suburban areas.
Emerging electric vertical takeoff and landing aircraft (eVTOL) and unmanned aerial vehicles (UAVs), for example, are expected to carry passengers or cargo at lower altitudes. As such, the industry's capacity and latency needs in the future "will be much bigger than they are today", noted Cabaret.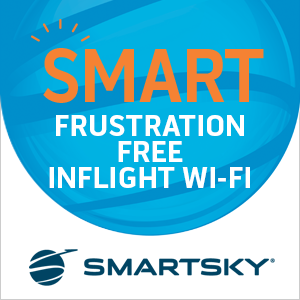 In Europe alone, the skies are expected to see a 50% increase in flights in the next 20 years, while recent estimates predict that 40 times more commercial UAVs will be flying beyond visual line-of-sight by 2030 than commercial aircraft, according to Inmarsat.
Yet VHF radio links in Europe are already near capacity, leading to flight delays and cancellations.
That's why, in a bid to relieve the current pressure on congested VHF in Europe and meet future demand, Inmarsat and the European Space Agency (ESA) — comprising EU member states and the UK — plus some 30 partners have been gearing up to roll out their public/private Iris air traffic management program.
Iris is effectively an app that sits on Inmarsat's latest-generation IP-based SwiftBroadband-Safety (SB-S) service. Supporting the Single European Sky's ATM Research (SESAR) masterplan, Iris can pinpoint an aircraft in four dimensions (latitude, longitude, altitude and time) using '4D trajectories' which enables pilots and controllers to calculate the shortest available routes, cruise at optimum altitudes and use continuous climb and descent paths. This in turn helps to realize fuel savings and cut carbon emissions.
Additionally, pilot-controller communications move from voice communications to text messages.
Budget operator easyJet is the first airline partner in the Iris program, having agreed to evaluate Iris' capabilities on up to 11 Airbus A320neos which are set to begin flying from November of this year. The carrier will have Cobham's light cockpit satcom solution linefitted to these aircraft; the terminal is integrated fully with the Flight Operations & Maintenance Exchanger developed by Collins Aerospace and Airbus, said Inmarsat.
Antonio Garutti, head of the Telecommunication System Project Office at ESA, previously explained to Runway Girl Network that while 4D calculations are contemplated for Iris (as part of the SESAR scheme), the initial application would see Iris complement VHF Data Link Mode 2 terrestrial datalink communications in Europe.
"At present pilots mostly communicate with air traffic controllers by voice or by using an outdated data communication technology. This makes flight operations inefficient, as planes have to be kept further apart from one another and follow pre-defined air corridors instead of taking the most direct route," notes ESA in an online statement. "Data exchanges will soon become the primary means of communication, with large quantities of data relayed to and from the aircraft."
Iridium, too, has been looking at advancing VHF replacement in the cockpit safety market, and points to its activities in the Chinese domestic market and in South America.
"Iridium has been used successfully with VHF [which is] still on the aircraft and difficult to fully get to the point where they rip that stuff off, but the operators love the idea of using satellites. VHF is big, expensive, they don't like it, it's congested, the quality is not great. And so, we see more opportunity there as well because the bandwidth and capacity needs are more of a fit to the kind of network that we have, and we're not competing with the kind of commodity play in the back of the plane, which you know is not our market," explained Iridium vice president and general manager Americas, Tim Last.
Is there an opportunity for Iridium to play in Iris in Europe, as it previously studied?
"The only thing I would say is that to really compete heavily there we would have to probably expand capacity over where we are today. You know with our L-band, we are pretty careful to monetize it so we have critical safety things and we have got a lot on our plate. And I think to go after that really aggressively we probably need a bit more spectrum in the right places to do it," responded Last.
"That's why you know Polar and Oceanic and South America and China, these areas are sort of playgrounds we're happy to play in because we know where we're going to be able to provide the quality of service that people want. At the moment, it's a busy place [Europe]. It's heavy for us in maritime and other things. I think for the time being, it's probably one, at least for aviation, we're not going to be highly competitive in. At least not in that sort of VHF replacement."
But even as Inmarsat and Iridium satellite services are used to relieve congested VHF in the near-term, there will be room for more stakeholders in both satellite and terrestrial comms to support safety services in the future, according to SITA, the multinational IT company that is owned by members of the air transport industry.
SITA is a service provider for Inmarsat's Classic and SwiftBroadband-Safety services, as well as Iridium's legacy and forthcoming nextgen Certus service in aero. And the firm will begin adding SwiftBroadband-Safety and Certus for customers throughout the year, said Cabaret.
But, he said in reference to future new safety pipes, "[I] think the industry will need it."
"It will not be able to carry 300,000 UAMs by 2035," he added, if optimistic industry forecasts come to fruition.
Related Articles:
Featured image credited to SITA