Lufthansa's forthcoming first class seat — part of its Allegris generation of nose-to-tail products — is such a departure from its existing aesthetic that Runway Girl Network considers it worth diving deep into the design details of the new product.
Any discussion of look and feel is inherently subjective, but the change is marked compared with the current navy-and-beige product. In look and feel it stands out from other airlines, even in the crowded blue palette spectrum, reminding your author of the plush blues, warm rose/copper metals and marble stone of Virgin Voyages' Champagne bar, Sip. This is itself very much a compliment: across its brands, Virgin's aesthetic is very strong, so Lufthansa is to be praised here.
Lufthansa has very cunningly given us just two images of the seat: a forward-looking and an aft-looking rendering of the outboard seat, presumably numbered 1A. The two centre suites are not shown apart from tiny glimpses across the aisle that suggest that, on this aircraft at least, the centre pair are set slightly to the rear of the outboard pair. Given the amount of emphasis on choice in Lufthansa's Allegris-generation material, it would be notable (and very much a missed opportunity) if this were not a double bed option for first class passengers travelling with their partner.
Let's take a look at the wider cabin.
The shape and size of the windows suggest that these renderings are for an Airbus A350, and they are notably different from the window renderings in the Allegris business class product, which appears to be a 777X. (The aircraft model number of the safety card visible in one of the images also says -900, and thus presumably the A350.)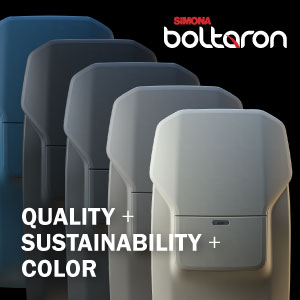 Within this space the overhead bins have disappeared, replaced by what Lufthansa calls "nearly ceiling-high walls".
From what we can see, these extend much higher than would normally be expected for first class suites before the age of the floor-to-ceiling Emirates product manufactured by Collins Aerospace. 
We can't see the full height, but there are two clues as to its extent on the aft-looking rendering: the end of the vertical panelling on the door of the inboard suite we can just peek into, and the end of the white-with-blue speckled fabric above that inboard seat.
This product certainly feels like it is more private than suites where the door stops just above the top of the passenger's head — here, where the blue fabric panelling stops.
With the bins removed, of course, stowage comes into question. There is presumably closet storage within the cabin, the ottoman looks to be a fairly sizeable storage bin, and Lufthansa also highlights in its materials "a large, personal wardrobe in every suite". This looks to be visible on the forward-looking rendering, starting above the copper-effect cheatline at roughly waist height. It will be interesting to see how different this is to the Swiss first class wardrobe from last decade, which is effective to hang up whatever lighter layers you're changing out of for your airline PJs, but not really for coats or other outerwear.
On which note, says Lufthansa, "passengers inhabiting this new First Class can even remain in their suite as they prepare for sleep and change into Lufthansa First Class pajamas." This will be a relief to the amusingly large number of Lufthansa premium class travellers who have stories of other passengers stripping calmly down to their skivvies in their seat area when changing into sleepwear.
None of the soft product — with the exception of the quietly iconic single red rose stem — is shown. In particular, the width of the seat and the placement of the seatbelts would suggest that, like products before it, Lufthansa will offer a cushion-come-armrest to provide flexibility.
Your author does note, however, that the renderings may well be some years old. No window blinds are shown, and there is neither an automated blind switch as on some other carriers, nor the new electronically dimmable option RGN saw in person in Toulouse this month. On that note, it's always informative to look at the personal devices with which an airline chooses to illustrate its renderings, especially when Apple devices — which can easily be dated to within a year or two — are included. In Lufthansa's renderings, we see what is evidently an iPhone X or XS, dating to the 2017 or 2018 model years.
Lufthansa is promising more detail on the new first class next year.
Related Articles:
Featured image credited to Lufthansa