With kitchens at the UK's London Stansted and Farnborough Airports, On Air Dining specializes in creating and delivering catering to business and VIP aviation customers.
Under the leadership of chef and CEO Daniel Hulme, the company prepares bespoke and menu items and delivers them direct to aircraft, complete with preparation and pictorial presentation instructions for cabin crew to serve meals worthy of the world's best restaurants. There is also an outlet in Farnborough's FBO — the so-called On Air Café.
Hulme's vision has always centered on fine food and presentation, with an underlying focus on sustainability. But cooking is an energy intensive business and On Air's kitchens are switching to more efficient appliances as older equipment reaches the end of its life.
Hulme explains: "We still use gas to cook some items, but we've also introduced induction hobs. They cook faster, using less electricity than traditional models, and deliver concentrated heat to the pan, reducing energy wastage and keeping our kitchens cooler.
"It can take up to 10 minutes to boil 1 liter of water using traditional methods, but no more than 3 minutes on an induction hob. It is estimated that with our hobs, 90% of the heat energy goes directly into the food in the pan, but up to 60% of the energy produced by an open gas flame is wasted."
Moving food safely from kitchen to jet has posed major sustainability challenges. Traditional crystallizable polyethylene terephthalate (CPET) plastic packaging was not widely recyclable and has therefore been eliminated from On Air's program.
Hulme proudly confirms: "Our packaging is 100% compostable or recyclable, maintains food safety, is easy to store, and microwave/oven safe. We also have compostable mini-tubs and bags, made from sugar and plant-based materials. What happens to our packing down route is beyond our control, so we make as much of it compostable as possible."
Delivery vehicles are a tougher problem. Hulme would prefer an electric fleet, but On Air's vans need refrigeration units to keep food safe at 4°C. Even longer-range electric vehicles fall short when their batteries need to power refrigeration and are thus not yet viable for food delivery.
A frustrated Hulme says: "It's something we monitor closely whenever one of our vans has reached the end of its lifecycle. We envision having electric vehicles servicing Farnborough and Stansted when the technology becomes available."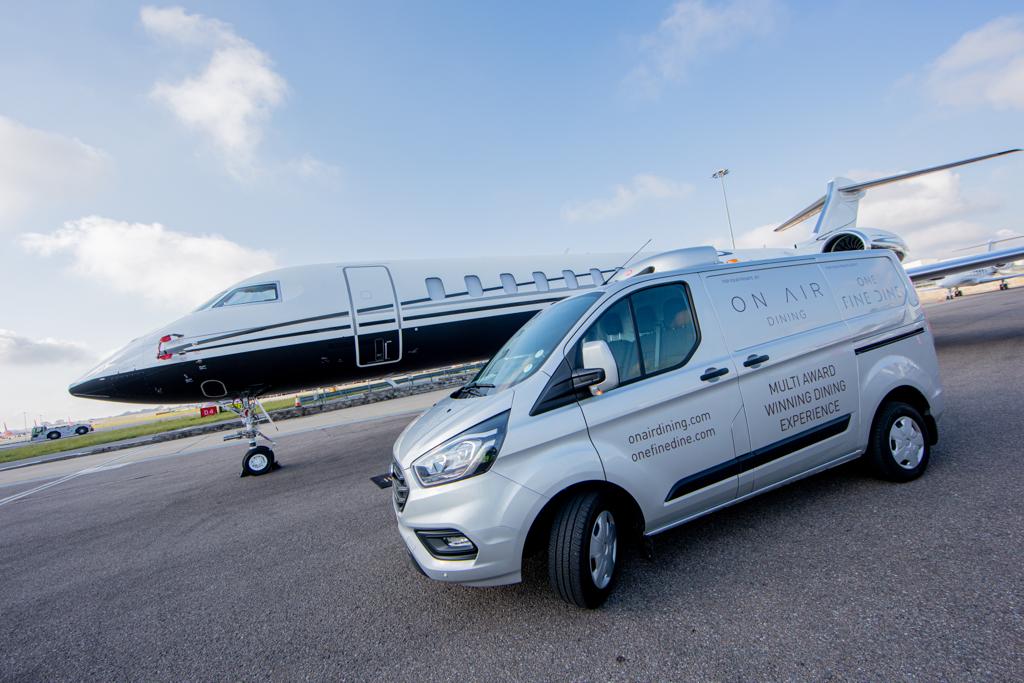 On Air Dining's menus cater for international tastes, but Hulme says that wherever possible, ingredients are sourced from UK farms and artisanal purveyors within 100 miles of its kitchens.
"We developed our seasonal menus to highlight the best of what the UK has to offer," he notes. "But given the nature of our business and clientele, we do receive requests for specialty items from around the world. For most items out of season in the UK, we're able to source from southern EU countries, limiting transportation distances."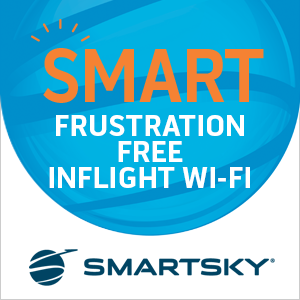 It's unsurprising that On Air also works with its customers to suggest appropriate food quantities for passenger count and flight distance, and Hulme is delighted at his clientele's increasing awareness of food waste.
The process continues on the ground. Hulme says: "We manage food wastage in our kitchens and On Air Café through monitored ordering, giving food from cancelled flights to operations teams at FBOs and making staff meals. We have our employees stop work for a meal that provides respite in the very busy kitchen environment and reduces food waste.
"Our chefs come from all over the world and their creativity using off-cuts and random pieces of fruit and veg means these meals are always a treat."
Related Articles:
All images credited to On Air Dining