With international travel still more of a hassle than I want to put up with and COVID-19 overburdening the hospital systems of many states, I find myself taking more local trips than I used to. When Amtrak ran a fare sale for $34 roundtrips between New York and Philadelphia, I jumped at the chance for a quick weekend getaway. At under an hour and a half in each direction, Amtrak connects each city center, making this an extremely easy journey.
The $34 fare bought me a base level Reserved Coach seat reservation, which despite its name doesn't actually allow passengers to reserve a seat. Amtrak recently started offering upgrades via its BidUp program powered by Plusgrade, the same company behind the bid-to-upgrade program at many airlines, and I decided to submit a minimum bid just to experience the process and perks of Business Class on Northeast Regional trains.
The upgrade process works exactly as it does with airlines. I entered my reservation number and last name on a web page, and a meter presented the lowest possible bid of $23, which the system classified as a "poor" offer strength.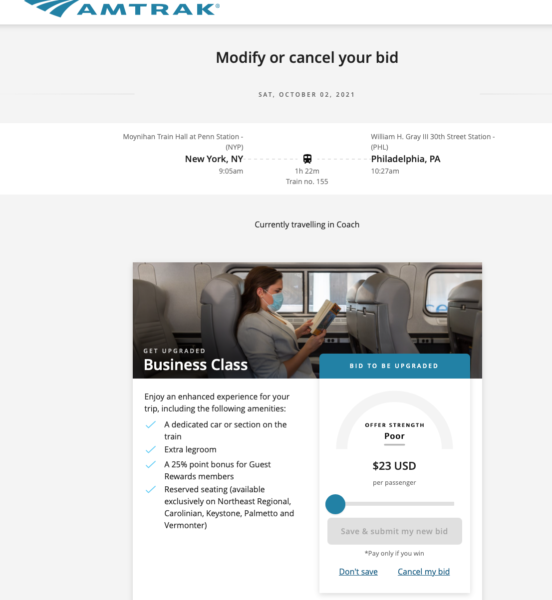 The upgrade did indeed clear, but it did so quite late with an email hitting my inbox at 7:12am for the 9:05am departure.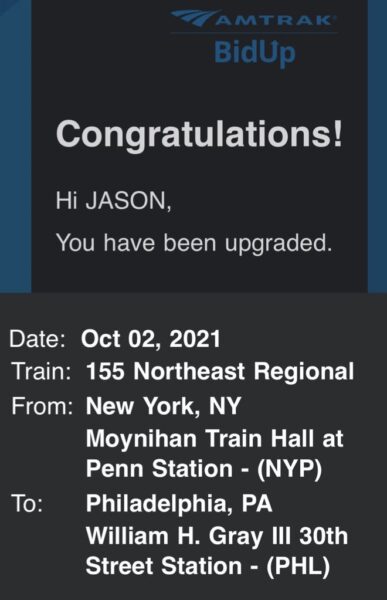 A new eticket was also emailed to me at the same time, now listing my assigned seat and car number.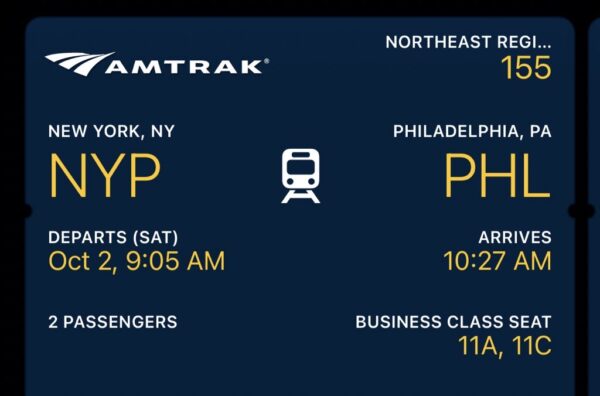 The Amtrak app allowed me to view the seat map for the Business Class car and assign new seats as many times as I would like. I even changed seats one final time after boarding when I saw that my chosen window seat didn't actually have a window. The system worked well and is a big improvement for Amtrak, but it needs to be rolled out to Coach as soon as possible.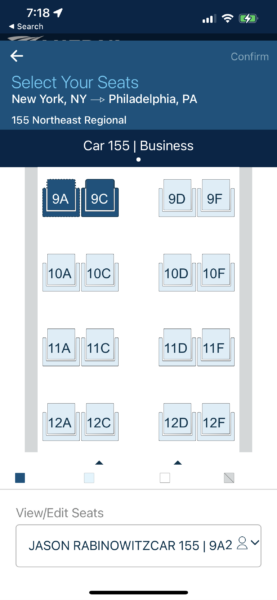 I left my Brooklyn apartment for Penn Station about 45 minutes before the train's scheduled departure time, a luxury you just don't have when flying out of New York-area airports. I arrived at the recently opened Moynihan Train Hall about 15 minutes before departure. Because the actual train hall has no seating, I had two options — stand until the track number was posted or enter the small ticketed passenger waiting room. I choose the latter, but it was quite crowded for a Saturday morning.
Imagine if an airport had no seats except for inside airline lounges. Moynihan is going to be a mess once travel really kicks back into high gear, but it could be easily resolved with more seating for passengers.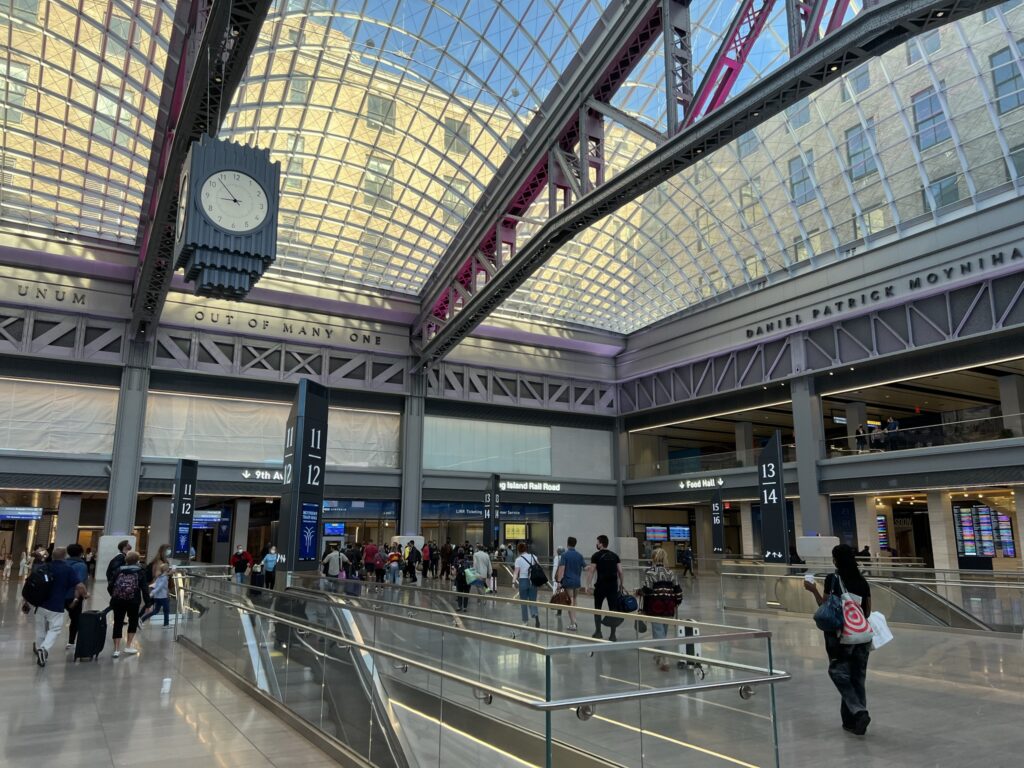 Business Class passengers don't receive any sort of priority boarding, and a long line of people formed by an escalator close to the track before the track number was even posted. Once posted, a mess of people crowded the single escalator, making for an unnecessarily chaotic experience.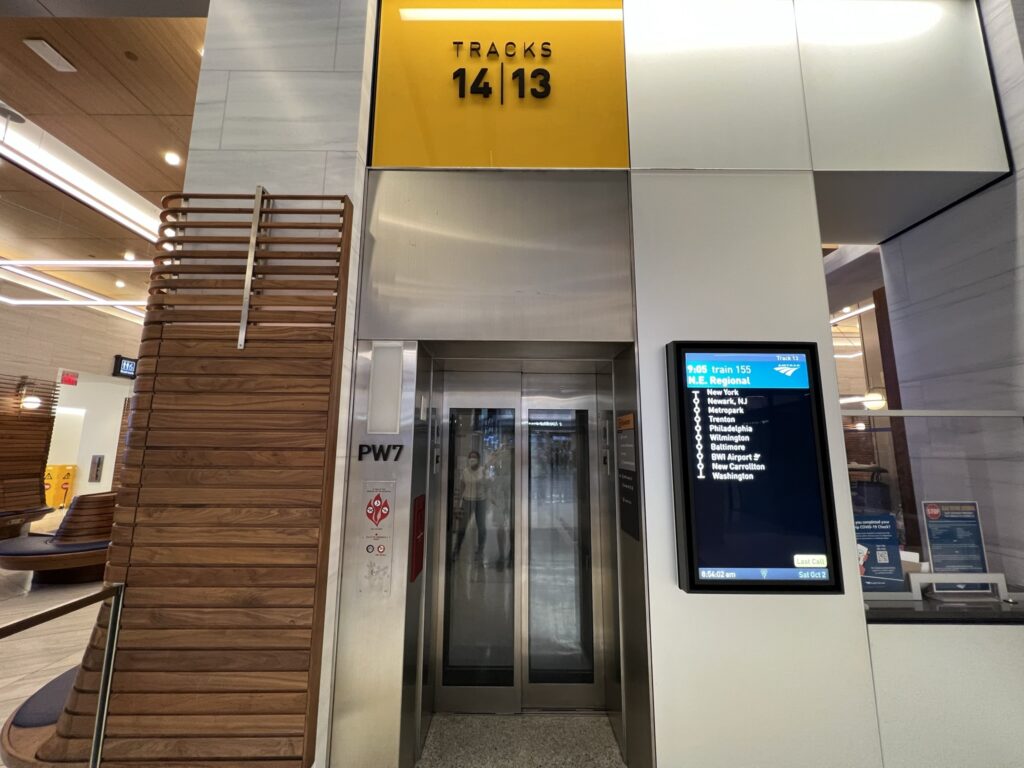 The Business Class car was located at the rear of the train, but Amtrak doesn't communicate that so I had to ask a conductor where to find it. On board it was clear that the extent of the upgrade is minimal from a hard product stance. Coach and Business Class use the same exact seat, but the latter affords a bit more seat pitch. With already more than adequate pitch in Coach, the upgrade didn't seem all that worth it. Amtrak does offer a more premium Business Class seat on longer distance trains like the Vermonter, using a 1-2 configuration rather than 2-2.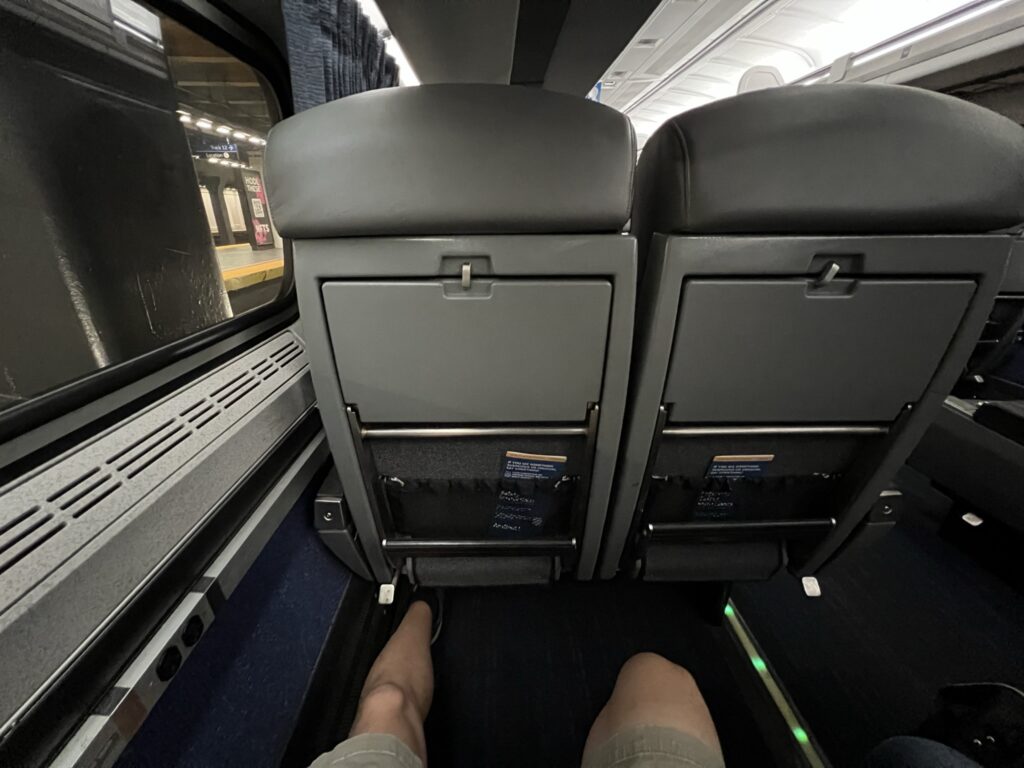 All seats include a power outlet, something that is still hard to come by on regional aircraft.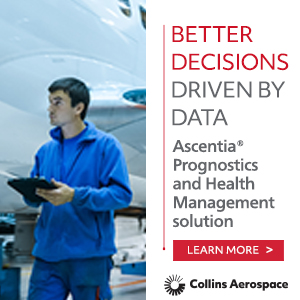 Amtrak also features Wi-Fi and to my surprise it worked quite well on this particular journey. Fast.com reported download speeds of 2 Mbps and I had no problem streaming YouTube and Netflix.
The only other tangible enhancement a Business Class fare affords passengers is the inclusion of a free nonalcoholic beverage on board the train.
Unlike trains in Europe or Asia where an attendant will push a cart down the aisle offering beverages, Amtrak only offers said beverages in the cafe car, which is located in the middle of the train.
Walking back through half the train with a very hot cup of coffee as we barreled through New Jersey at 125MPH and not spilling a drop should be an olympic sport.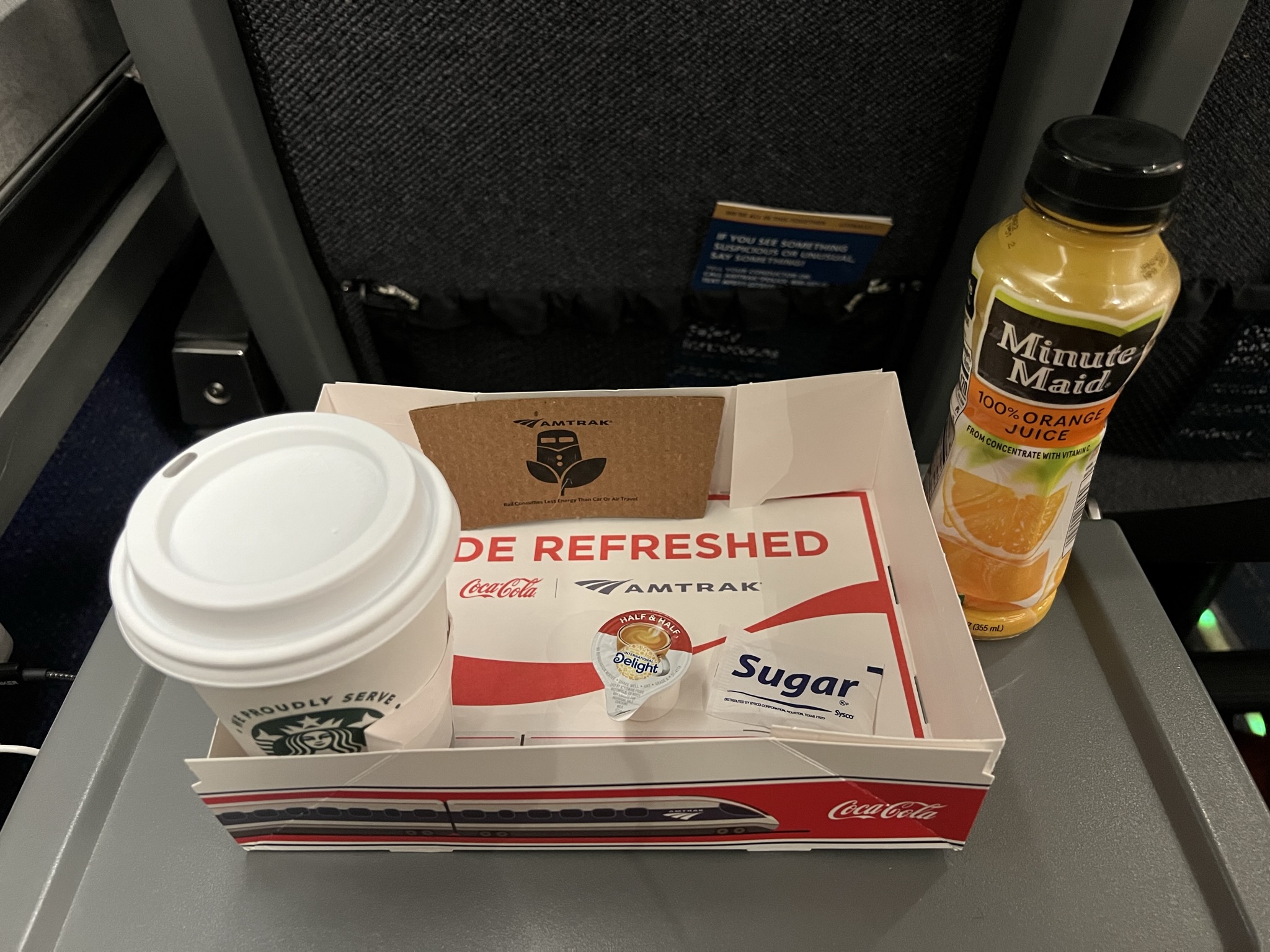 Amtrak continues to offer a compelling product when compared to airlines within the Northeast Corridor, and the experience will only get better once its new fleet of trains hits the rails in a few years.
In the meantime, however, Amtrak has some work to do on improving the Business Class experience which simply was not worth the cost.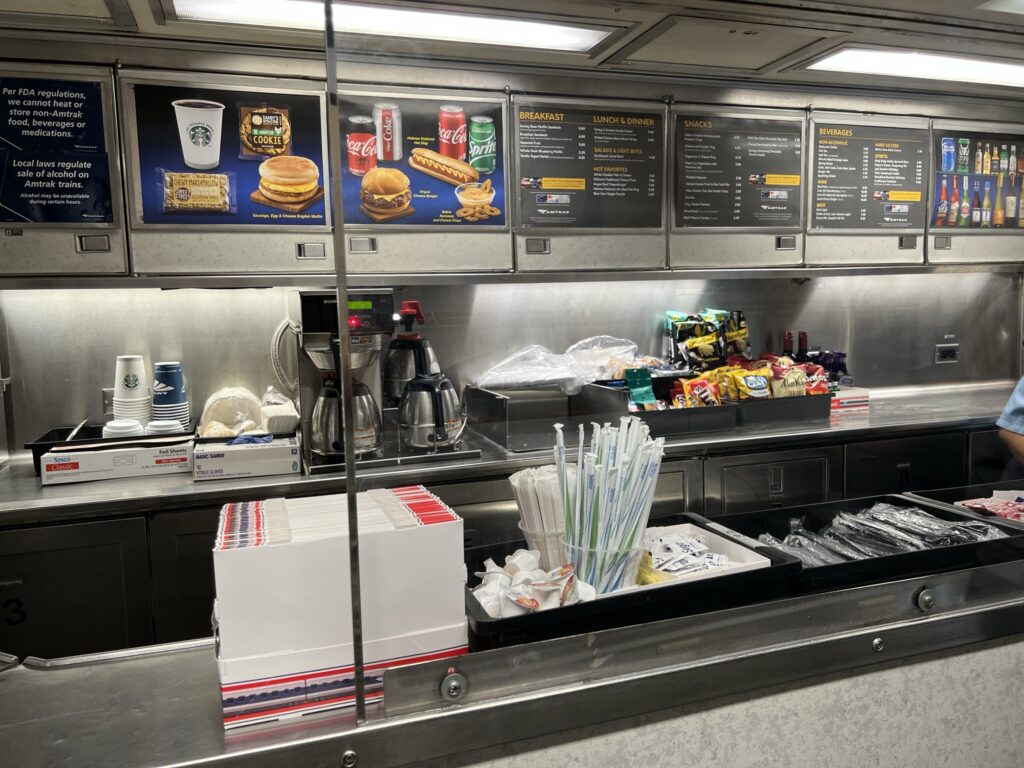 Related Articles:
All images credited to the author, Jason Rabinowitz