Honeywell has expanded the suite of inflight connectivity services it can offer North American business aircraft operators, after signing on as a value added reseller in BizAv for SmartSky Networks' nextgen air-to-ground (ATG) service, which leverages 5G technologies.
The announcement is a natural evolution of a relationship that began in 2019, when Honeywell was named a SmartSky VAR to commercial airlines.
Notably, however, as part of the new agreement, Honeywell's GoDirect router has been authorized for use on SmartSky's network for those business aviation customers that choose to partake of the full complement of Honeywell's services and support.
Honeywell and SmartSky have confirmed to Runway Girl Network that several of SmartSky's business aviation customers "are fitted with the GoDirect router; each having an STC and approved installation".
Also of note, SmartSky's low-latency ATG solution will "work seamlessly with the Honeywell Forge software and services platform", said Honeywell Aerospace vice president and general manager, software and services John Peterson in a statement.
An evolution of Honeywell's GoDirect platform of software solutions, the new Forge portal helps business aircraft operators perform multiple tasks and manage flights from start to finish from one mobile-optimized website.
Given Honeywell's stated enthusiasm for SmartSky's IFC solution, and prior selection as VAR for the commercial sector, this latest arrangement is perhaps not terribly surprising. Peterson previously told RGN that he has flown on a number of SmartSky-equipped aircraft "and it works really fantastic" and is "really impressive".
The size and the weight of the system, he said, "and the data rates that SmartSky can get, we believe that has a real home in North America, or you know, other places".
Honeywell is also a provider of Inmarsat's Ka-band satellite-based IFC solution called GX Aviation, which is supported by Honeywell's JetWave terminal hardware. The aerospace giant has over 1,000 Ka systems installed across a wide spectrum of business aircraft types. Additionally, it offers safety solutions that provide direct data link communications between pilots and air traffic controllers via both Inmarsat and Iridium L-band satellite networks.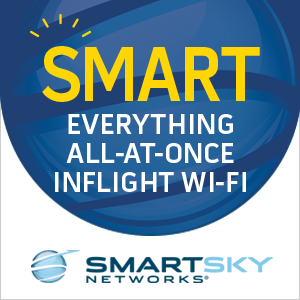 SmartSky, which recently opened the Southeast corridor of its network for demonstrations, and its VARs will compete with industry stalwart Gogo Business Aviation in North America. Gogo's latest-generation AVANCE line of ATG-based IFC solutions can be found on 2,000 business aircraft, and its legacy ATG systems are installed on nearly 4,000 more.
But Gogo is also developing a nextgen 5G solution, and is gunning for a launch in 2022. In an update to the market, the company said it has installed the first two 5G antennas on a tower, which will facilitate prototype testing of system performance. Gogo has also completed development of its 5G air card prototypes and recently completed coast-to-coast flight testing of its 5G belly-mounted antennas to validate their performance.
Additionally, Gogo said it conducted a flight test and successfully established a connection between the 5G antennas on the aircraft and the 5G antennas on the ground tower. "The tests we've conducted and successfully passed validate what we modeled when we initially announced we would build a 5G network," said Mike Syverson, senior vice president of engineering for Gogo. "Through the testing we've done so far, we now know that Gogo 5G is going to be better than we originally thought it would be."
Related Articles:
Featured image credited to SmartSky Networks