Gogo Business Aviation is bracing for the possibility that it may not reach full production volume for its 5G air-to-ground inflight connectivity system until the middle of next year due to a new chip-related delay revealed by management today.
"One recent unfortunate development — the manufacturer of our 5G chip has just notified us of a new issue in late-stage testing which could delay ramping up to full production volume until mid-2023," said company CEO Oakleigh Thorne during a conference call to report record second quarter revenue of $97.8 million, up 19% year-over-year.
"We believe the impact of this delay will be muted because customers that want 5G can pre-provision and buy our [AVANCE] L5 and MB13 5G antennas today and operate on our 4G network while they wait for the 5G box next year. This shift will also delay some 5G expenses from 2022 to 2023."
Pre-provisioning includes the harness kits for Gogo's so-called X3 line replaceable unit, which will support 5G service once available.
This is not the first time that Gogo's 5G program has faced a chip issue. Indeed, chip production related delays previously pushed back the firm's planned 2021 launch of 5G until the second half of 2022.
But on Monday of this week, Gogo was "ready to declare victory on this project and we were going to launch in Q4 so this was very late breaking news that we got on Tuesday", said Thorne on the call.
"Ironically, the chip is stuck in test mode and can't be moved to operational mode. So in testing, it got stuck in test. And the issue there is that the way these chips are built — the multiple layers — test mode touches almost every layer and so they have not been able to identify the exact source of the problem with the test mode. So worst case would be a re-spin and that's why we kind of talked about mid-year [2023], that would be if there was a re-spin. Maybe there won't have to be a re-spin; we'll know that in the next couple weeks."
He said Gogo is working with "the subcontractor at Airspan, who is producing this chip", on ways to get it done sooner than mid-year 2023, and studying innovative ways for Gogo to effectively replicate the chip in its system and continue with its own end-to-end testing. The firm did, however, reflect the change in its projected equipment unit growth for 2023.
Company executive vice president and CFO Barry Rowan said it's still too early to fully quantify the financial impact of the chip delay, but noted: "[W]e believe it would fall into three primary areas — first is a pushout of Gogo 5G milestone payments from 2022 to 2023 affecting both CapEx and OpEx; secondly, our backhaul costs may be lower as we expect to delay the ramp in spending to support Gogo 5G; and thirdly we could see some impact to 2023 revenue.
"Based on our assessment of the revenue impact from this chip delay, we still expect to achieve greater than 15% equipment unit growth in 2023 over the 1,300 units we're expecting to ship in 2022."
Upgrading current AVANCE L5 customers to 5G, meanwhile, will be fairly seamless once the 5G box is available. The only hardware needed is the box and two new antennas that fit exactly where the old antennas sit on the outside of the aircraft. That's among the reasons why management appears to be taking this latest "wrinkle" in the program in stride.
To wit, management today expressed incredible optimism about both Gogo's current position in the business aviation market and its opportunities for growth. In the face of inflation and high interest rates, the fundamental trends driving business aviation remain intact, noted Thorne, as underscored by Gogo's 2Q revenue, which was fueled by strong growth in both service and equipment revenue.
In the second quarter, total ATG aircraft online reached 6,654, an increase of 10% compared to the year-earlier quarter, and 2% compared to the first quarter of 2022.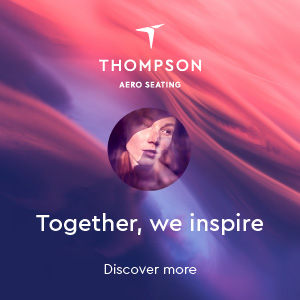 Gogo faces a patent infringement lawsuit from SmartSky Networks, which alleges that Gogo's 5G onboard Internet service and related hardware treads on four specific SmartSky patents.
Thorne noted that Gogo is already taking orders for 5G from end customers, making progress towards getting linefit with major OEMs, and, as mentioned, pre-provisioning some aircraft now with its 5G antennas and harnesses so that operators can install the 5G X3 box quickly once the network is available. Moreover, the firm has completed construction of 95 towers — nearly two thirds of the towers it needs for nationwide 5G coverage.
In addition to the rollout of 5G, a key part of Gogo's planned future growth will come from its forthcoming new global broadband solution, which will leverage Hughes Network Systems' electronically steered antenna (ESA) technology and OneWeb's Low Earth Orbit satellite constellation.
"We expect to deliver the first reliable LEO global broadband service to the global business aviation market," said Thorne today. He noted that Gogo's exclusive antenna assembly will be small enough to sit on virtually all sizes of business aircraft — from super light jets and large turboprops to ultra-long-range heavy jets.
"We're also very excited about partnering with OneWeb," continued Thorne. "They've launched 428 out of 648 satellites and are ahead of other LEO constellations in achieving global coverage which we expect will enable us to be first to market with a reliable product. Their Gen 1 network will deliver a significant boost in speed over our 5G product and is fully funded, and with their proposed merger with Eutelsat, they should be in a good position to fund their Gen 2 network, which will deliver an even bigger boost in speed thereby giving Gogo AVANCE customers a very easy path to an order of magnitude improvement over the speeds BA [business aviation] passengers experience today."
The Gogo CEO added, "Once launched, Gogo Global Broadband or GBB as we call it, will allow us to first pursue the 14,000 business aircraft outside North America … second, pursue large North American jets that fly global missions that today use Gogo ATG in the US but GEO satellite connectivity outside the US; and third, drive enhanced stickiness in our North America customer base by offering an easy upgrade to GBB in a unique dual-ATG and LEO solution that combines the capacity of both networks. For customers that already have AVANCE, the upgrade to GBB will be simple. They'll just install an ESA antenna on top of the plane and run two cables inside, one for data and one for power. GBB is projected to significantly accelerate our revenue and free cash flow growth from its launch through the second half of the decade."
Rowan said GBB represents "a high priority use of our capital and we believe this program is well positioned to deliver a healthy return on our investment including attractive service margins underpinned by a 'paid by the drink' business model".
Related Articles:
Featured image credited to istock.com/guvendemir