After more than two decades of planning, a 7-foot-tall bronze statue of aviation pioneer Amelia Earhart now stands in National Statuary Hall at the U.S. Capitol in Washington DC. 
The Earhart statue was unveiled on July 27, just a few days after the 125th anniversary of Earhart's July 24, 1897, birthday. 
A Congressional Ceremony in National Statuary Hall was attended by elected officials including Speaker of the House Nancy Pelosi, Earhart family members, Air Force Major General Jeannie Leavitt (the first woman to become a Blue Angel jet pilot), members of the Atchison Amelia Earhart Foundation, which funded the statue, and others.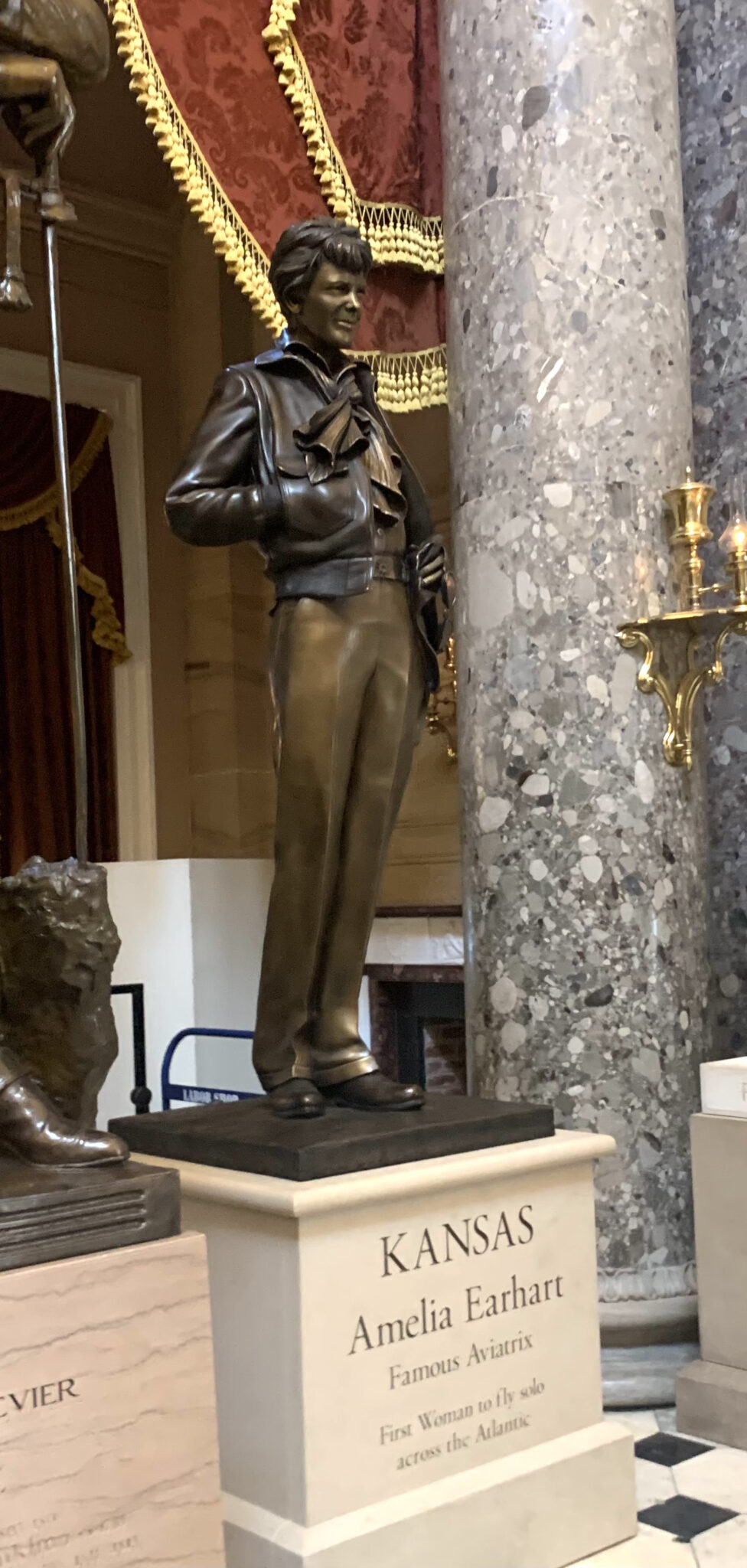 There are 100 statues in the National Statuary Hall Collection — two from each state — and the statue of Atchison, Kansas-born Amelia Earhart is now one of only 11 women represented in the collection. Earhart joins President Dwight D. Eisenhower, who grew up in Abilene, Kansas, in representing the Sunflower State. 
"Amelia Earhart's name is synonymous with courage," House Speaker Pelosi said during the unveiling of the statue. "She was the first woman and only the second person to fly solo across the Atlantic. And in doing so she also set new records for speed and time elapsed between the two continents."
Pelosi noted that Earhart, dubbed the "Queen of the Sky," received the Distinguished Flying Cross and was the first woman in American history to receive this prestigious honor. An outstanding aviator and an outspoken champion for gender equality, "Amelia envisioned aviation as a great equalizer," said Pelosi, "And she fought valiantly to close the gender gap," with actions that included founding the Ninety-Nines, "which remains, today, a powerful voice for female pilots around the world."
Earhart's journey to the Capitol Building 
Plans to place a statue of Amelia Earhart in the U.S. Capitol Building have been underway for more than two decades. In 1999, the Kansas State Legislature voted to replace both of its statues in the Capitol's National Statuary Hall Collection. A statue of Dwight D. Eisenhower replaced former Kansas Governor George Washington Glick in 2003. Earhart's statue now replaces a marble statue of a former Kansas senator dating to 1905. 
The statue was created by sculptors George and Mark Lundeen, whose work includes a bronze statue of Dr. Sally Ride, the first American woman in space (on display at the Cradle of Aviation Museum in New York) and a bronze tribute to the Apollo 11 mission depicting Neil Armstrong, Buzz Aldrin and Michael Collins, the first astronauts to land on the moon on July 20, 1969 (on display at the Kennedy Space Center in Florida.)
The Lundeens created the statue of Amelia Earhart with input from the Earhart family. 
"In our initial clay designs, we had Amelia wearing jodhpurs, laced boots, her leather jacket, flying cap and goggles," said George Lundeen. "Yet in our conversations with the Earhart family, they shared how they didn't want an 'iconic' portrayal of Amelia but rather to see her in how she most often, and most preferred, to dress: in trousers with a belt and sturdy shoes."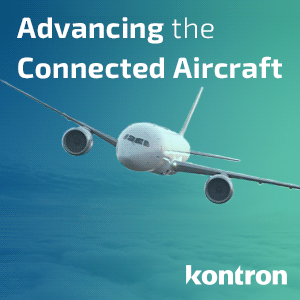 The Lundeens also studied videos and photos of Amelia Earhart, looking for her facial expressions and her favorite pieces of clothing. "We captured her as she often stood, in a gentle breeze, looking toward the sky with a hint of a squint in her eyes, her scarf about to blow over her shoulder… as if she's getting ready to fly," Lundeen said. 
The completed statue shows Earhart standing with one foot slightly forward, with one hand casually tucked in a pocket of her favorite leather jacket — the other holding her leather flying cap and goggles. That stance was chosen "to convey that approachable, relaxed confidence that captured the world's admiration," said Mark Lundeen. 
The Lundeens included something they did not see in the Earhart images but imagined she would like. They put a sunflower — the Kansas state flower — on Earhart's bronze belt buckle.
"As a pioneering force in aviation and for gender equality, Amelia Earhart captivated the world with her extraordinary bravery, unwavering perseverance and daring determination to defy the odds and pursue her dream of flight," said Karen Seaberg, founder and president of the Atchison Amelia Earhart Foundation.
"Her statue now stands at the U.S. Capitol as an inspiring symbol to encourage others — especially women and girls — to boldly pursue their own dreams."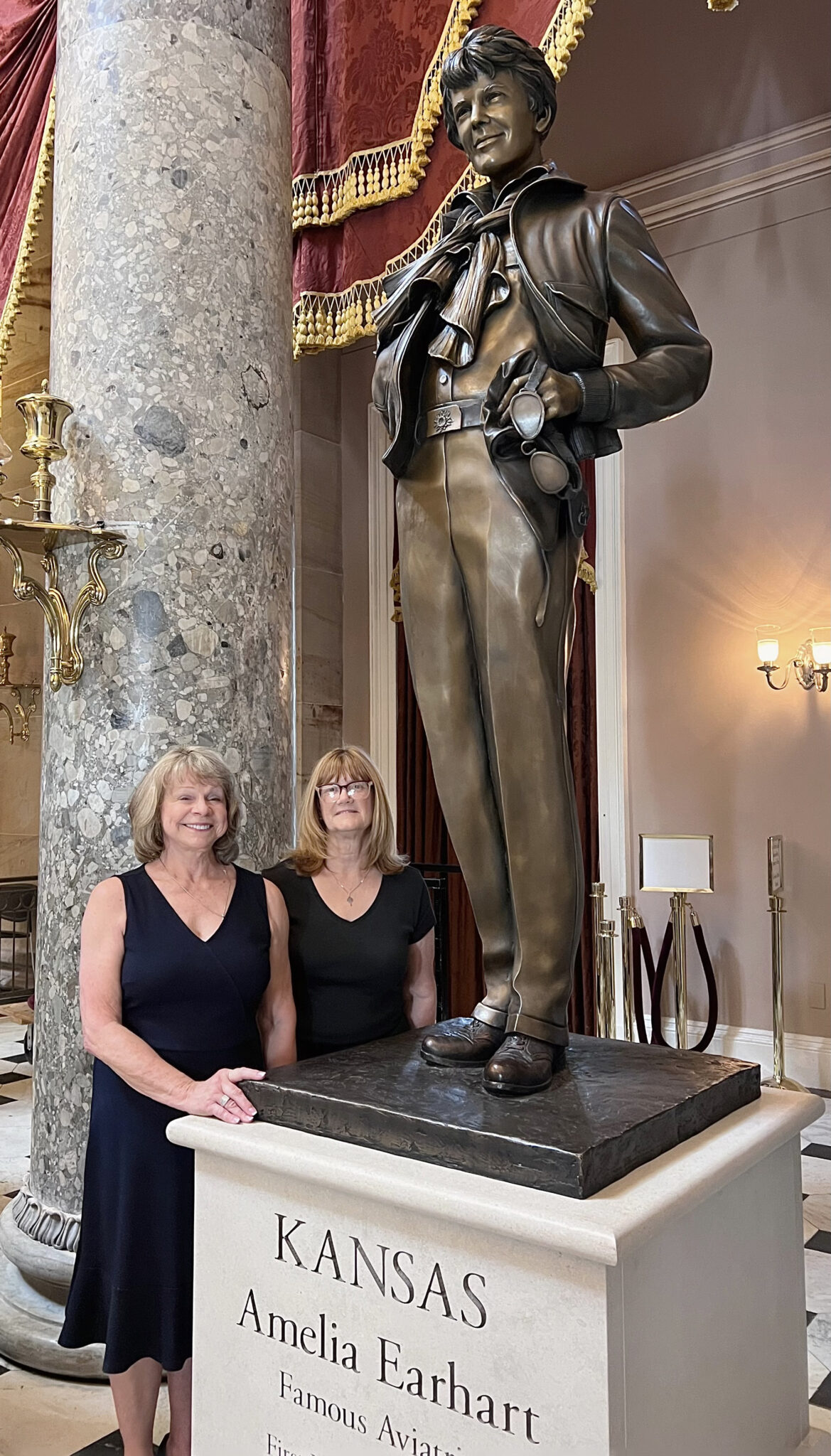 Related Articles:
All images credited to Atchison Amelia Earhart Foundation