When it comes to the safety of babies and toddlers onboard aircraft, the US Federal Aviation Administration does not mandate a specific approach but is unambiguous about the best method, saying in no uncertain terms that: "The safest place for your child on an airplane is in a government-approved child safety restraint system or device, not on your lap."
Even so, many parents and caregivers — due to financial and other considerations — opt not to buy an airline seat on which to secure an approved hard-backed child safety seat, a decision that can leave the child largely unprotected in the event of sudden turbulence or other safety incidents that could see them thrown about an aircraft cabin.
A device called the Baby B'Air Flight Vest has long sought to remedy the situation, at least during the cruise portion of a trip, by securing a child to the adult's lap belt. Billed as "the only safety solution for lap held babies who fly" the design is advertised as protecting infants "against the unexpected dangers of turbulence and to keep your child safely on your lap during flight".
There is nothing technically stopping parents from using Baby B'Air and other similar devices while in-flight, en route. However, the FAA does prohibit passengers from using these types of restraints and other belly belts during ground movement, takeoff and landing, arguing that they do not provide the best protection.
But if US start-up Avelo Airlines had its druthers, the Baby B'Air Flight Vest would be approved for use during these critical phases of flight.
The ultra low-cost airline, which hubs in Burbank, California, in January filed a petition (PDF) with the FAA, arguing that it should be able to use Baby B'Air in all phases of flight. In the ensuing weeks, several proponents of the solution, including the Air Line Pilots Association and the National Air Carrier Association, shared their comments with the agency.
Given the FAA's clear guidance on the importance of using a child safety restraint system (something the NTSB would like to see the FAA mandate), it is perhaps unsurprising that Avelo's application was denied last month, with the agency explaining that it "found that a grant of exemption is not in the public interest and could adversely affect safety".
But Avelo's application warrants study, and so Runway Girl Network reached out to company vice president of safety, security and operational excellence Michael Quiello to learn what motivated the airline to apply for this exemption request.
Quiello tells us that he first learned about the Baby B'Air device during an ALPA safety conference in Washington DC, and was impressed with the flight vest's potential to protect small children who might not have a child seat available. 
He highlighted the tragic accident of United 232 in 1989 where flight attendants instructed parents to place their children on the floor at their feet to protect them from impact. One baby was thrown to the back of the aircraft, where they died of smoke inhalation, another child was thrown into an overhead bin, though the child survived. This incident prompted the NTSB to call for FAA rules that would better protect small children who fly.
"There have been incidents in the industry where children have become 'projectiles'. The NTSB has been very active in this space, really wanting to have children in their own approved child restraint system seats in the aircraft. The FAA has done studies [which show] that if that becomes a requirement, people will go more for surface transportation [traveling by road] where the fatality rate or the injury rate may rise. The NTSB has asked the airlines to address this," explained Quiello.
One of the often-cited general concerns about tethering lap babies to their guardian is that, in the event of an emergency crash landing or rejected takeoff, a tethered baby might be crushed by the adult's body flying forward.
But Quiello said:
I thought that Baby B'Air would be a great solution until there's a final directive from the FAA that lap children will no longer be allowed. [The Baby B'Air] meets the concerns of the FAA [with other baby snug body carriers] over a child being crushed by a parent, and it also meets the 16G [impact tests] the seats are certified [to meet]…

The child is actually sitting and could be moved left or right, and the child is not tightly tethered to a caregiver. Then we look at other issues [beyond crash conditions]. For example, when a caregiver falls asleep, and the child falls off the parent's lap — we've had incidents of that — or a sudden turbulence event, not due to convective weather, which is predictable, but other events like aircraft wake [turbulence].

[The question for me is] how we protect the most vulnerable customers, the most vulnerable people in the air, which are children aged two and under. I looked at all that, and I said, this [Baby B'Air] makes all the sense of the world to me.

Now, the device was not approved by the FAA. So, I said, let Avelo be the lead airline to take this on to see if we can get an exemption to use this in all phases of flight —that is because the FAA will not allow it to be used for taxi, takeoff, and landing.

I wanted it to be allowed to use it in all phases of the flight because on the climb out, if the seatbelt sign is on, I can't ask a passenger wearing their seatbelt — the caregiver — to unfasten their seatbelt [to attach the Baby B'Air Flight Vest].
The Baby B'Air Flight Vest is compatible with all airline seats. It can be easily employed in cases where there are no seats available to install an approved child seat or when the child might be anxious or fussy, needing a guardian's comfort. 
"Getting on an airplane is stressful enough. And trying to set up a car seat is difficult enough in a car. Imagine what it's like in an airplane with people pushing you from behind," said Quiello.
"Some parents just don't want the hassle of carrying the car seat or installing it on the aircraft. There are times when they come to the airport and don't have an approved car seat. They want to take the car seat they use in their car that may not be approved for traveling on an airline. So the [Baby B'Air] seems to be an elegant solution until we can come up with something that everybody can agree on."
If its petition had been approved, Avelo would not supply the Baby B'Air Flight Vest to parents as standard safety equipment. Rather, the device would merely be deemed acceptable for parents to use from the moment they board to the moment they deplane.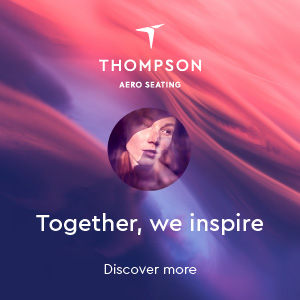 Parents would need to purchase the appropriately sized vest of their own accord. The Baby B'Air comes in two sizes, for an infant or toddler, each with a right-sized neck opening designed with the intent of ensuring that a child does not slip through at the shoulders. 
"Avelo has no financial interest in Baby B'Air, and we're just doing this because we believe it's the right thing to do," Quiello told Runway Girl Network.
"We want to be a strong advocate for those who are most vulnerable on airplanes, and those are our lap children. We can't have any higher obligation than to those who can't take care of themselves. We just want to make sure that all our customers, whether they're six months old or 60 years old, are protected equally."
Related Articles: 
Featured image credited to Jeremy Dwyer-Lindgren