Iconic aviator, aviation record-setter, and author Amelia Earhart is celebrated in her hometown of Atchison, Kansas with a birthplace museum, life-size statues, an annual festival, and a one-acre earthwork portrait. 
But starting on 14 April 2023, another major Earhart attraction lands in Atchison: the Amelia Earhart Hangar Museum located, appropriately enough, at Atchison's Amelia Earhart Memorial Airport.
The centerpiece and inspiration for the museum is Muriel, among the world's last remaining Lockheed Electra 10-E airplanes. Named for Amelia Earhart's younger sister, Grace Muriel, the museum's Lockheed Electra is identical to the plane Earhart and navigator Fred Noonan were flying in 1937 when they disappeared during their ill-fated around the world flight attempt.
Earhart's plane was a dull silver with red painted highlights and the shiny Muriel replicates the red along the front of the wings.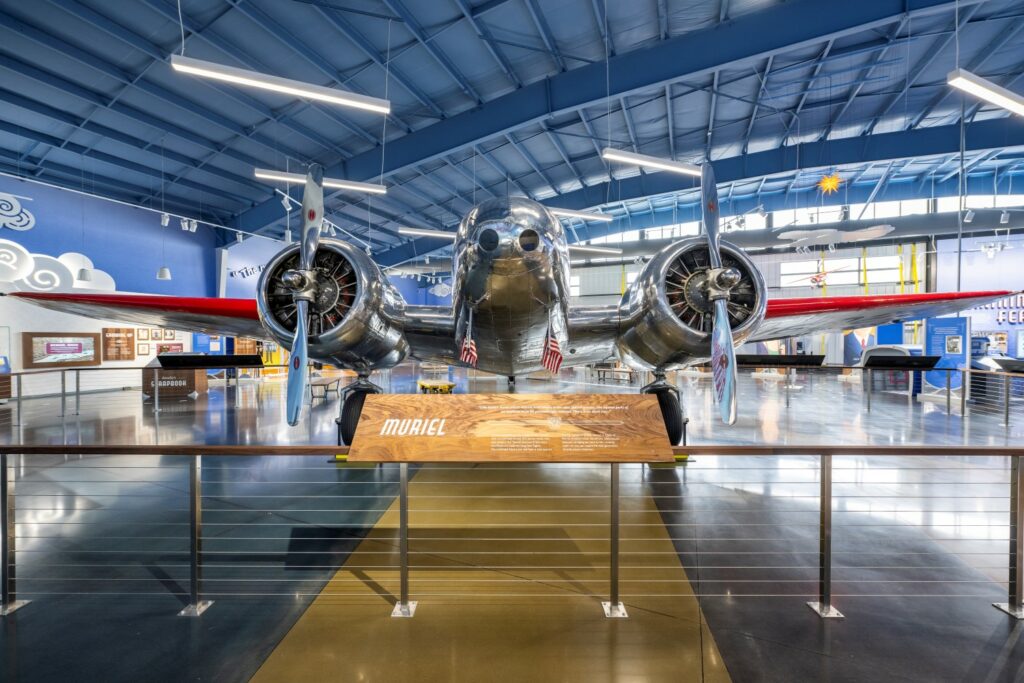 The restored, air-worthy plane is impressive to see. But it's the 14 interactive STEM-inspired exhibit areas and activity stations surrounding Muriel that will not only entertain visitors for hours, but offer layers of educational experiences about history, culture, science, technology, engineering, mathematics and more.
During a recent RGN preview visit, we first learned about physics and history at the "Pioneering Spirit" station that tells the story of how a 7-year-old Amelia Earhart built her own roller coaster after seeing one at the 1904 World's Fair in St. Louis.
A working roller coaster model is on view, and visitors may use a screen to apply their engineering skills to their own roller coaster and get feedback on its design. (Ours failed).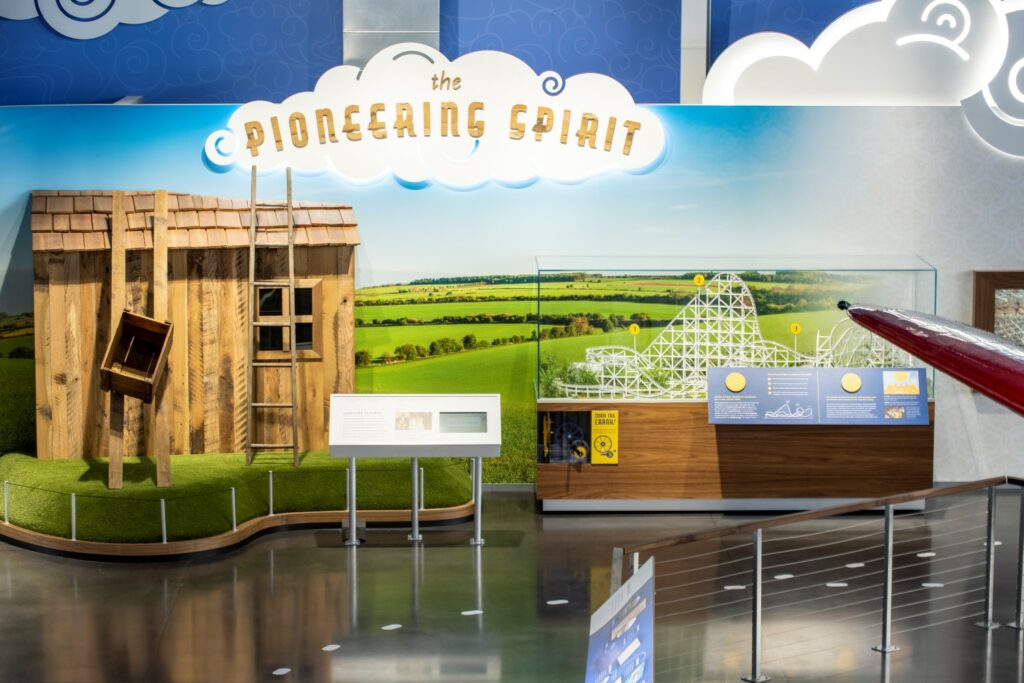 We next peered closely at one of Amelia Earhart's framed school report cards (she did well in reading and geography) and then scrolled through digitized images from her mechanic logbooks, which include handwritten notes by Earhart.
Thereafter, we posed for a photo and let augmented reality show us what we'd look like in clothing related to some of Earhart's many careers, including mechanic, nurse, pilot, and fashion designer.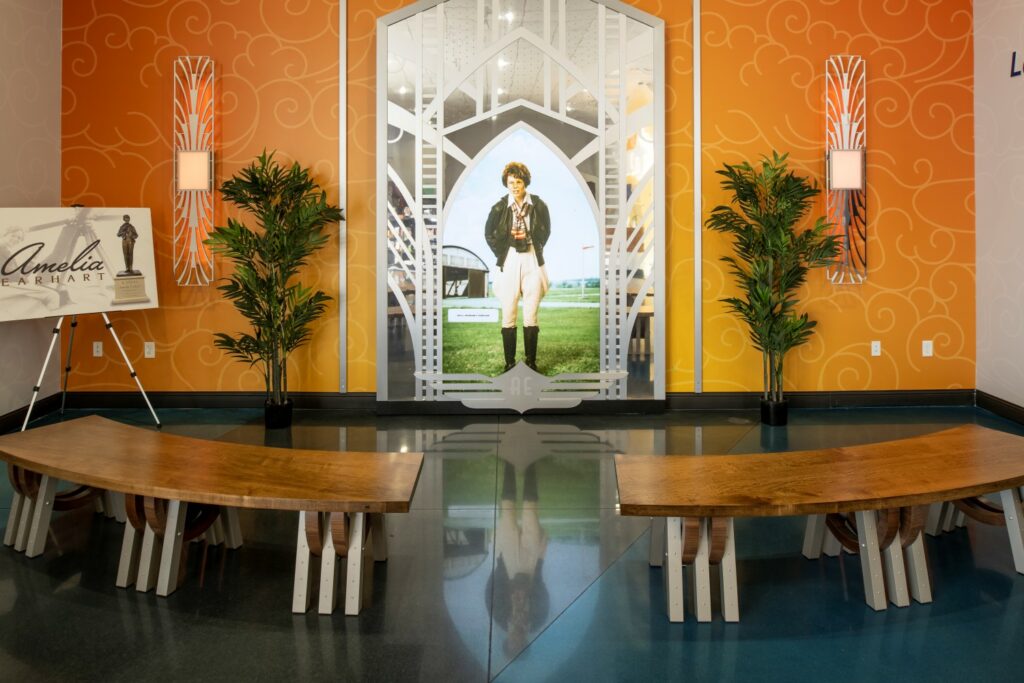 At other stations we learned about the power and parts of airplane engines 'then and now' and tried to squeeze into the full-scale replica of Muriel's cockpit to experience the small aircraft space Earhart described as her "flying laboratory". Earhart was 5'8" and it must have been a very tight fit.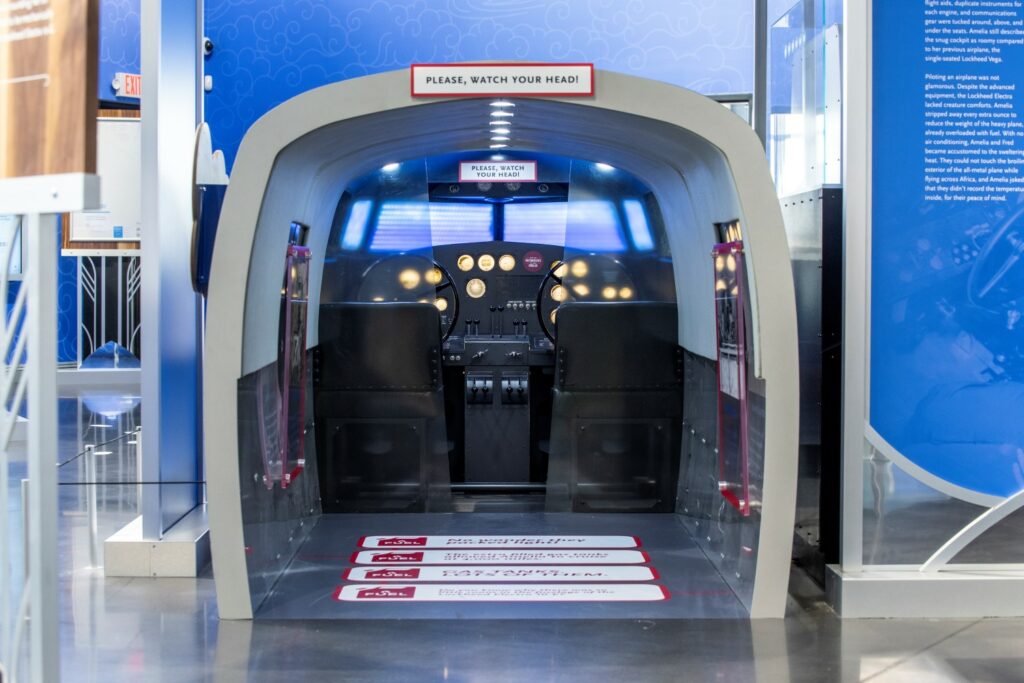 Kansas-based experience design firm Dimensional Innovations (DI) created the exhibits with STEM education and accessibility in mind and every station features hands-on and/or gamified experiences, digital media, and inclusive state-of-the-art technology. That includes the computer generated Amelia Earhart welcome video and the interactive stations where visitors are challenged to pack the plane with essential, but not too heavy, items and to compete to correctly install some of airplane's thousands of required rivets.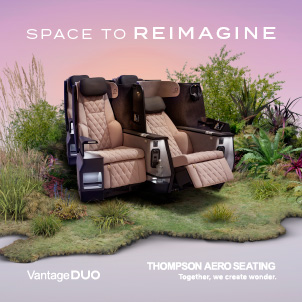 In the "Above the Clouds" section of the museum exploring the role celestial navigation, radio waves and atmospheric conditions play in aviation navigation, visitors can learn about some of the many theories about what might have happened to Earhart and Noonan on that failed flight around the world and then vote on which scenario seems most likely.
Finally, after learning about Amelia Earhart's life and notable achievements, and all the STEM-related skills she needed to study, master, and use in her flights and in her life, visitors to the Amelia Earhart Hanger Museum can listen to taped recordings of some of her news interviews and try to pilot a virtual reality flight in Earhart's red Lockheed Vega 5B that presents the same challenges (bad weather, mechanical problems, etc.) Earhart faced during her 15-hour flight on 20-21 May 1932 when she became the first woman to fly nonstop and alone across the Atlantic. 
The Amelia Earhart Hangar Museum in Atchison, Kansas will have its grand opening on Friday, 14 April. Pre-opening "Beta" visits can be scheduled now.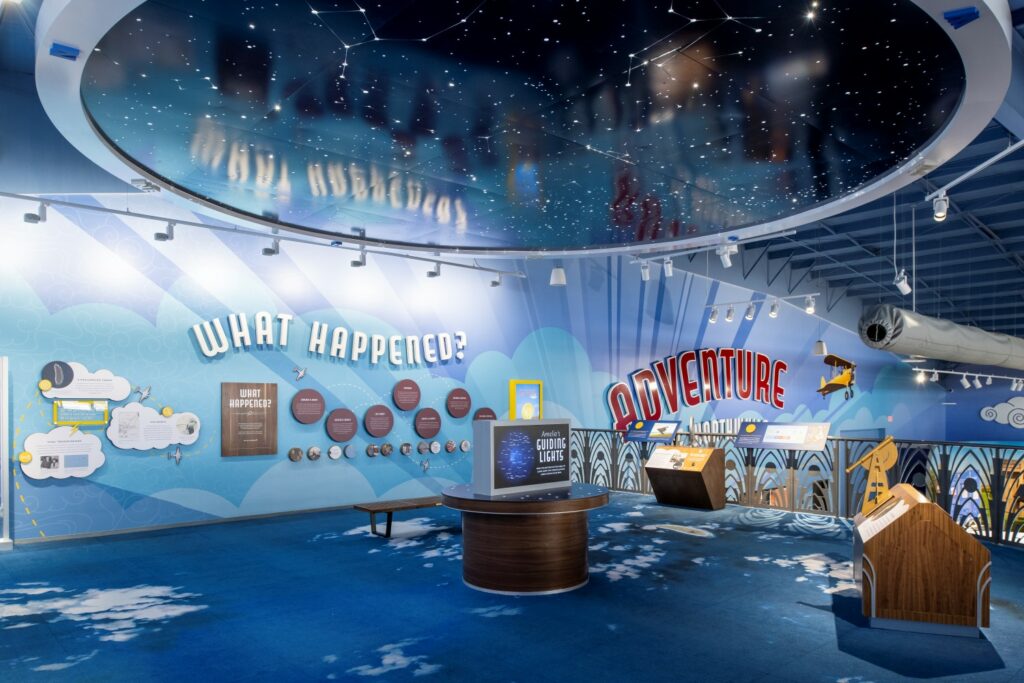 Related Articles:
All images credited to Dimensional Innovations/The Amelia Earhart Hangar Museum