As a longtime value added reseller of both Inmarsat's SwiftBroadband and Global Xpress satellite-based inflight connectivity services, SITA is accustomed to facilitating airline passengers' onboard Internet sessions. But as industry looks to accelerate out of the COVID pandemic, the multinational IT company believes IFC can play an even greater role in supporting airlines' e-commerce activities and improving crew workflows.
In a post-COVID world, conversations about driving cost efficiencies and generating revenues take on "a different tone now", says Yann Cabaret, CEO of SITA for Aircraft. Connectivity can, for instance, help to maximize the potential of onboard shopping whilst providing a better service to the customer, he tells Runway Girl Network.
Singapore Airlines, purely for instance, is offering live inflight shopping to passengers via its KrisWorld connected seatback IFE, initially on select Airbus A350s but earmarked for other aircraft types. The connected marketplace enables passengers to shop from the comfort of their seat including for larger ticket items, as real-time credit card transactions are supported. And passengers can select multiple delivery options — direct to their home or to their connecting or returning flight.
Outside of this type of seatback shopping scenario, however, airlines can also arm crew members with tablets to support a connected retail model. SITA's CrewTab solution, for example, helps to automate administrative tasks, freeing up attendants to redirect their focus to more critical matters. But it can also digitalize inflight sales (of seat upgrades, food and beverage, and onboard retail), while enabling real-time sales analytics and optimizing stock and promotions. As catering is streamlined, wastage is reduced.
With real-time flight information at their fingertips, cabin crew can also provide concierge-type services to passengers, helping them with connections and checked luggage tracking and in turn, enhance passenger loyalty. Timely reporting of passenger feedback also leads to improved service recovery.
The work shouldered by cabin crew is evolving "so how do we equip them with the right data so that they can make the right decision and have a better service" is a topic gaining new importance in the current environment, Cabaret tells RGN.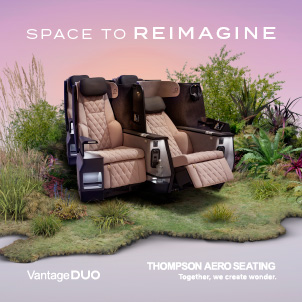 In the cockpit, connectivity can support real-time applications, like weather updates, for pilots' electronic flight bags, helping to optimize flights and save fuel. And it can accommodate real-time aircraft health monitoring and maintenance updates to "improve dispatch to improve line maintenance", says Cabaret.
But these types of applications don't necessarily require huge amounts of bandwidth, he notes. That's why many EFBs presently use lower bandwidth links such as Inmarsat and Iridium's secure L-band satellite services.
"What we can do with ACARS already today is one of those things underrated in terms of capacity," says Cabaret, describing these processes as "low hanging fruit" which can be easily plucked by carriers today.
Some connected applications do require much greater capacity, however. Passengers want to use cabin connectivity to access their own streaming subscriptions on their devices, and in time, via seatback screens. The latter scenario has been championed by various industry stakeholders, including Viasat which is acquiring Inmarsat.
As a provider of Inmarsat's Global Xpress service via Ka-band satellites, SITA's high-speed Internet and mobile connectivity solutions initially won't be compatible with Viasat's own Ka network. But the idea of eventually gaining access to Viasat capacity for current and future customers is very appealing to SITA, confirms Cabaret, adding that he is "looking forward to that conversation".
Related Articles:
Featured image credited to istock.com/exithamster