What does the future hold for in-seat entertainment on aircraft? These days, with very few exceptions (including Scoot's Boeing 787s), virtually all commercial widebodies are delivered from the factory with embedded IFE because the systems are seen as a near standard "comfort factor" for passengers traveling long-haul in increasingly cramped (some might say borderline inhumane) conditions.
American Airlines effectively admitted as much in January when it said, perhaps begrudgingly, that "seat-back screens will continue to be important to customers flying internationally" even as the carrier declared that the trinity of streaming entertainment, in-seat power and fast Internet is "the future of IFE" and is being embraced on the carrier's domestic flights, including on its forthcoming Boeing 737 MAX aircraft.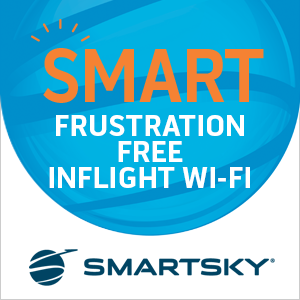 Industry analysts are, of course, paying close attention to the low-cost carrier contingent that is plying transatlantic routes with current generation and re-engined narrowbodies without even a whisper of IFE (think WOW Air, Norwegian and soon, Primera). And given that some Hollywood studies are again considering a premium VOD service that would substantially shorten the traditional theatrical window and allow the home viewing audience to buy premium content far earlier – making that special "early window" enjoyed by the non-theatrical market less special – RGN put the question to a variety of stakeholders over the last six months.
A top executive at Singapore Airlines told your author that even in the face of wireless IFE and connectivity advancements he doesn't see seatback entertainment going the way of the Dodo for at least another 10 years, if even then. Below you can read what others in industry have to say.
Gogo chief operating officer John Wade:
I think that for the reasonable future, IFE as a seatback component is going to remain. It's obviously going to be an airline decision based on the economics. But I know that in my own home I don't have cable anymore but I have the same number of screens.

Is the industry poised to change from being IFE with a "C" component, to IFC with an "E" component? Does the screen actually just become an extension of the communications structure? So if there is a pivot, we think it's more along those lines.
Intelsat head of mobility Mark Rasmussen:
You know that's a tough one to predict. I like seatback; maybe that's just because of what I'm used to. I like having that and my device at the same time [double screening]. That's more convenient to me than using my device to watch a movie and then using it at the same time to surf the Internet. So to me, having both mediums available and present is the ultimate experience. That's just me as a personal preference. Maybe over time, maybe the devices get to be more capable, more functional.
ViaSat director Don Buchman:
"Once the ViaSat-3 [constellation] launches, now you've got that capacity everywhere. It's not that seatbacks are dead; maybe the way content is stored [changes], maybe what the function of the seatback is [changes]. It might be a seatback that is essentially … just a screen and the content is going to come from the people. The people bring the content and they'll just mirror it up on the screen. So your device could actually be the conduit for getting the content to the screen… You can get to early window movies that way; you can buy them on demand. You can do various things. You have a lot more options…

It just changes, you know, the complexity of what the in-seat screen is today. What an in-seat screen may look like in future may be a little bit different and it's just more of a display. Kind of like what Marriott did in its hotels where you come in and you can log into your Netflix account or Hulu account and grab your data, [and do] your thing on their big screen. They put a 60-70-inch screen in the room. That's an early trend so, as the cord cutting trend and this sort of 'a la carte' processing of entertainment happens – and I think the early window is a good example where studios can start trying to get to the consumers and testing things – I think the more and more that people bring their accounts with them, how they access it, they can do it on their device or they can reflect it up on the seatback device."
Air France VP fleet management Nicolas Bertrand:
It is "not the case" that seatback IFE is going to die in the near-term. "Because the inflight entertainment is so popular today. As a passenger, it is very difficult to see what will be the timing in the future. [But] I don't think it will. Not in the next five years. I can tell you, when we have some IFE system not working on the aircraft because [of a] technical issue, [it's] very difficult to mention the situation to the passengers [because they're devastated.] So we spend a lot of money on our product to renew the cabins, not only the seats but the also the IFE."
IFEC industry veteran:
So this is not the first time premium VOD has been discussed, and not the first time it has been done [though it would be the first on a mass scale]. The issue around it has always been – where is the price point at which you're going to get a maximum level of penetration times a price that's going to generate a reasonable amount of revenue. I think $30 was mentioned, is that the sweet spot? Is $50 the sweet spot? How many people can afford that and are willing to do that? In the past, the number has tended to be quite small; what may be different this time around is it might be lower, and maybe there will be a higher level of penetration.
To the best of my knowledge, we're not talking about a download here. We're talking about streaming to a high-level home entertainment system; a digital copy is not kept. I think you're talking about maybe 5% of the people who are in the aircraft cabin, so there would be no immediate and direct impact on IFE. It may be that the long-term impact is that [broadly we're seeing] death by a thousand cuts, and this is one more cut in the cuts of early window variety. We're certainly moving toward an environment where you have theatrical, and then 30 days later you have everything else; this is one more cut in that direction.

I think it's incumbent on anyone in IFE who curates content to be very cognizant about what the value proposition is in that curation. You've got to do something that creates value for your passenger in what it is that you're doing versus what he can do for himself. I certainly think that a qualified programmer, qualified content expert can do creative things that will create more value than somebody in a mad rush to get on an airplane. A lot of us catching an airplane are not thinking about what we're going to download to the iPad. There is still an opportunity to curate content and make it more compelling for passenger than what pax will do for himself.
Panasonic Avionics senior director corporate sales & marketing Jon Norris:
I think we're going to see more in the connected seatback, especially with the risk airlines are seeing with the electronics/PED ban. There was a lot of talk about seatback being dead and we're seeing none of that. With the increased capacity and coverage of the HTS network, what we think we're going to see is a big demand for the connected seatback, a lot of applications that the airlines can bring on board, really delivering that fully connected experience on board.
Kontron VP system and program management, avionics, transportation and defense, Andy Mason
So far, I really haven't heard too much response or feedback [regarding premium VOD]. I think as part of an overall trend, with things like Netflix and Amazon and streaming services, as a consumer it makes sense. The movie studios would have to update their business model, but really we would be ready to support it [as a provider of hardware to the inflight wifi market]. But we're one level removed; we're not in the business of content providing but we recognize the change from the studios you just described would enhance the overall passenger experience.
Global Eagle chief operating officer Wale Adepoju
I've been doing research in this market for about, it's going on about 25 years now and [the presence of inflight entertainment, and early window movie content on board] doesn't stop people from going to the cinema. It's usually people who don't get to go to the cinema and it actually shows them the quality of content. There are many, many short programs that the first time I actually saw [them] was in an aircraft. Then I have gone back and downloaded and bought the whole series. And I hear … those stories all the time. Same for music.

So I think it's important as an industry – and this isn't just a Global Eagle thing – that we realize the value that we have here. And I think it's especially from an airline perspective, there's this unique audience that you have [with] that focus on travel. That gives us an opportunity to market to them and bring them some of the best content from across the world. I think that a privileged window should remain and will remain.
Related Articles: