As airlines seek to span the comfort canyon between the increasingly luxurious and private business class doored mini-suites and increasingly compact economy class, five-abreast premium economy seating is seeing interest for narrowbody aircraft flying longer haul. The key is to provide an adequate upgrade from economy but not to cannibalise business class demand.
Enter HAECO Cabin Solutions' 5-abreast Eclipse Staggered product, which Runway Girl Network tested out at the Aircraft Interiors Expo in Hamburg. An evolution of 2019's Eclipse Staggered seat in its 2-2 configuration, the 2-3 configuration, 5-abreast product staggers the two aisle seats a few inches back from the window (and, on the right-hand side of the aircraft, the middle) seat.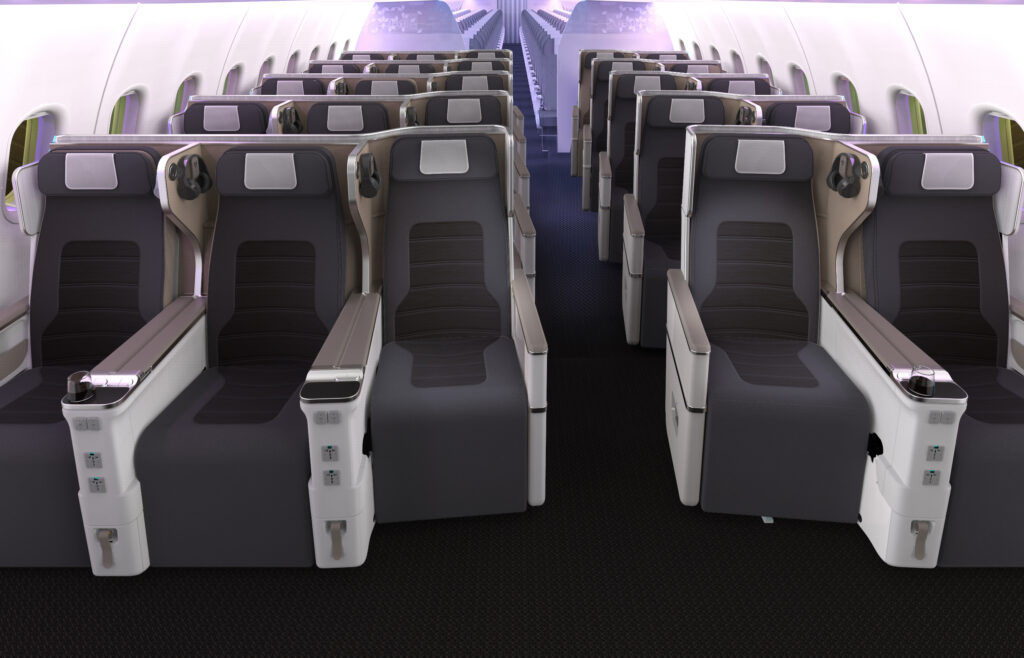 Getting an extra seat in every row of premium economy is certainly attractive. As Doug Rasmussen, president and group director of HAECO Cabin Solutions, tells Runway Girl Network, "for many international airlines, premium economy provides the highest yield per square foot of floor space. Our Eclipse Staggered product offers up to 14% more pax density than any other [premium economy] product."
That would include, Rasmussen says, offering the seat both as a five-abreast option on the Airbus A320 and as an eight-abreast option on the Boeing 787.
In practice — in the A320 five-abreast layout, in any case — the product is remarkably effective. Two RGN journalists, measuring 6'3" and 6'4" (that's 1m91 and 1m93), sat comfortably in the aisle and middle seats while discussing the five-abreast prospects with HAECO executives during the Aircraft Interiors Expo.
The key to the comfort revolved around both the stagger taking one passenger's shoulders out of alignment with their neighbour, and the fixed seatback shell meaning that the control over the amount of space in front of each passenger is that passenger's alone. 
Of course, that middle seat question looms large, and the longer the prospective flights are scheduled for, the larger it looms.
Japan Airlines' Class J is a five-abreast recliner aboard the 737, sold as full-fare domestic business. But there's a fundamental difference between Class J on a domestic Japanese flight that are a maximum of a couple of hours in length and a middle seat in premium economy for the best part of ten hours' duration.
Another question is overhead bins, and that's one that HAECO's computer-generated image renders sidestep by not quite showing them. The aisle is displaced to the left towards the pair of seats by what looks to be about a foot — more than half the aisle width from the look of the renders. This question has been raised before, most recently by the 2-3 configuration of the Airbus A220, and the answers have rarely been persuasive. Shrink one side to smaller bins? Risk passengers bumping their heads on open bins? There's no clear fix.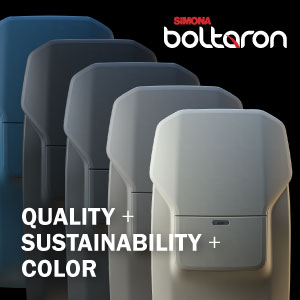 Regardless, it is very pleasing indeed to see innovation in the middle of the narrowbody cabin in addition to the front, and HAECO is bullish on the prospects.
"Some passengers are now willing to pay a bit extra to move forward in the aircraft for comfort and social distancing reasons, while others are choosing to save money by moving to premium economy rather than paying 3-4x for business class. We see this as a long-term trend. Second, we see strong growth in the narrowbody market," Rasmussen explains, going on to highlight that "third, there is significant pressure for weight savings and total cost of ownership to address both high fuel prices and sustainability. Across our products, we have achieved a 20% weight reduction by using advanced materials and smart designs."
HAECO's 2-2 Eclipse product is clearly one option for narrowbody airlines in the "recliner-plus" space, and indeed its adoption as the regional business class for flydubai is a vote of confidence. It will be fascinating to see the reaction to the company's more dense — and in many ways more revolutionary — five-abreast version.
Related Articles:
Featured image credited to HAECO Cabin Solutions