HAECO will début its latest seat, a staggered-angled hybrid called Eclipse aimed at the premium economy/shorthaul business market, on a Boeing 737 MAX aircraft belonging to an as-yet undisclosed launch customer in the first quarter of next year.
The seat looks impressive on paper and in renders, and is both set at a slight angle and staggered, taking neighboring passengers' shoulders out of alignment and thus increasing the perception of width. HAECO's senior vice president of engineering José Pevida tells Runway Girl Network that the effect is marked, giving numbers for an example Boeing 787 application: "At the seat pan it will be 18.5 inches, and at the shoulder it's going to be somewhere around 24 inches and more."
"We have been a provider of premium economy seating products and we were looking for ways to further improve the passenger experience and look at what was out there in cabins. We saw that in our opinion there was a gap between the business class becoming more like formerly first class and, in economy class, having a lot of pressure to densify in some markets," Pevida explains. "We felt that even [with] our premium economy products, even though they were very comfortable, there could be a possibility to create something that will create more of a better experience for either leisure travel for couples and families or for business travelers that may be, by corporate policy or other reasons, not able to go into business class."
In 2017, HAECO added the Vector Premium family member to its Vector customizable economy seat range, but the upward pressure from passengers seeing increasingly tight economy class seating, and the downward pressure from increasingly spacious and expensive business class products, meant a further portfolio option was needed.
"We began to look at the fixed volume that we have in the airplane, and we looked for ways to optimize that to give a better seating arrangement. We came up with the unique combination of staggering but angling the seat at the same time. We did subsequently file a patent for that concept," Pevida explains. "Basically, that combination of geometries — in looking at human shapes being widest at the shoulder and narrowest at the feet — is how we started to sketch seating concepts. Then we of course looked at kinematics, and not going lie flat, but being that it's a premium product, we looked for ways to optimize the comfort, and the best solution for us was the kinematics that reproduce the zero-G cradle position."
The zero-G position is an increasingly popular one among passengers and the seatmakers who meet their needs, reducing pressure on the body at key points.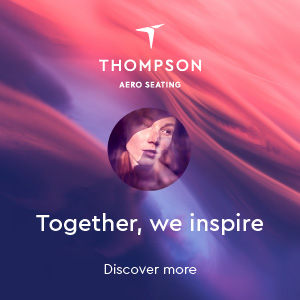 HAECO plans to control the seat using a piezoelectric actuator, involving an electrical switch interface at passenger level, but mechanical actuation to move the seat. This technology is already seen in some luxury automobiles and, Pevida says, reduces maintenance cost and weight.
Seat weight is, of course, a key concern for airlines, and HAECO expects the average weight per passenger with Eclipse to sit between 33 and 37 kg: understandably between the traditional sort of recliner seen in premium economy and narrowbody/shorthaul business and a more spacious and feature-filled flatbed.
Pitch will be slightly more than most premium economy seats of today, potentially approaching that of more generous narrowbody business classes, such as that operated by Japan Airlines. "The minimum pitch we would recommend would be 40 inches, and probably — although there is truly no maximum — there is the pragmatic maximum of the revenue generation aspects," Pevida notes. "We believe that the range will be between 40 and 45 inches. In long-range premium operations, probably the optimal pitch for it is 42 inches."
Width, however, will vary based on the choices airlines make. HAECO is offering on both major narrowbody families either a 2-2 or 2-3 configuration, which is enabled by the stagger and the angling.
"In terms of seat width, we believe that the premium market starts at the 18+ inches of width, more like 18.5+. But these products have a range of widths going from 18.5 all the way up to 21.5. Having said that, one of the things that is key when speaking about these products in terms of living space is that the classical measurements for these seats don't always do it justice, because given the geometry they provide, it gives you a very large amount of shoulder space," Pevida notes.
On the 737 cross-section, the 2-2 layout would sit at 21 inches of seat width, while in a 2-3 layout it would be 18 inches, some two to three narrower than the norm on larger narrowbodies, but not necessarily that different from what passengers experience on the smaller narrowbodies like an Airbus A220, Boeing 717 or its predecessors.
For the 2-3 option, says Pevida, "based on the feedback that we have so far, obviously it may be more tailored towards the shorter segments. You have a lot of feed for major carriers, you'll have a segment where single-aisles may provide a continuation service from a hub onto a final point destination. These could be a very good way of providing that at a very [good] value proposition without going and making the passenger experience a drastic change. The other type of operation that may benefit from that would be an operation where the airline is not looking to provide per se a classical business class, but rather a [good] value proposition into that segment."
Pevida tells RGN that HAECO's launch customer is expected to take its first seats in the first quarter of 2020 for a 737 MAX on a retrofit basis. TSO certification is expected very early in 2020, while HAECO has performed a substantial amount of engineering developmental testing to validate the technology, and expects to do an increasing amount for the remainder of 2019.
Next up: linefit offerability. "We are active with both Boeing and Airbus, and we've had discussions with other airframers too. With Boeing we've already been able to achieve a technical viability statement, and we're progressing to be on offerable status later on this year, by Q2 or Q3. Likewise with Airbus, there's a notice of engagement process that we have begun. Both larger manufacturers are very aware of the product, the technologies, and we have already been working very closely with them to make the product offerable for linefit," Pevida says.
Related Articles: