While the COVID-19 crisis has impacted the speed at which Inmarsat's nextgen SwiftBroadband-Safety (SB-S) satellite communications platform is rolling out in aviation, the London-headquartered firm is "very pleased" with the aircraft retrofit progress being made in China.
"So, we're up to about 150 aircraft now between the various airlines, with most of that growth having come in the last year in China," Inmarsat SVP of airline and operational services John Broughton told Runway Girl Network in October, in specific reference to SB-S adoption.
Shenzhen Airlines is a key client. In 2018, it selected Cobham cockpit connectivity hardware and SB-S for its entire Airbus A320 fleet.
In the context of the coronavirus pandemic, the Chinese domestic market is rebounding faster than the rest of the world, with a large share of domestic capacity back in operation. Cheap fares are helping to drive the rebound.
"So, our big growth over the past year has been out of China," said Broughton.
SB-S linefit offerability programs with both Airbus and Boeing have seen delays on account of the COVID-related slowdown in aircraft deliveries, but Broughton assured that development programs at both OEMs are continuing apace.
Broadly,  the Inmarsat executive characterizes SB-S adoption as:
It's less of a migration and a transition than simply a fact of newer airplanes in one segment of the market are the pull to get it into the marketplace.
The Boeing 737 MAX grounding has also affected equipage. Two manufacturers have SB-S hardware programs with Boeing for the MAX, noted Broughton. "But as you can imagine that [work] was put on hold with the 737 troubles, but it will be offerable on the MAX, and it will offerable on all Airbus airframes, no surprise there."
The US Federal Aviation Administration today completed its review of the MAX, with administrator Steve Dickson signing the ungrounding order. The FAA also published an Airworthiness Directive (PDF) specifying design changes that must be made before the aircraft returns to service and published the MAX training requirements. (PDF) among other measures. This will come as welcome news to MAX suppliers, including in the cockpit and cabin connectivity realm. It remains to be seen if passengers will warm to the MAX.
The SwiftBroadband pipe, meanwhile, has long been offerable across Airbus' portfolio. But SwiftBroadband-Safety for safety services is going through the necessary final approvals. The first aircraft arriving with SB-S linefit from the factory will start to deliver in 2021, reckons Broughton. Once the industry gets back on its feet again, Inmarsat is confident it will start to see the adoption numbers pick up, he added.
As first reported by RGN, Inmarsat will stop supporting Swift64 service at the end of this year and is planning a December 2023 end date for its Aero H/I service. The news is especially poignant for Broughton, as he was instrumental in bringing forth Swift64. He was its program manager at Inmarsat before pivoting to EMS Technologies and spearheading terminal work there (EMS was later acquired by Honeywell).
A Twitter shout-out by "satcom guru" Peter Lemme prompted Broughton to sit back and reflect on the Swift64 journey. Broughton tells RGN:
It was the events of 9/11 that really launched the program in a lot of ways, certainly getting that first terminal on [then US Army general] Tommy Franks' airplane in November 2001. That underpinned everything that came afterwards.
Though the EMS terminal was aimed at the business aviation market and also air transport – where it ultimately found homes – government applications really demonstrated its capabilities. "And in particular one of the things that were core to the design of that system was having an ISDN interface which sounds horribly old and old-fashioned in today's terms, but it unlocked the ability to link up all sorts of standard devices" – routers, servers and, on the military side, crypto devices –  as well as "a huge number of applications" making it useful to users in ways that services up to that point hadn't been.
"It got you out of that pain in the neck of dial-up modems, so it was some very far sighted decisions by Inmarsat engineers in designing the system the way they did," he said.
Swift64 users have been moving to SwiftBroadband (SBB), and some towards the Inmarsat GX-powered Jet ConneX, for years. "Along came SBB and now GX, so it's probably fair to say that most of the business jet and military customers have made that switch now, that's one of the reasons why we're end of life-ing it. It served its purpose," said Broughton. "The whole world is firmly entrenched in the GX and SBB paradigm."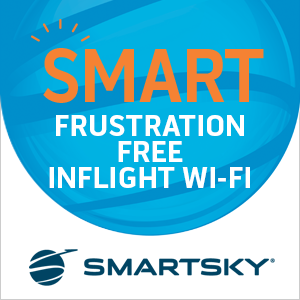 The Classic Aero service known as Aero H+ for cockpit safety, voice and data will continue to be supported by Inmarsat. "They have no end date," assured Broughton. Indeed, Inmarsat is still "very much" actively selling Classic Aero which is linefit on the Boeing 787 and the Airbus A350 (as well as the sunsetting A380, which has seen its last new build).
Classic Aero services will be supported by Inmarsat's I-6 satellites, which are scheduled to launch in 2021. Operators will not require new hardware. "The services will migrate forward seamlessly. We'll do as we always launch satellites, we'll confirm operability, but those services will be supported on the I-6s on the network," said Broughton.
Operators of newer aircraft types, including the Boeing 777X and those interested in the new light cockpit satcom solution for the A350 are expected to adopt SB-S right out of the box, however. "And, of course, a big part of that is what it gives them in terms of having both the safety services component and a single box supporting operational data at the same time."
He noted that some airlines that are absolutely adamant about keeping operational data separate from what passengers do in the cabin, and he believes "that's where SB-S or SBB will dominate". Other carriers are content with moving some ops data over the cabin connectivity pipe.
As an aside, he noted "one of the things which have been in the middle of the tough times is what's happened in cargo aircraft in the course of this COVID challenge. I think one of the things people missed when the passenger aircraft stopped flying is the sheer amount of cargo carried on passenger aircraft. One thing that has kept our numbers up is cargo."
Noting that Boeing is expanding its cargo conversion capabilities, and that air cargo is assuming an even greater importance amid the pandemic, he said this part of the industry has "helped mitigate some of the downside of all the passenger aircraft grounded, certainly for us…"
Featured image credited to istock.com/Leyn