As multiple airlines exploit inflight connectivity systems for operational data – and the industry is seeing a push to move non-safety ACARS traffic over broadband pipes – the overall demand for bandwidth is growing, as is the need for higher security, reliability and redundancy.
Earlier this year at the Aircraft Interiors Expo (AIX) in Hamburg, Thales InFlyt Experience VP of sales Mike Moeller suggested that limiting connectivity on a plane to a single network might work against the overall goal of providing sufficient bandwidth and redundancy. "Let's have the technology on the aircraft so that wherever I fly I use the best network available," he said. 
For normal consumer usage this might just be a cost or convenience consideration, but when ACARS data gets involved it is a much more serious issue, especially at a time when security researchers (they of the white hat and presumably the black hat variety) are seeking to find vulnerabilities in IFE and connectivity systems, and garnering headlines for their experiments.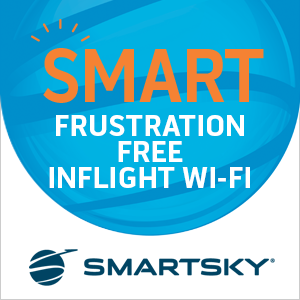 During AIX, Thales InFlyt Experience CEO Dominique Giannoi spoke of his company's ability to transmit operational data – think airplane health monitoring, real-time electronic flight bag (EFB) applications, credit card transactions, etc – plus non-safety ACARS data, and even black box data in the event of an emergency, over larger, faster, cheaper bandwidth sources, like Thales' regional Ka connectivity solution (powered by ViaSat Exede) or its forthcoming Global Xpress Ka offering, when the delayed service becomes available.
Giannoi said his company's history in securing global financial transactions and the ability to migrate some of that technology into the inflight arena will aid its work in this regard.
"We already have the infrastructure, the tools, the software in place to secure highly sensitive data. We will move this into the airline world. Our vision is that In the future we will use the best pipe available to transfer data in a very secure way," he said.
Born out of necessity in the late 1970s as an automated time clock system for crew, and later fully integrated with two-way interfaces to flight management, data recording, maintenance, cabin crew and flight crew with the dawn of the Boeing 747-400, ACARS has morphed into a catchall datalink for all sorts of safety and non-safety utilizations. Messages may be of three broad types – Air Traffic Control (ATC), Aeronautical Operational Control (AOC) and Airline Administrative Control (AAC) – and are usually transmitted via VHF, HF and/or L-band satcom with either SITA OnAir or Rockwell Collins (through its ARINC buy) acting as service providers.
However, because ACARS wasn't well structured from the beginning, there is nothing in a message telling you this is safety or non-safety. This is just one of myriad issues that must be addressed as industry explores migrating non-safety ACARS data to broadband.
ACARS-over-IP is a term folks have been using for quite a while. "I think SAS was doing a trial with Teledyne in 2006, so it has been around for a long time. The difficulty [was] both the fact that you [didn't] have a very advanced IP network on board the aircraft, and the pipes that were supporting ACARS over IP before were relatively small," noted Andrew Kemmetmueller, Gogo's new VP of Connected Aircraft Services during AIX. "So with a broadband pipe now on the aircraft that's available both in the air and on the ground, connected to pretty advanced IP systems on board, server functionality, etc, we're now able to really support what we call ACARS-over-IP functionality very well."
The industry seems to be in general agreement that true safety services should remain on dedicated Inmarsat and Iridium L-band channels for obvious security reasons. Ku and Ka-band connectivity providers "can do flight bag updates cheaply" and other ops-related transmissions, "but you'll still need us on board, especially because of our ability to be certified as a safety service" per ICAO's requirements for the Future Air Navigation System (FANS), said Iridium CEO Matt Desch. Iridium and its forthcoming nextgen service over Iridium NEXT satellites "will be on a lot of those aircraft" fitted with Ku and Ka, he added, and Inmarsat's SwiftBroadband will be "primary competition in this" in the coming years.
Then of course comes the issue of packaging it all together, and providing more attractive pricing for airlines. Glenn Latta, president of Thalys InFlyt Experience's Connectivity & TV segment, acknowledged that bundling the systems together is something the company would consider for customers. When specifically asked if Thales was packaging the regular connectivity service with the Iridium NEXT safety services solution Latta replied, "We have the opportunity to do that."
The last remaining piece comes with getting all of that hardware on an aircraft without causing significant increases in drag or weight. Ka-band and Ku-band antennas for inflight connectivity and live television, respectively, already fit under a single radome on hundreds of aircraft flying with Thales' solution on JetBlue and a portion of United's Boeing narrowbodies. RGN has learned that there is still room under that radome, especially for a smaller antenna like that used for the Iridium NEXT connection. This sort of packaging "looks feasible today", confirmed Iridium director of product management Brian Pemberton last week at the APEX Technology Conference in Los Angeles. It seems that all of the pieces of that particular puzzle are there; it is only a matter of assembling them into the right bundle and finding a buyer.
Additional reporting by Mary Kirby
Featured image credited to istock.com/Clare Bonthrone