Iridium is eager to get involved in the European Space Agency's efforts to relieve pressure on congested VHF radio links in Europe, telling Runway Girl Network it would like to see its Certus service over the NEXT constellation ultimately used as a satellite-based communications solution for air traffic management.
"I have spoken with ESA and Eurocontrol and want to engage with them on a similar trial and evaluation" as the Iris program in Europe, says Michael Hooper, who serves as director and general manager for the aviation line of business at Iridium.
"Iridium is coming to them [the two European agencies]. We're not looking for money or handouts; that would be great, but we don't expect that," adds Hooper.
Antonio Garutti, head of the Telecommunication System Project Office at the ESA, says in general reference to Iris-type work with Iridium: "We don't have strong contact at the moment with them and we are not planning to have this in the near future."
Iridium's rival, London-headquartered Inmarsat – a key partner in the Iris program – obviously has a meaningful head start. Iris is effectively an app that sits on Inmarsat's IP-based SwiftBroadband-Safety (SB-S) service, and will initially complement VHF Data Link Mode 2 (VDL2) terrestrial data-link communications. Together with the ESA, Inmarsat recently completed the first flight test of Iris on a Cessna Citation II aircraft, during which SB-S supported real-time communication exchanges between the cockpit and flight control facility over continental and oceanic airspace.
The evaluation moves the Iris program a step closer to enabling SESAR's concept of pinpointing aircraft in four dimensions (4D) – latitude, longitude, altitude and time. But while Iris is an enabler of 4D, notes ESA's Garutti, "4D is not explicitly part of it".
Garutti explains:
Iris is the basis on which the 4D [calculations] will be built, but as far as the program is concerned, 4D is not part of it. But we are working to have additional and parallel activity to support this element, which is extremely interesting as well. It's also true that 4D is not explicitly a satcom issue, it's an ATM issue … we are working on it.
The next steps involve certifying both the Iris user terminal and service. "So we are working on these two elements. By the end of the year, we should be able to select the service providers," says Garutti. As reported by RGN, large-scale flight evaluations will be conducted by European operators. "2019 is still a valid schedule" for launching these trials, confirms Garutti.
Meanwhile, a notion being quietly floated in certain circles – that NEXT might not be well suited for ATM due to questions about its ability to ultimately enable 4D trajectory calculations – is unfounded, insists Iridium's Hooper. Once the systems are available to support 4D, he says, "I firmly believe that Iridium NEXT is entirely capable and will be involved in these programs." He adds:
Everything that Inmarsat is doing with Iris is part of a data protocol; it's just that. It is the CMU [communications management unit] on board, which is crafting the message format by gathering the avionics data like heading and altitude to generate the 4D message. Then the pipe is satcom to send down to air traffic control.

So, it's very true today that Inmarsat was selected by ESA as the program partner for the development of this service and to do all the Iris Precursor [work] and other trials and the simple reason for that was obviously their timing. They had the satellites and SwiftBroadband [Safety] ready to go ahead of our schedule and really there was a lot of drive in Europe, with network congestion [in VDL2]."
The Iridium executive does not believe that rising trade tensions between the US and the EU will color Europe's view on whether or not to test Certus for ATM applications. But he acknowledges that there is also a possibility that "these things may start to manifest themselves" given that there is a lot happening on the political stage.
Other political considerations, notes Hooper, include Brexit. "It has been brought to my attention that all of these programs that Inmarsat has could possibly be disrupted with the Brexit situation." These questions remain unanswered because Brexit is not final, he attests.
An Inmarsat spokesman tells RGN: "Iris is a Public-Private Partnership (PPP) that supports the Single European Sky ATM Research (SESAR) masterplan by using satellite communications to solve the issues of airspace congestion and air traffic modernisation in Europe. We do not anticipate that Brexit will have any impact on this pan-European initiative. More than 30 companies have worked together to develop and design Iris, and the project will benefit the aviation industry, the European economy and society across Europe as a whole."
He continues, "Iris is driving high safety and security standards across the European aviation industry, at the same time as encouraging industrial leadership and innovation. The project will support a more competitive European Union (EU) aviation industry, and make significant contributions to EU Gross Domestic Profit and job creation."
Growing business on Airbus types
Iridium, meanwhile, has been growing its reach in aviation, including in Europe. Satcom hardware supporting legacy Iridium for cockpit comms is linefit on the Airbus A319 and A320, and Hooper says take rates have far exceeded "what Airbus ever thought" they would be. "And I think, speaking more about Inmarsat, the pressure is on for Airbus to have an Iridium Certus terminal."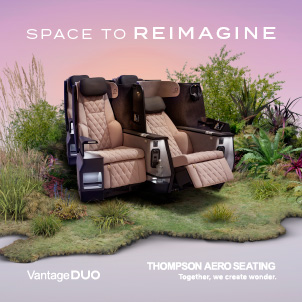 He says that, during a recent conference involving United Airlines and other global operators, carriers were asking about how to get global coverage, including polar coverage, for their Airbus A350s and A380s. And Iridium is apt to remind them that its service is global including the poles.
Airbus hasn't issued an RFP for Iridium Certus yet, says Hooper.
On this side of the pond, the FAA is moving closer to adopting satcom as a primary means of onboard communications, notes new Iridium Certus service provider Rockwell Collins in a statement. And given this movement, Rockwell believes Certus "will be that much more of a shake up to the status quo within the aviation industry, bringing new capabilities, smaller hardware, faster speeds and competitive price packages".
Hooper adds: "Satellite is obviously becoming recognized as a primary means of communication. You look at what the FAA is doing to define [that]  satcom can be used for routine and normal ops, versus when HF fails only. That's a future that Boeing has expressed, Airbus has expressed …. [operators will] go and put two satellite systems on board, one of each [Iridium and Inmarsat] and then the operator flying will make the decision as to what cost basis or service capability, and then what flights they choose to fly on – that may pre-determine some preference of Iridium over Inmarsat given that we're global."
A lot of work is presently being done to ensure Iridium and Inmarsat comms can be enabled in a seamless way over Arinc 429 buses. And as reported, Boeing has already opted for a dual-satcom solution for the 777X, which will see both Iridium and Inmarsat exploited. Hooper suggests we may be surprised to learn which service will be defaulted out of the factory as primary or secondary.
Even so, an HF radio is expected to remain.
"Do I think Boeing will remove HF? No. They'll still have it," says Hooper. "They'll have VHF also. They have the full suite of comms capabilities, but I think [the 777X's entry] will be in the sense of stating the position – this is the future, this is what we see as two satcoms, two disparate satcoms on board. It will put a marker on the industry …"
Related Articles:
Featured image credited to Iridium