Having recently concluded the research phase of the Iris air traffic management programme, Inmarsat and the European Space Agency (ESA) are now working on commercial implementation with the goal of launching flight trials with a leading European airline in 2020.
A satellite-based datalink communications solution, Iris aims to relieve pressure on congested VHF radio links in Europe, and deliver powerful benefits to airlines and Air Navigation Service Providers (ANSPs) across Europe.
But while the Iris programme will initially focus on Europe, Inmarsat vice president, aviation safety and cybersecurity Joseph Teixeira tells Runway Girl Network that the London-headquartered satellite operator fully intends to make this a global service where interoperability is required.
He says:
The services enabled by Iris will benefit ATM operations in continental areas around the world where the growth of air traffic is placing a strain on ground-based networks. The initial service in Europe will evolve into a global service in the future to support these areas.
To this aim, within the Iris programme, ESA and Inmarsat are coordinating and supervising the efforts towards the definition of standardized solutions, says Teixeira. "We are exchanging information with the FAA who also has a robust ATM modernization program, NextGen. The outcome of the Iris programme, shared with a wide industrial participation, is contributing to the European/American standards (e.g. the SATCOM Performance for medium-term services recently approved by EUROCAE and RTCA), as well as to a global standardization in ICAO."
Iris will allow aircraft to be pinpointed in four dimensions, known as four dimensional (4D) operations, which include latitude, longitude, altitude and time. But while 4D operations are "not explicitly part of it", according to the ESA, Teixeira says the commercial flight trials that will commence in 2020 will include testing of 4D, as part of a large-scale validation of the programme.
"4D, enabled by Iris, will work to improve airline operational efficiency as air traffic controllers and pilots proactively share and agree on the trajectories to be flown, while integrating airspace user preferences. The flight trials undertaken to date, during the development phase, included the successful testing of the exchange of 4D trajectory traffic to enable significant improvements in airspace capacity," he notes.
The various tests which have already taken place during the extensive five-year Iris development phase used a combination of simulated systems and existing terminals. In July of last year, Inmarsat and ESA successfully completed the first test flight for the Iris programme, on board a Cessna Citation II aircraft flying from Amsterdam Schiphol Airport.
The flight trials both validated performance and economic viability, while also ensuring compliance with the Single European Sky ATM Research (SESAR) masterplan and datalink requirements. "The successful flight trials have assured the performance of the system, and compliance with SESAR and datalink requirements and investment. This includes the exchange of 4D trajectory traffic, which enables significant improvements in airspace capacity. These were successfully completed over both continental and oceanic airspace," says Teixeira.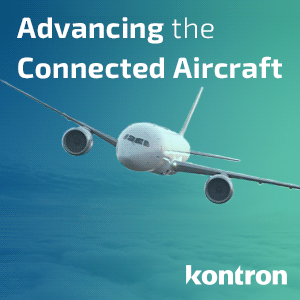 "The next phase of trials, scheduled to take place in 2020, are the commercial flight trials with a European airline. This large-scale validation of the programme will test the performance of the network in a live commercial environment, taking Iris closer to commercial service launch. In line with projected timings for the implementation phase, commercial service is scheduled to begin in 2021 once initial operating capabilities, commercial trials and certification by the European Aviation Safety Agency (EASA) are complete."
Iris is powered by Inmarsat's SwiftBroadband-Safety (SB-S) digital aircraft operations platform, using its L-band satellite constellation. Two new, advanced L-band payloads will join the fleet in 2020 and 2021, further cementing Inmarsat's long-term commitment to the services it offers over this spectrum.
"Progress of the Iris programme to date has been outstanding. With the system design and flight tests now complete, industry-wide interest and commitment to the programme has led to several important agreements with major European ANSPs, OEMs and a leading commercial European airline. These partnerships have brought us one step closer to commercial service for Iris, and enabling the SESAR objective of modernising ATM across Europe," says Inmarsat Aviation vice president, operational and safety services John Broughton in a statement.
As Inmarsat progresses toward selecting the Iris Service Provider (ISP) – a pan-European organisation that will provide the satellite-based datalink communications for Iris – it has entered into a non-exclusive agreement with European Satellite Services Provider (ESSP) to identify potential markets and business opportunities for Iris commercial service. In a press release published today, Inmarsat says the collaboration with ESSP will define the service, the optimum structure for operations, and an organisational framework for certifying the ISP.
"ESSP is proud to be collaborating with Inmarsat and ESA, and to contribute to the preparatory works in view of the introduction of the Iris commercial service. ESSP's successful experience as certified pan-European navigation service provider is an asset for the future Iris Service Provider implementation,' says ESSP CEO Thierry Racaud.
The agreement with ESSP follows an announcement in November 2018 that Inmarsat has signed agreements with major ANSPs to help develop standards for Air Traffic Control through Iris.
Related Articles:
Featured image credited to istock.com/Clare Bonthrone